All in Queens, New York, need to calm down this very instant. Why? Despite their struggles, the 2017 New York Mets will turn out fine.
I
t honestly doesn't matter how long you've been a baseball fan. You could be the college kid who's watching the game while guzzling down Jagermeisters at the local watering hole. You could be the fresh-faced Queens kid in diapers who thinks they've seen everything there is to see. You can even be the old geezer in a rocking chair who remembers the good 'ole days of three New York baseball teams.
Despite your classification of fandom, you shouldn't allow the early season wave bite you in the ass.
Haven't we learned the game of baseball by now?
Never should a team or season be decided in one's mind over the course of 19 games. Never. And despite us always overreacting to April — the very first month of a long, grueling season of six months — we continue to overanalyze and kick dirt on a struggling beginning to a 162-game marathon.
How silly are we?
Even if the 2017 New York Mets were 4-15 (instead of 8-11 as they are on this day), we simply can't act as if they now have no shot at the NL East crown.
It Happens Every Season
Division champs start out cold every season, literally. Did we already forget about the 2015 Mets?
Forget just April, this was a club started the first-half of the year as poor as can be. The lineup was dreadful, the manager clueless, and the pitching staff "not fully there yet." On Jun. 24, the team sported a 36-37 record. On Jul. 24, they were 49-48, no closer to a playoff berth.
If they listened to the media, they would have packed their bags and closed up shop. Instead, Yoenis Cespedes came to town the team finished with a sparkling 90-72 record en route to the NL East title and eventually, the NL Pennant.
A season ago, the AL East champs, the Boston Red Sox, won 93 games. Over the course of their first 18 contests, they went 9-9 — hardly anything to smile about.
Again, another example comes from just last year in the AL Pennant winners, the Cleveland Indians. This team, who took a 3-1 World Series lead against the Chicago Cubs, started the season 10-12 over their first 22 games. On Jun. 1, they were 27-24.
The 2017 MLB schedule is still in fetus mode. There's no reason for the dramatic.
This Mets Lineup Has Always Been All-or-Nothing
For better or worse, this New York Mets lineup is an all-or-nothing, power-hitting squad. This is the work created by architect Sandy Alderson who put together those bash-brother Oakland A's teams of the late 1980s.
His motto is, "A base on balls and a blast."
They live and die by the home run. The lineup will slump. It's that simple.
At the moment, the Mets only trail the Milwaukee Brewers in home runs (29). Like last year, it hasn't translated into runs. New York currently ranks 17th in the land with just 79 runs scored.
This follows a similar path from a season ago that saw the Mets finish fifth in home runs with 218 and 26th in runs with 671.
Guess what, though? The 2015 season also told a similar story. In this NL Pennant-winning season, the Mets finished ninth in home runs (177) and 17th in runs (682).
The problem lies in "setting the table."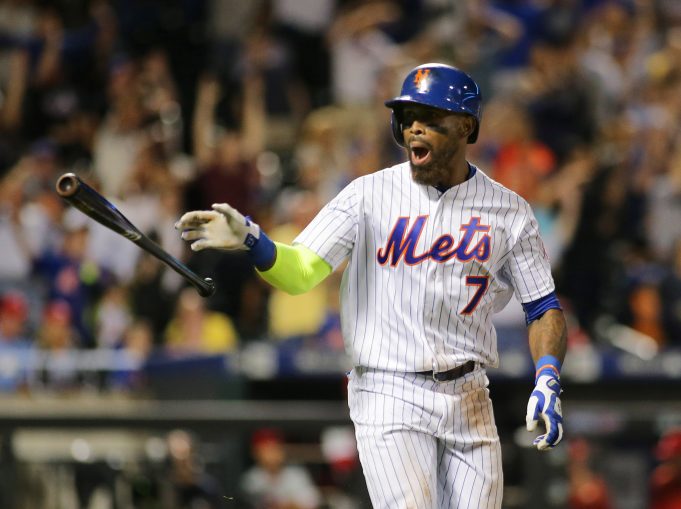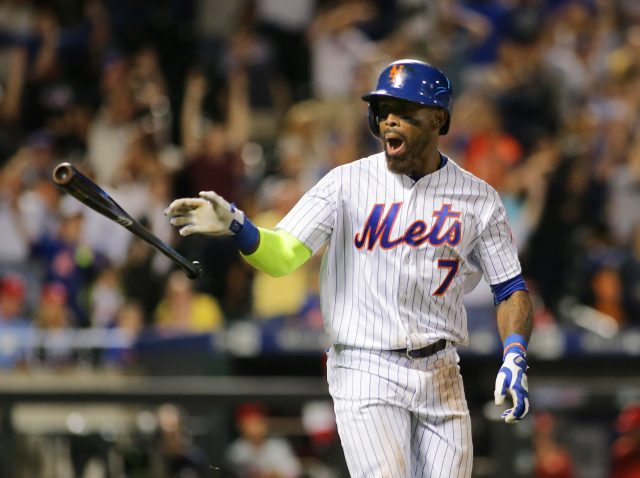 Because of Alderson's stubborn ways, the Mets have few top of the order guys. This is why Jose Reyes was so critical to the lineup's success this season.
At this very moment, it looks as though Reyes has forgotten how to hit at the major league level. He's batting .104 with no home runs, no runs batted in and just five runs. If you believe, suddenly, that Reyes is completely done for, then Michael Conforto and/or Curtis Granderson will have to assume set the table role or Sandy will need to go shopping — something that is extraordinary likely.
But what if Reyes finds himself, as is completely possible?
Suddenly, this power-hitting club has that top of the order threat in tow. Neil Walker is batting .206 with just two home runs. Remember this guy a season ago? At times, he carried the offense. Curtis Granderson is batting .146. Again, remember him last September and how he performed? (.286, 8 HR, 22 RBI).
Be careful. As cold as this lineup can be is as hot as it will be. All they need is one or two table-setters to show face. A clearcut argument can be made that this station-to-station lineup lacks consistency (which hurts in October), but over the course of 162 games with awful pitching sprinkled in, don't call the Mets offense dead just yet.
Can't Fully Judge the Team Based on Injuries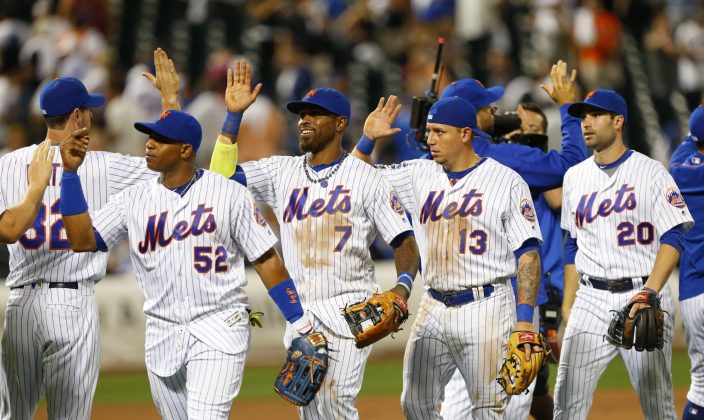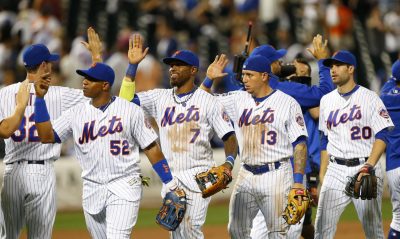 The Mets best player, Yoenis Cespedes, has missed the last three games, the entire series against the Washington Nationals. That's like asking the Nats to play without Bryce Harper.
Admittedly, this injury-plague notion surrounding the clubhouse is distressing. Nobody can deny that. It's not just the manpower or number of games missed, it's the caliber of player that becomes injured on this team.
David Wright, Matt Harvey, Juan Lagares, Travis d'Arnaud, Jacob deGrom, Wilmer Flores, Lucas Duda … the Mets rely heavily on most of these players and yet can never find consistency within the 25-man roster.
Despite that, don't fully judge the performance if injuries are ripping the heart out from within the soul of the club like they are right now. We can raise an eyebrow or two (because staying healthy is a worthwhile attribute), but don't put a cap on their success moving forward.
In August of 2015, we saw what the lineup can do when healthy. Like the Mets as a whole, each player has his streaky ways. Cespedes, Granderson, Bruce … all streaky players. It's just the way it is.
This is basically the same lineup we saw win the NL Pennant two years ago. No, there is no Daniel Murphy (who saved the day in October). There is no Juan Uribe or Kelly Johnson.
There is, however, Neil Walker, Asdrubal Cabrera and Jay Bruce — all who can be considered upgrades. There is Michael Conforto, a guy with sky-high No. 3 in the lineup-type potential.
Right now they're 8-11.
Before you turn around for breakfast tomorrow, they could easily be 27-18. (Not literally, obviously, but you get the picture.)
The starting pitching is there and they now have their closer back. Give it time. Don't be that "I told you so guy" before it's even time to "legitimately" glance at the standings.