If Carmelo Anthony is willing to waive his no-trade clause to go to bean town, the New York Knicks have no choice but to acquire Jae Crowder.
W
ith the NBA offseason still two months away, the New York Knicks have plenty of time to contemplate and come up with solutions to resolve their on-court issues. Doing so likely results in forward Carmelo Anthony being traded. In regards to trade partners, the Boston Celtics have emerged as a potential landing spot.
If such a deal were to grow legs, the Knicks would covet Celtics forward Jae Crowder.
According to Marc Berman of the New York Post, the Knicks discussed an Anthony deal with Boston at the NBA trade deadline, centering a package around Crowder. The deal though never came to fruition. Could such a move though be revived this offseason?
Currently, the Boston Celtics season is on life support, as they trail the eight seeded Bulls 2-0 in their first rounds matchup, with the series heading back to Chicago for games three and four. If they cannot prevail, the Celtics may finally look to make a big move on the trade market; acquiring Anthony would be doing just that.
Despite turning 33 in the offseason, Anthony remains a legit threat on the offensive end night in and night out who can carry the scoring load. With Isaiah Thomas running the show though, Anthony wouldn't have to carry such a heavy load, potentially benefiting his game. A move to Boston would also benefit Anthony in regards to his potential positioning.
In green and white, Anthony would likely man the power forward position, a spot in which he's best suited for at this stage of his career. Given that he's on the back nine of his career, and for the most part, a post-up player, Anthony could provide the Celtics with an inside presence on the offensive end at the power forward position. Playing the four, Anthony would play alongside center Al Horford, potentially making for a formable frontline duo. The biggest question in all of this though is whether Anthony would accept a deal to bean town?
With Anthony possessing a no-trade clause in his contract, it's unclear as to whether he'll allow himself to be traded to Boston. While the Knicks (mostly Phil Jackson) have been attempting to force him out of New York by blaming him for the Knicks struggles, it may still be hard for Anthony to allow himself to be traded to the rival Celtics. Being that the Knicks and Celtics have never been fond of one another and that the Celtics' fanbase has voiced their negative opinion towards Anthony whenever he steps foot into TD Garden, he may not feel comfortable playing 41 games a year there. However, while highly unlikely, if Anthony does decide to allow himself to be traded to the Celtics, and they can agree to a deal with them, the Knicks have to go forth with trading Anthony to Boston.
While trading Anthony to the arch rival Celtics may be an odd and rather upsetting transaction for their fanbase, the Knicks would have to make a deal with them if they can acquire Crowder.
If acquired, Crowder would give the Knicks a two-way player. On the offensive end, while not lethal, he can hold his own. Averaging 13.9 points a game, Crowder is a glue guy for the Celtics, as he can score from the inside, but also the outside. In the 2016-17 regular season, he averaged a career-high 39.8 percent from three, posing as a threat from the outside. Where Crowder makes a name for himself though is on the defensive end.
Defensively, Crowder is a force to be reckoned with; he can guard the perimeter, but also man to man. Averaging a steal a game, as well as racking in 5.8 rebounds a game, Crowder makes an impact on the defensive end of the floor. What you can't see in the box score with Crowder though is his gritty play.
From the opening tip to the closing buzzer, Crowder plays with a gritty mentality and a passion. Diving on the floor, hustling on both ends and playing lockdown perimeter defense, Crowder makes an impact outside of the stat sheet. With that in mind, he'd be a great addition to the rebuilding Knicks.
If acquired, Crowder would immediately start at small forward, in Anthony's place, alongside the promising big man duo of Kristaps Porzingis and Willy Hernangomez. Given his gritty play, Crowder would be a great piece to have going forward as the Knicks look to change their identity. Also, the 26-year-old forward would come to the Knicks on a very team friendly deal. Going into the third year of a five-year, 35 million dollar deal in the 2017-18 season, Crowder would be under team control for a more than affordable price, only helping the Knicks future cap flexibility. Crowder's presence would also force the Knicks to draft a point guard – a necessary occurrence.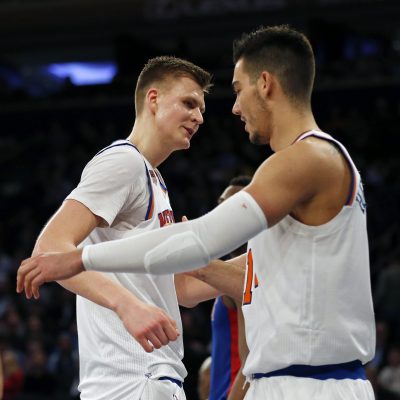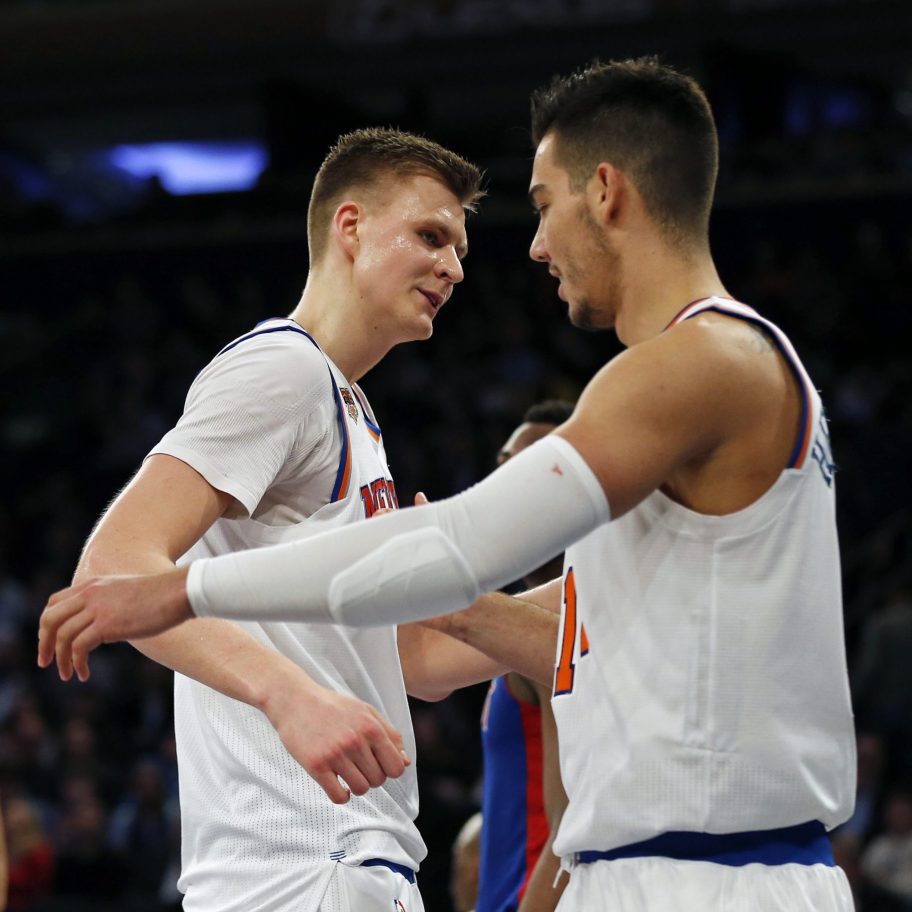 At the end of the day, is Crowder a superstar player who's going to come in and turn around the Knicks in year one? No, but he gives them an established young forward, who has the potential to grow as a player, alongside what could be a lethal front line with Porzingis, Hernangomez and himself. Another key factor for the Knicks in deciding whether to pull the trigger on a deal is that Crowder is ultimately the best player they'll be able to acquire in an Anthony deal.
With Jackson diminishing Anthony's trade value one comment at a time, as well as by granting him a full no-trade clause, the Knicks have a limited amount of options, in regards to trading their veteran forward.
With Anthony's list of teams he'd accept a trade to remaining unknown, chances are that the Knicks have little options when it comes to an Anthony trade. Two other teams that could emerge as players for Anthony if they fail in their playoff endeavors though are the Cleveland Cavaliers and Los Angeles Clippers.
In a deal with the Cavs, the Knicks could possibly acquire forward Kevin Love, but such a move would be unwise on their part, given that he plays the same position as Porzingis. On the other hand, a deal with the Clippers could have some legs. With point guard Austin Rivers potentially becoming available in an Anthony swap, the Knicks could look to land the Clippers' reserve to be their lead guard. However, while he has some upside on both ends of the floor, the Knicks are likely better off drafting a point guard, as opposed to trading for one.
If they can get the Celtics to agree to a deal centered around Crowder for Anthony, the Knicks have to make the deal. The biggest motivation for doing so is that they've diminished his trade value to the point whee they have no chance of getting multiple assets in return for Anthony. Crowder though would be a great piece going forward for the Knicks and is at this point, the best player they could get back for him.