The New York Knicks missed the playoffs for the fourth straight season. We gave them some awards to make them feel better.
A
nother disappointing and controversial season for the New York Knicks ended without a postseason appearance. It's the fourth straight time they missed out on the playoffs.
Team president Phil Jackson failed with the changes he made during the offseason to prepare the team for a postseason run. His infamous press conference led people to believe that the former coach will be starting over one more time.
This sad team needs a little encouragement. The intense discussion about the rightful winner of the MVP sparked an idea for us. We decided to give the Knicks their set of awards.
My system for judging the awards involved using advanced metrics, expectations, and of course the good old fashioned eye test.
These are the Knicks personal end of the season awards. They don't deserve any special celebrations.
---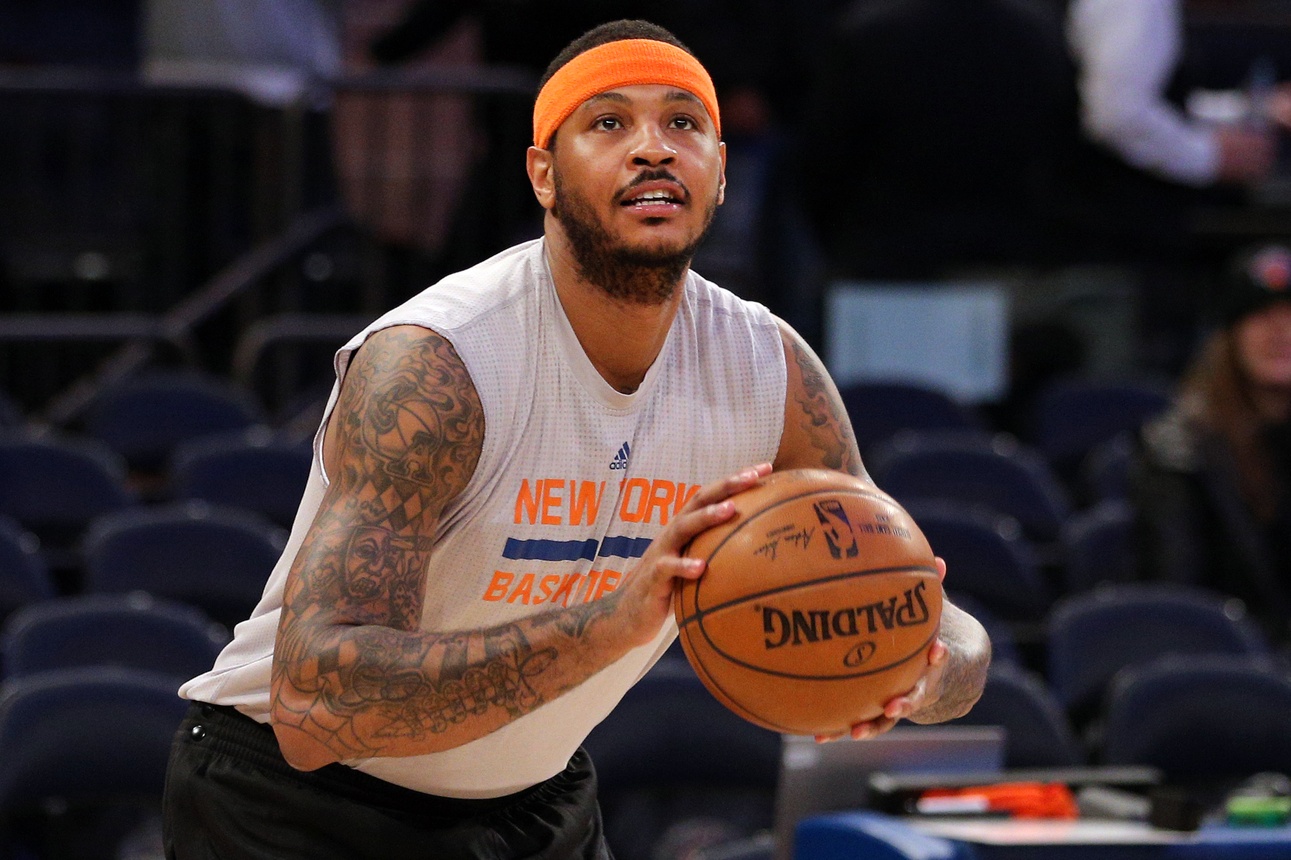 Position: Forward
Age: 32 (05/29/1984)
2016-17 Averages: 34.3 MPG, 22.4 PPG, 5.9 RPG, 2.9 APG, 0.8 SPG, 0.4 BPG
2016-17 Advanced Metrics: 17.9 PER, -0.7 BPM, 4.7 WS
2016-17 Slash Line: .433/.360/.833
Carmelo Anthony's game has declined the last two seasons, and his boss is trying to run him out of town, but he is still the Knicks best player. In eight games without Anthony, the Knicks went 2-6 and scored just 96.6 points per game.
Despite his age, Melo put the team on his back. He led the team in minutes, field goal attempts, scoring, and usage percentage.
His value on offense has never been more apparent than it was this season. The Knicks scored 106.1 points per 100 possessions with Anthony on the court (via NBA.com) and 102.2 points per 100 possessions without him.
Jackson might be hell bent on shipping the ten-time All-Star out of town, but that shouldn't color your perspective on Anthony's value to the squad.
---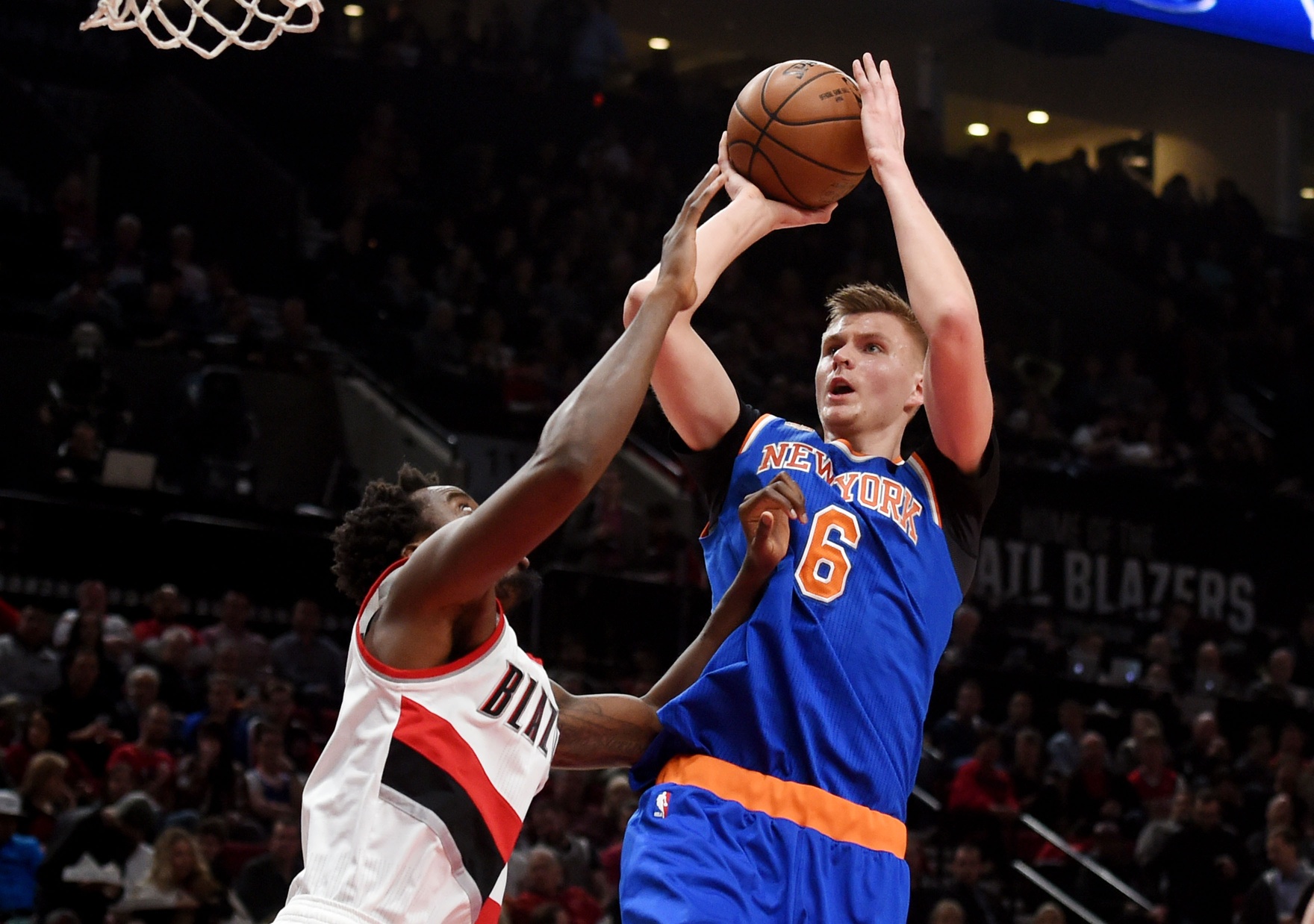 Position: Power Forward
Age: 21 (08/02/1995)
2016-17 Averages: 32.8 MPG, 18.1 PPG, 7.2 RPG, 2.0 BPG, 1.5 APG, 0.7 SPG
2016-17 Advanced Metrics: 17.4 PER, 0.2 BPM, 4.5 WS
2016-17 Slash Line: .450/.357/.786
As a rookie, Kristaps Porzingis showed flashes of greatness amid mostly inconsistent play. During his sophomore season, the unicorn evolved into one of the league's best rim protectors and a legitimate second option on offense.
Porzingis was second in contested shots (behind former Knick Robin Lopez) while holding opponents to 44.2 percent from the field on attempts from within five feet of the rim.
The 21-year-old averaged 14.3 ppg and made 81 threes as a rookie. This season his numbers shot up to 18.1 ppg and he nailed 112 shots from downtown. He became just the 12th player in NBA history to record 100 threes and 100 blocks in the same season.
Porzingis is the future of the franchise. This little feud he's reportedly in with Phil Jackson right now will just be a bump in the road of a great career.
---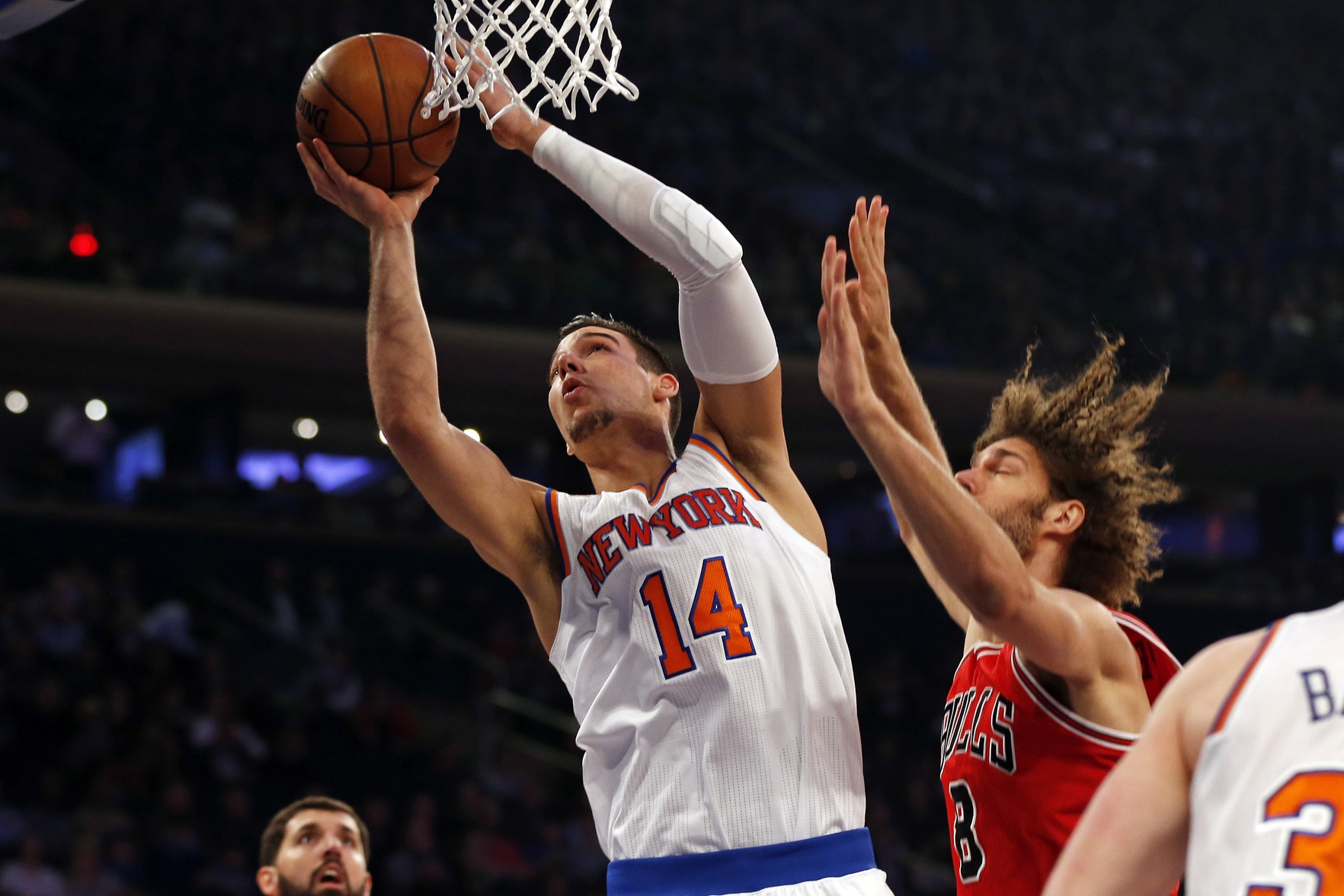 Position: Center
Age: 22 (05/27/1994)
2016-17 Averages: 18.4 MPG, 8.2 PPG, 7.0 RPG, 1.3 APG, 0.6 SPG, 0.5 BPG
2016-17 Advanced Metrics: 19.0 PER, 0.0 BPM, 3.4 WS
2016-17 Slash Line: .530/.267/.728
Willy Hernangomez was instant offense in the paint off the bench and gave the Knicks help on the boards, but his poor defense was exposed after the All-Star break when he became a full-time starter.
In 768 minutes before the All-Star break, the Knicks allowed 102.7 points per 100 possessions with Hernangomez on the court. The best mark on the team.
That number skyrocketed to 114.8 in 568 minutes after the All-Star break. The worst mark on the team.
Hernangomez started in 29 of New York's 32 games post-All-Star break. He started just three before the All-Star break.
The international prospect was still one of the top rookies in the league. He led all first-year players in double-doubles. He was second in rebounding and PER, and third in field goal percentage.
The hype machine surrounding Porzingis' friend and former teammate is tremendous, but in truth, he's better suited to come off the bench. That's not a bad thing. Hernangomez should be a large part of New York's rotation for a long time.
---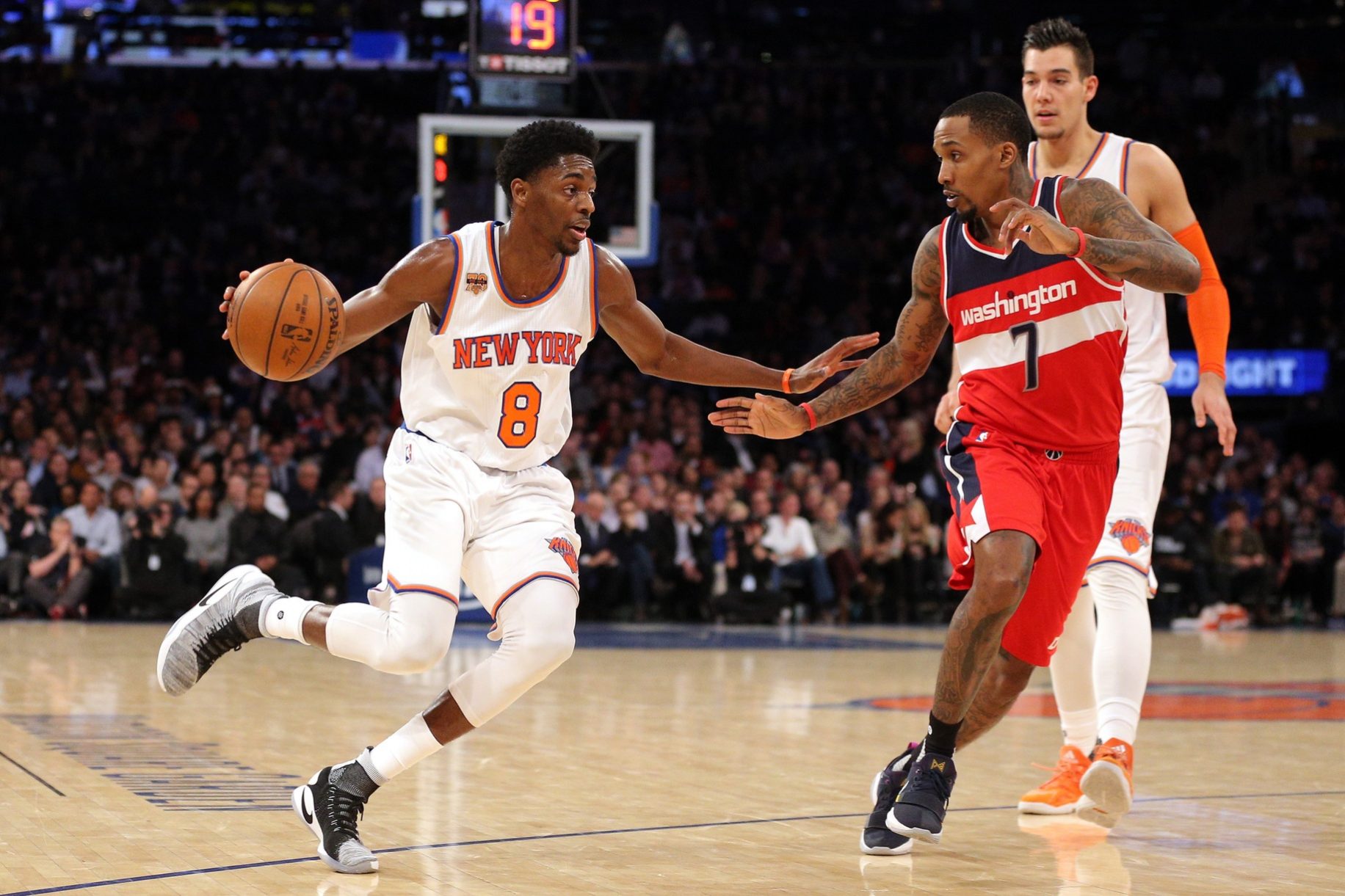 Position: Shooting Guard
Age: 28 (04/05/1989)
2016-17 Averages: 20.0 MPG, 7.7 PPG, 2.8 RPG, 1.2 APG, 0.8 SPG, 0.4 BPG
2016-17 Advanced Metrics: 12.7 PER, -1.1 BPM, 2.5 WS
2016-17 Slash Line: .433/.355/.825
Brandon Jennings was supposed to be a candidate for NBA Sixth Man of the Year. That's what Phil Jackson expected anyway. It didn't work out. Jennings asked for his release after struggling to fit in through 58 games.
The Knicks bench just wasn't good. They were 25th in points and 16th in field goal percentage. One of the few sparks they had was journeyman shooting guard Justin Holiday.
Despite his low usage (16.9 percent), Holiday was one of the Knicks most productive players. He was the only Knick to appear in all 82 games. Holiday was fifth in total minutes played, but still knocked down 97 threes (third).
The team was better with the former Bull on the court. Holiday finished the season with an on/off court net rating difference of +4.1 points per 100 possessions.
According to NBA.com, the small ball lineup of Holiday, Anthony, Porzingis, Derrick Rose, and Courtney Lee outscored opponents by 19.1 points per 100 possessions. For some reason, they only shared the court for 19 games and 36 minutes.
Honorable Mention to Kyle O'Quinn. He had career highs in points, rebounds, blocks, PER, and field goal percentage.