With the resurgent performance of Michael Conforto for the New York Mets, Curtis Granderson should be coming out in favor of the youngster.
I
t soon needs to be realized by
New York Mets
brass that the metaphorical center field torch has to be passed on from
Curtis Granderson
to budding starter
Michael Conforto
, or else they could risk losing out on a possible big future from the 2014 first round pick.
Conforto has been on fire to open the season, as he's hit .375/.429/.813 with five runs scored, two home runs and six RBIs in just 21 plate appearances.
On the contrary, Granderson has produced at a rather low level, with the fan favorite having hit just .195/.261/.293 with four RBIs through 46 plate appearances thus far.
But there are two clear obstacles that are remaining in the way of the Mets making the decision that seems obvious to most other people in New York — Conforto isn't widely considered to be someone who can play center and bat lead off, while Granderson is seen as a player who fits that bill just perfectly. But Grandy turned 36 a month ago, and signs of his age are starting to show.
Granderson's recent issues at the plate haven't just been prevalent in 2017, as they became a major issue last season. The lefty set a new major league record, but it was not a feat that most Mets fans would be happy to see him accomplish — Grandy tied St. Louis Cardinals second baseman Jedd Gyorko for the lowest RBI total ever in a 30 home run season with just 59.
After finishing 2016 with a .237/.335/.464 line, including 130 strikeouts and a .152 average with runners in scoring position, Granderson was the subject of trade rumors, with teams reportedly having more interest in him than in the Mets' most desired tradee, Jay Bruce.
But general manager Sandy Alderson never found a suitable deal, leading team management to think that Grandy was the only possible option to play in center this season, with Bruce and Yoenis Cespedes filling out the outfield.
But Conforto made his presence at the plate known as early as last April, hitting .365/.442/.676 with 11 doubles, four home runs and 18 RBIs over the first month of the season.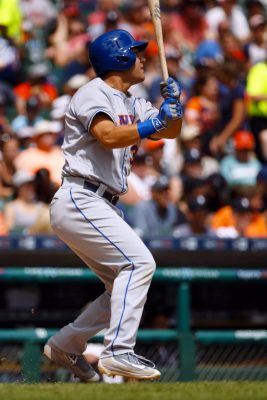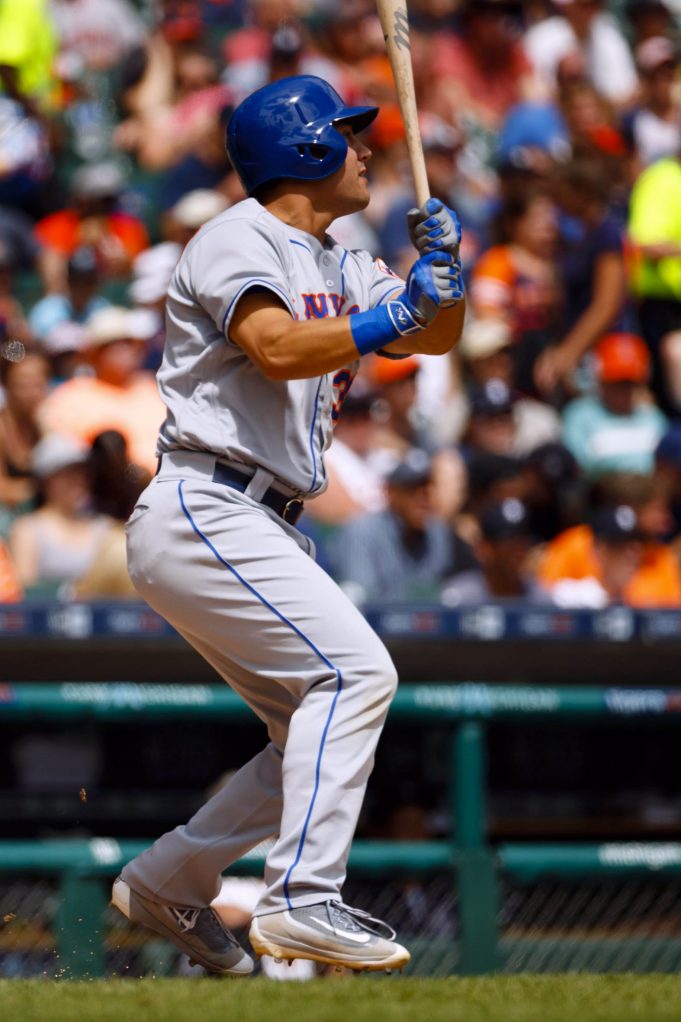 A sophomore slump became all too real for the Oregon State product after that first act though, as there was never a month for the rest of 2016 in which Conforto hit over .237 — and that didn't come until September.
As many would've expected of him, Conforto hit .422 with nine homers, 28 RBIs and 30 runs scored over a brief 33-game stint at Triple-A last year —  a result of his rough and inconsistent play in the majors.
It's become painfully clear that the kid can't spend any more time in the minors, simply because he's proven all he can there. A bench spot should also be out of the question, as Conforto has far too much upside to rot away in the dugout, getting a few spot starts every now and then.
Conforto has handled center field admirably during his two-plus seasons in Queens. Over 61.0 innings playing in the middle of the grass, he's produced a 1.000 fielding percentage, while committing no errors.
Oh, and he's made a few nice grabs.
Michael Conforto, center fielder, apparently. Here's that diving catch from the first inning. #Mets pic.twitter.com/yEZElEHQDn

— Anthony DiComo (@AnthonyDiComo) July 24, 2016
While Granderson has spent time in center field throughout every one of his 14 major league seasons, he's produced the exact same numbers as Conforto there during his time with the Mets — a 1.000 fielding percentage with no errors, albeit he's done it over 438.0 innings.
Conforto may not be the most ideal candidate for a role in center field, but between the advantage of his much improved bat over the Grandy-man, while also still being just 24-years-old, it clearly doesn't make sense for manager Terry Collins to keep Granderson atop the lineup and in an everyday role over Conforto.