Kristaps Porzingis is "frustrated over dysfunction" with the Knicks, which shows just how disgraceful the Knicks' organization is.
F
riday afternoon, New York Knicks president Phil Jackson addressed the New York media. In his presser, Jackson answered some questions about the struggling Knicks. Jackson though only stirred more controversy with his responses. One of them stood out from the rest.
After being asked about the future of Carmelo Anthony, Jackson noted that the Knicks haven't won with him. Jackson then went on to say that he felt Anthony would be "better off somewhere else," as opposed to staying in New York.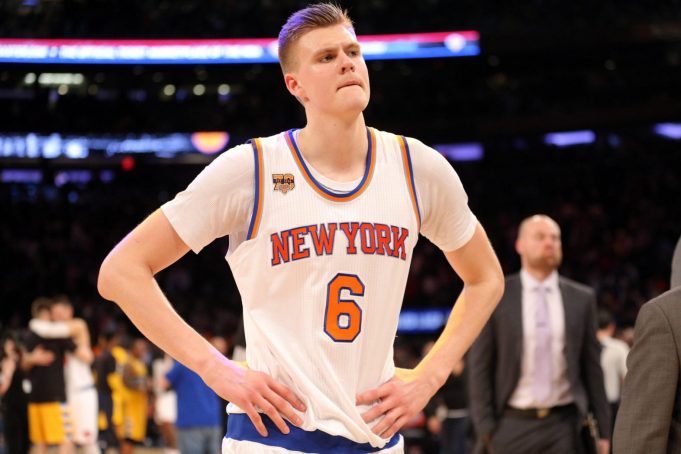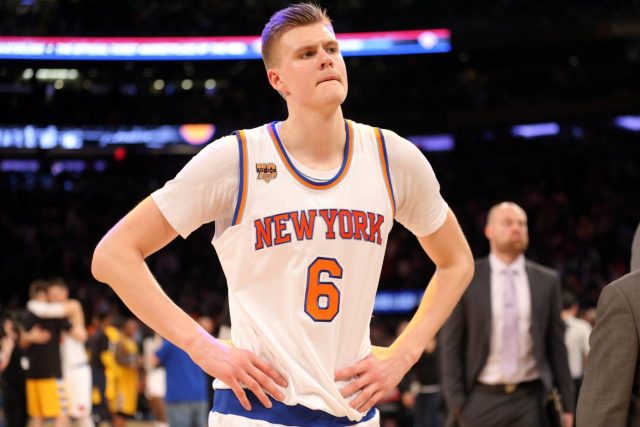 His public statement about Anthony's potential future with the Knicks was shocking to the NBA world, as Jackson essentially said that the veteran forward has no future with the team. Jackson though is now getting beef for making those remarks.
In fact, NBPA executive director Michele Roberts found Jackson's comments "inappropriate."
"We voiced with the Commissioner today our view on the inappropriate comments by Knicks President Phil Jackson," Roberts said. "If players under contract cannot, under threat of league discipline, speak openly about their desire to be employed elsewhere, we expect management to adhere to the same standards. The door swings both ways when it comes to demonstrating loyalty and respect."
The fact that Jackson would even contemplate speaking about Anthony's future publicly with the Knicks is a rookie move. While it does present a dilemma in regards to NBPA, it's also foolish in that it may hurt Anthony's trade value.
While Anthony already possesses a no-trade clause and a trade kicker – making his trade value not so great – Jackson may have diminished Anthony's trade value even more. Given that the Knicks are bound to undergo a full-on rebuild, this could serve as a major roadblock in starting the process. What may be an even bigger roadblock though is talk surrounding forward Kristaps Porzingis.
After Jackson's press conference Friday afternoon, Porzingis opted not to attend the Knicks exit interviews. According to Ian Begley, Porzingis reportedly did so due to "frustration over dysfunction" and "drama" surrounding the franchise. Porzingis' frustration with the Knicks has now only greatened.
According to Adrian Wojnarowksi, Porzingis is planning a long trip back to Latvia this offseason, in which he may not return until close to training camp. Is that because of the presence of Jackson's beloved triangle offense?
In his tenure as president of basketball operations, it's been no secret that Jackson is fond of running the triangle offense with the Knicks. In fact, Jackson is obsessed with doing so to the point where he holds offseason triangle seminars. Doing so though has caused lots of frustration and now resistance towards the system.
According to Wojnarowski, some players on the Knicks' roster are privately fuming about the fact that they want nothing to do with the organization's triangle offense regime in New York this offseason. Will their frustration change anything with Jackson's running of the Knicks? Probably not, but that's to no one's surprise. The mere fact that he won't change his stubborn ways though shows just how much of a disgrace the Knicks are from an organizational standpoint.
This year has been arguably the most drama-infested season in Knicks history. Ranging from Jackson criticizing Anthony's play, to point guard Derrick Rose going AWOL, to even Charles Oakley getting into an altercation with Madison Square Garden security, the Knicks have endured an embarrassing season. It appears as if the offseason won't bring about more peaceful times though.
By remaining committed to the triangle offense, Jackson has shown yet again that he doesn't have the ability to evolve to the NBA world he's surrounded by. Instead of committing to a run and gun, uptempo style of play, Jackson is keen on staying with a slow system of spacing, only run to success with Hall of Fame talent. As a result of not changing his stubborn ways, the Knicks as a team have turned on Jackson.
With players resisting and enduring growing fits about running the triangle, Jackson looks like a man who has no idea what he's doing. He's now faced with his hardest challenge as president – finding a way to change Porzingis' view of the Knicks.
By taking a stand against the current state of the Knicks, Porzingis is showing Jackson his frustration loud and clear. Also, being that he's just 21 years old, Porzingis taking a stand in regards to the way the Knicks are being run speaks volumes.
In his two years with the Knicks, Porzingis has been a true professional. He's gone out and played hard every night, while not complaining about the dysfunction of the franchise as a whole. With Porzingis taking these actions at this moment in time, it's clear that he's taken note of how much of a joke the Knicks are as an organization.
While Jackson is a big part of that dysfunction, owner James Dolan is just as guilty.
Ever since hiring Jackson, Dolan has stepped away from the running of the Knicks, in hopes of the franchise changing for the better. That's clearly been the wrong move.
While he remains committed to Jackson, as he pointed out in an interview on the Michael Kay Show, Dolan fails to address reality when it comes to the Knicks.
Dolan fails to speak out on Jackson's failed tenure with the Knicks, or even address the current state of the team. His resistance towards doing so is an embarrassment, as is everything that Jackson says to the public.
Phil Jackson has publicly blamed Carmelo Anthony, he's remained stubborn in regards to running the triangle offense, and now his players have turned on him and the organization. As a result, most notably Porzingis. The fact that Porzingis, the future of the Knicks, has this much displeasure with the organization just cements the fact that the New York Knicks' organization is a disgrace.