The beacon of hope for the New York Knicks, Kristaps Porzingis, has a few areas of his game to improve for next season.
K
ristaps Porzingis
' second NBA season is coming to a close. It will end similarly to the first one, with the
New York Knicks
missing the playoffs for the fourth straight year. However, the "Unicorn," as he's called thanks to his unique skillset, provides a sense of hope.
Carmelo Anthony has come to terms with taking a backseat for the rest of this season. With Melo's role diminishing and Knicks future in question, it is Porzingis who the Knicks will rely on to carry the load.
Porzingis is averaging 18 points, 7.3 rebounds, 2.0 blocks and 1.4 assists per game. All of this with a slash line of .443/.358/.791. Those numbers are pretty impressive for the second-year player.
The question is, what aspects of his game does Porzingis need to improve for the 2017-18 season?
Defense
At 7-feet-3, Porzingis should be an animal in the paint. Unfortunately, he finds himself in foul trouble way too often. This minimizes his impact on games from a defensive standpoint.
Porzingis ranks fifth in block shots with an average of two per game. What is most disappointing is knowing that number could be even higher if he managed to stay on the court longer. Porzingis 3.7 fouls per game is the second most behind DeMarcus Cousins.
While he is successful in help defense, his one-on-one defense leaves a bit to be desired.
Porzingis needs to use his height and the verticality rule to consistently protect the rim while avoiding fouls. Sliding Porzingis over to the center spot may help since players at this position tend to be less agile than stretch fours. He also won't be exposed to playing as much defense on the perimeter.
Porzingis will be a defensive force once he learns how to use his frame, slide his feet as well as abstain from reaching unnecessarily.
Strength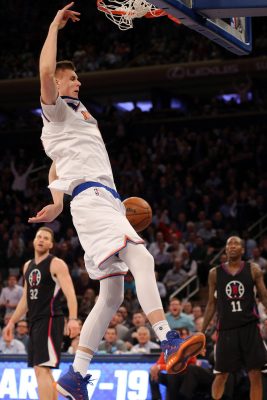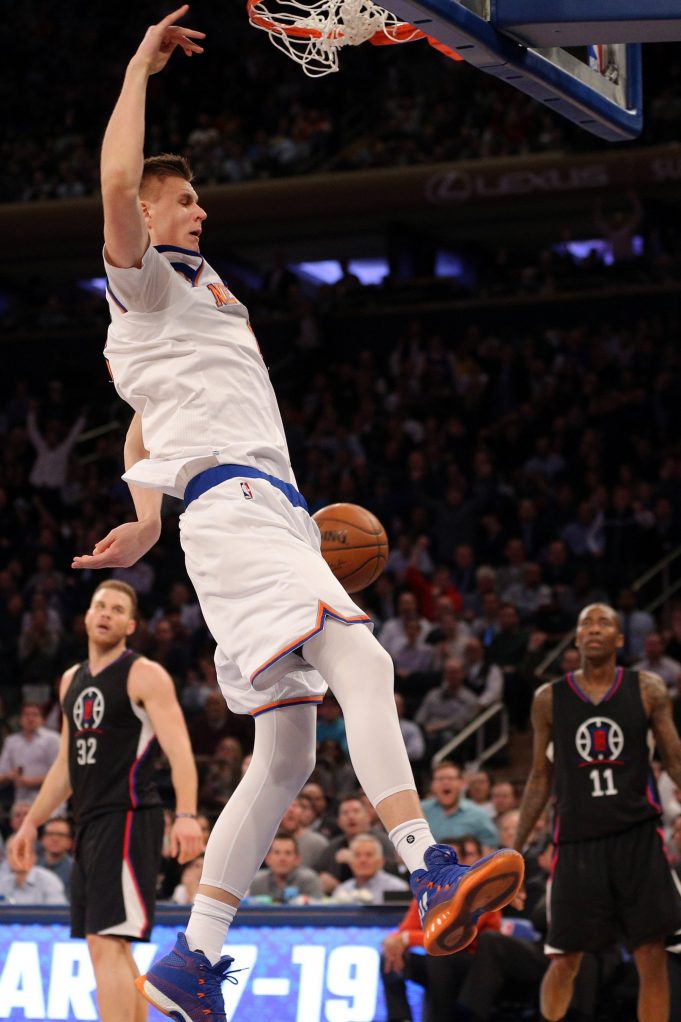 Now, moving KP to center means he will be playing more physically on a regular basis. He'll need to continue adding strength to be able to compete inside. His current lack of strength allows opposing big men to push him off the block on offense. It also allows big men with post up ability to bully him on the block.
Adding strength will solidify Porzingis' all around play. He'll be able to combine some bulk with his height to be an even greater mismatch. Instead of shying away from contact, Porzingis will welcome it.
Post Up
The Unicorn possesses a shooting stroke that goes unmatched by players his size. Porzingis increased his efficiency this year from the field and three-point range. The next step in his offensive development is solidifying a back-to-the-basket game.
Currently, Porzingis relies heavily on his jump shot and occasional driving ability. Having go-to moves in the low post can help Porzingis stay engaged offensively when his jump shot is not falling. Finishing easier shots around the rim would further increase his field goal percentage and overall efficiency.
If Porzingis develops a consistent post game, it would be virtually impossible to guard him on a nightly basis. Defenses would be forced to double him, opening up shots for other players. Any switch on defense would allow him to shoot over the top, a la Dirk Nowitzki. Porzingis will have countless opportunities to exploit post mismatches within the triangle next season.
Rebounding
At 7-feet-3, it's unexplainable why Porzingis doesn't average close to double digits rebounding. His average of 7.3 boards per game is the same as last year. That's actually a regression since he played about four minutes less as a rookie.
Porzingis needs to use his athleticism and size advantage to his benefit.
Some of the previously mentioned points of emphasis affect him here as well. Example, improving his strength will allow for more solid box outs and better positioning. Playing center will have him guarding closer to the rim, which is prime real estate for grabbing boards. Having Porzingis on the low block offensively could lead to more of the electrifying put-back dunks fans became familiar with.
Porzingis should easily be at least at nine rebounds a game going forward.
Overall, KP is dedicated to being the best basketball player that he can be. Expect continued growth in Porzingis game as the Knicks look towards building the future with him as the main piece.