New York Mets Baseball is back, and the pitching in Queens is better than ever.
The New York Mets know exactly the weight that is on their shoulders. With the best pitching rotation baseball has seen in a long time, and a line up with maybe one missing piece, Citi Field and their tenants should see a lot of victory throughout 162 games in 2017.
This is an analysis of the Amazin's first three games against the Atlanta Braves.
To quickly sum how this first series went against the new look Atlanta Braves, the pitching outplayed the batting. This, of course, with the three aces they put on the mound, should be expected.
Between Noah Syndergaard, Jacob deGrom, and Matt Harvey, who collectively pitched 18.2 innings all together (Harvey tossing the extra two outs, where Thor and deGrom through an even six), they allowed two runs. Both of those runs came off of the bat of Matt Kemp, against the Dark Knight in the series finale. 
This little statistic (little considering its sample size) goes to show one major positive for the Mets: Very few baserunners. Syndergaard surrendered five hits to the Braves, and let them hit third base, but never allowed them home. He had no walks. deGrom gave up two hits and one walk. No runs against.
As for the Dark Knight's return, magnificent. Yes, he gave up two home runs to Matt Kemp but no one was on the bases. Other than that, one more hit. He was incredible. There was no frustration or 4th, 5th inning breakdown. He came out hot and proved his worth.
Welcome back to the MLB, Matt Harvey.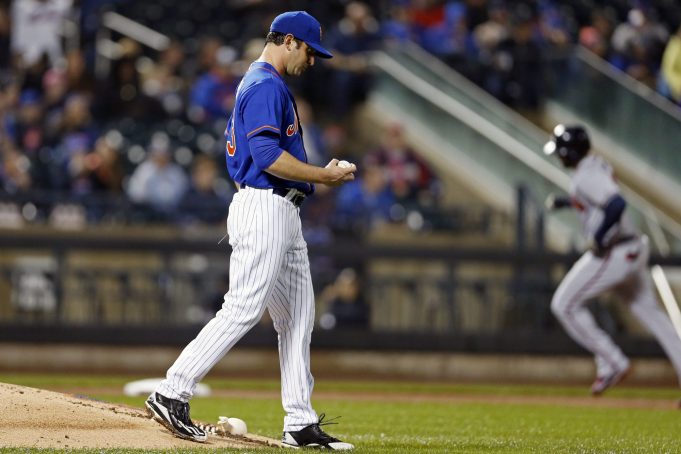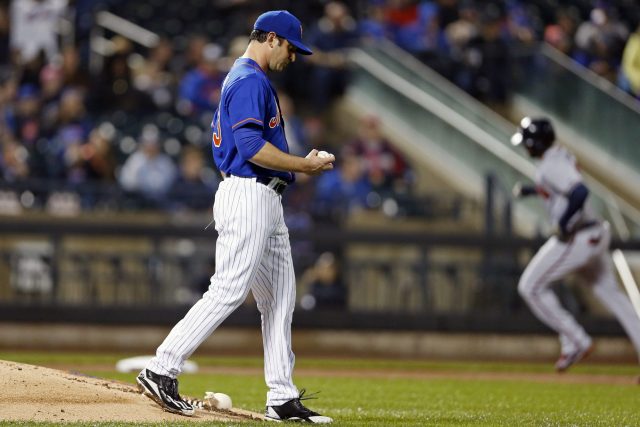 As for the batting, it was weak for the first two games. Despite scoring six in the opener, the Mets only scored in one inning and were gifted with the first run that allowed the inning to continue with only one out. The importance in that, is they scored on a sac fly which would have been a third out. It was incredible to see Lucas Duda hit a three-run double. He instilled faith in those that don't have much in him.
In Game 2 of the series, all we saw was a Jay Bruce home run. Fantastic. Not enough. The lacking presence of Reyes, Cespedes, Granderson, and Walker was felt immensely. Those three need to step it up against the Marlins.
In Game 3, we saw no hitting for five innings. As incredibly frustrating as that may be, Travis d'Arnaud blessed Citi Field with a two-run double that needed to happen… that needed to happen… that needed to happen. d'Arnaud was and is the hole in the Mets eight position players. He proved he can be an important batter. After that we saw Wilmer Flores smack a two-run homer and then an RBI from Cabrera and Reyes giving himself the chance to prove he can still run the bases, rounding third on a potential double play ball, thrown away by Dansby Swanson.
Starting the year two and one against the Braves isn't perfect, but is important. They were able to rely on Matt Harvey to out pitch Jaime Garcia, which he did, and the Mets were able to give him the run support he deserves. Unfortunately, Syndergaard and deGrom didn't have run support, but Thor had no issues taking care of it himself, and deGrominator was robbed of a great performance, leading to the only Mets loss of the series.
The Mets take on the Marlins at Citi Field this weekend.
Tonight @ 7:10 – Wheeler vs. Chen
Tomorrow @ 7:10 – Gsellman vs. Conley
Sunday @ 8:00 – Syndergaard vs. Volquez