New York Knicks' forward Carmelo Anthony's recently commented about seeing the "writing on the wall" and may be leaving the Big Apple for good. If that's the case, it may lead to him being dealt to the Los Angeles Clippers.
T
he 2016-17 season has been a rotten cesspool of a year for the New York Knicks, one filled with drama and unneeded chaos. Some of that drama has been centered around forward Carmelo Anthony's future in regards as to whether he'll be finally be traded. Just a few days ago, Anthony added to the speculation surrounding his future with the team.
Anthony's comments and body language have given off a vibe that he just may be looking to leave the Knicks for good. If that's the case, then the "writing on the wall" can only lead Anthony to one team – the Los Angeles Clippers.
While Anthony remains a very good, go-to scoring option in the NBA, his value is diminished given his prohibitive contract in which he has two years and $54 million remaining.
Possessing a no-trade clause and a trade kicker, any team dealing for Anthony is taking a leap of faith. That makes trading Anthony a challenge for Phil Jackson and the Knicks. If the Knicks and Anthony ultimately come to the conclusion that it's time to part ways, they may find a trade partner in the Los Angeles Clippers.
Currently, the Clippers are right in the middle the Western Conference race. However, with teams such as the Golden State Warriors, San Antonio Spurs, Houston Rockets and even the Utah Jazz in the playoff hunt, the Clippers may very well find themselves watching the Conference Finals from the comfort of their homes. If and when that's the case, they'll be put to the test in the offseason.
With both Chris Paul and Blake Griffin hitting unrestricted free agency this summer, the Clippers will likely have to let one walk given the increase in the NBA salary cap. When it's all said and done, the Clippers will likely opt to retain Paul over Griffin, given his importance and leadership to their squad.
While Griffin has been an All-Star forward for Los Angeles, Paul is ultimately more crucial to the Clippers well-being due to his ability to facilitate, and also score on a consistent basis. For his career, Paul is averaging 9.9 assists a game. Also, Paul is set to get a hefty 210+ million dollar contract, which will limit the Clippers cap flexibility, meaning they won't be able to be so aggressive on the free agent market. That could open the door for a Carmelo Anthony trade.
According to Adrian Wojnarowksi, the Knicks engaged the Clippers in an Anthony trade before the NBA trade deadline. Re-visiting such a deal may make some sense.
If and when Griffin departs in free agency, the Clippers will have a hole on their front-line. Anthony could fill that void well.
If acquired, Anthony would play power forward – a position in which he thrives. Playing the four next to DeAndre Jordan would be beneficial to Anthony's game.
With Anthony being a post-up, isolation player, he tends to thrive at the power forward position. That's also due to his aging body, as he's not the physical specimen he once was. Anthony though, despite turning 33 in May, is still a go-to, reliable scorer night-in and night-out. Averaging 22.5 points a game, Anthony remains an asset on the offensive end. If traded to Los Angeles, Anthony would be able to play at that same level with his longtime friend Chris Paul – another key factor in a potential deal.
Being that Anthony possesses a no-trade clause, he has the power to veto any deal he's involved in. The Clippers though are a team who he'd probably waive his clause for. Given his close relationship with Chris Paul, Anthony may view the situation as a chance to finally team up with his lifelong friend. Anthony and his family also own a house in Los Angeles.
If traded to the Clippers, the question becomes what could the Knicks get back for Anthony? The answer is Austin Rivers.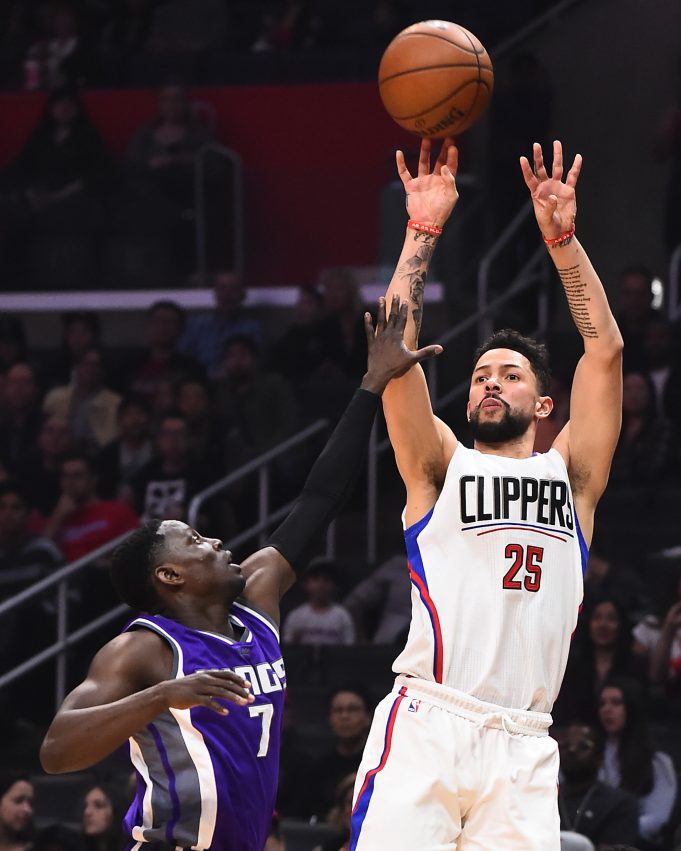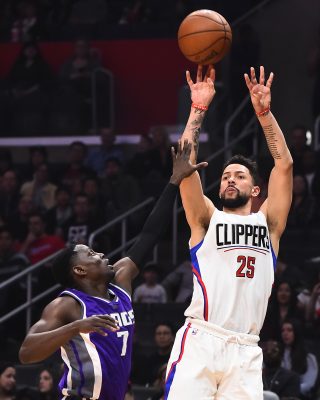 While Chris Paul runs the show at the point for the Clippers, Austin Rivers has made a really good showing for himself as a reserve. Averaging 12.0 points a game off the bench, Rivers has shown that he has the ability to be a reliable scoring option as well as player who can facilitate for his teammates.
His 2.8 assists per game do not astonish anyone but Rivers has exhibited a knack for finding his teammates out on the perimeter, as well as in the paint. If traded to New York, Rivers would finally get the opportunity to land a starting gig.
While he's never been an inked-in starting point guard, the Knicks are in a prime position to take a chance on Rivers blossoming into their point guard of the future.
With current point guard Derrick Rose hitting free agency this summer, the Knicks 2017-18 point guard is anyone's guess. By acquiring Rivers, the Knicks would have their starting point guard, and also have the chance to target a forward in the NBA draft, such as Kansas' Josh Jackson or Duke's Jayson Tatum. Either forward would serve as Anthony's replacement on the frontline.
Rivers' contract would also works in the Knicks favor.
After signing a three year, $42 million dollar deal in the offseason, Rivers has the ability to opt out of his deal after next year, which would make him an unrestricted free agent. That means that if the Knicks find Rivers' presence to be underwhelming, and he finds New York to be a bad fit, the two sides could mutually part ways at year's end.
It's clear that Anthony sees the "writing on the wall" and his days as a New York Knick are coming to an end. That writing on the wall can only lead him to one team – the Los Angeles Clippers.