With the 2017 New York Yankees getting set for Opening Day, ESNY dives into what you should anticipate from this interesting squad.
F
or the first time since the mid-90's, the
New York Yankees
are young, championship-hungry and ready to take the league by storm.
By now, you all know the kind of year the Bombers are coming off of. In 2016, after finally realizing they had to break down the roster full of mediocrity, general manager Brian Cashman did just that by unloading many key players to ensure a bright future.
---
---
At the deadline, closer Aroldis Chapman and all-star lefty reliever Andrew Miller were sent to the eventual National League and American League champions and veteran slugger Carlos Beltran was shipped to the Lonestar State.
While it all but waved the white flag on slim playoff chances, it brought in a boatload of elite young talent featuring Gleyber Torres, Clint Frazier and many others.
Other veterans (like Brian McCann) were also dealt and many (like Brett Gardner) are still in pinstripes, but the timely rise of young studs like Gary Sanchez, Greg Bird and Aaron Judge makes the goal for the 2017 season clear as day: re-group as a franchise, avoid the first losing season in team history since 1992 and be prepared to compete for that coveted 28th World Series title.
---
---
It'll be an interesting group to watch this year, but ESNY has a full breakdown of the biggest offseason moves, players to watch, notable question marks, strength and a general prediction of where this team will finish: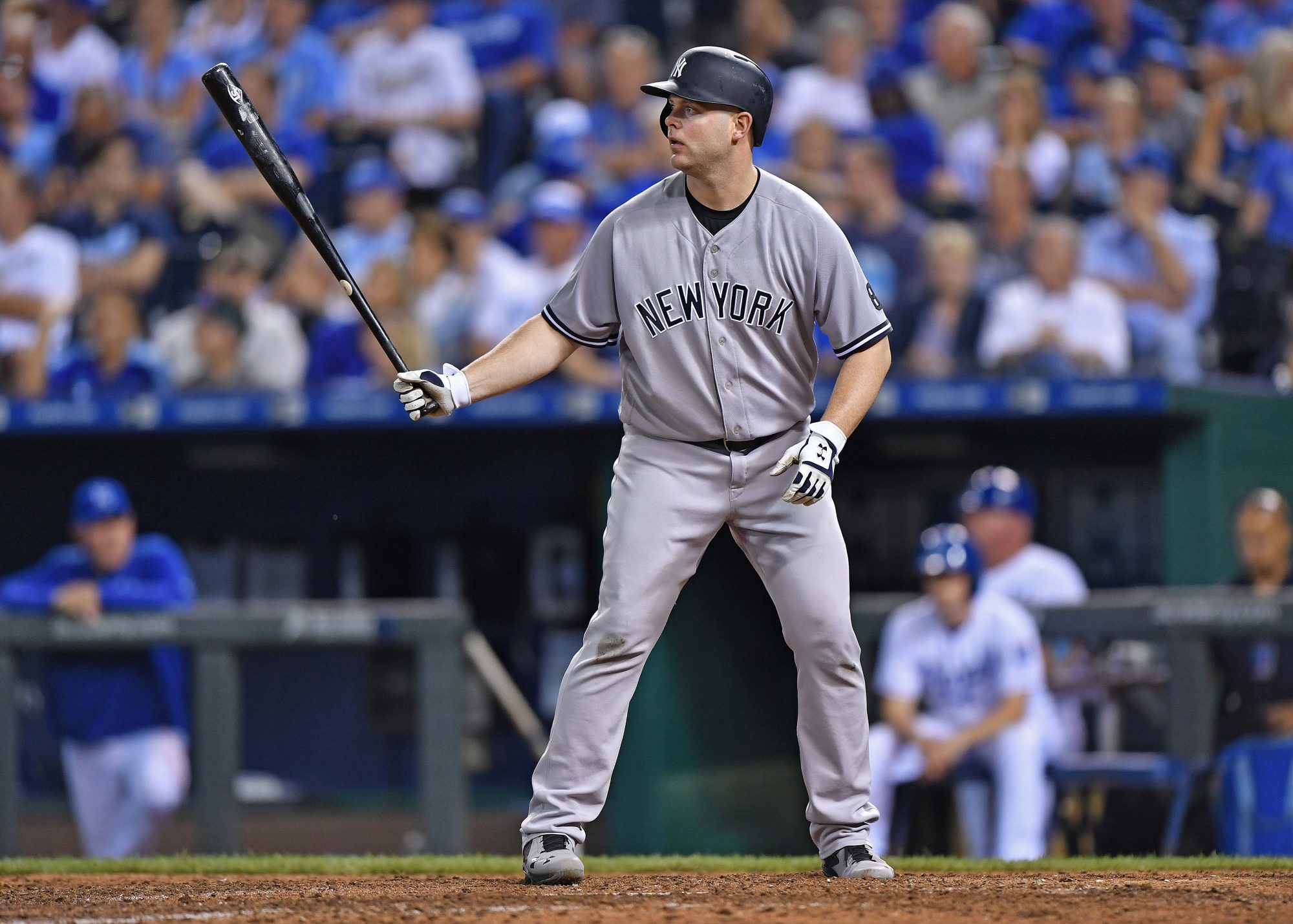 Key Subtractions: 
Brian McCann: 
After three seasons as the Yankees' backstop, McCann was sent to the Houston Astros for two flamethrowing righties in Albert Abreu and Jorge Guzman.
---
---
This came as no surprise as the 33-year old can still do a great job behind the plate and Gary Sanchez's historic rise didn't make sense for McCann to do so in the Bronx.
McCann slashed .235/.313/.418 with 69 home runs and 227 RBI donning Yankees' pinstripes and in 2016, he joined Yogi Berra, Johnny Bench, and Mike Piazza as the only catchers in history to have more than 20 home runs in 10 straight seasons.
He did undergo a massive decline since his days in Atlanta (.277/.350/.473) but it's his leadership in the clubhouse and with the pitching staff that makes this a huge subtraction.
Teixeira called it a career after 14 seasons including eight with the Yankees and despite his injuries and unproductive campaign a year ago, he'll be one tough act to follow (good luck, Greg Bird).
From 2003-2016, the switch-hitter smacked the second-most home runs (409) among first baseman and among switch-hitters since 1947, only Mickey Mantle, Eddie Murray, Chipper Jones and Carlos Beltran have hit more home runs.
---
---
No, 2017 wasn't exactly the year Teixeira or the Yankees wanted, especially coming off a 2015 season that sparked some MVP consideration, but the cut of his bat, glove and leadership will be felt.
If Tino Martinez showed us anything in 1996, however, Bird can certainly ease the transition from one first baseman to the next. Judging by the 24-year-old's cameo two years ago and torrid spring, he may be up to the task.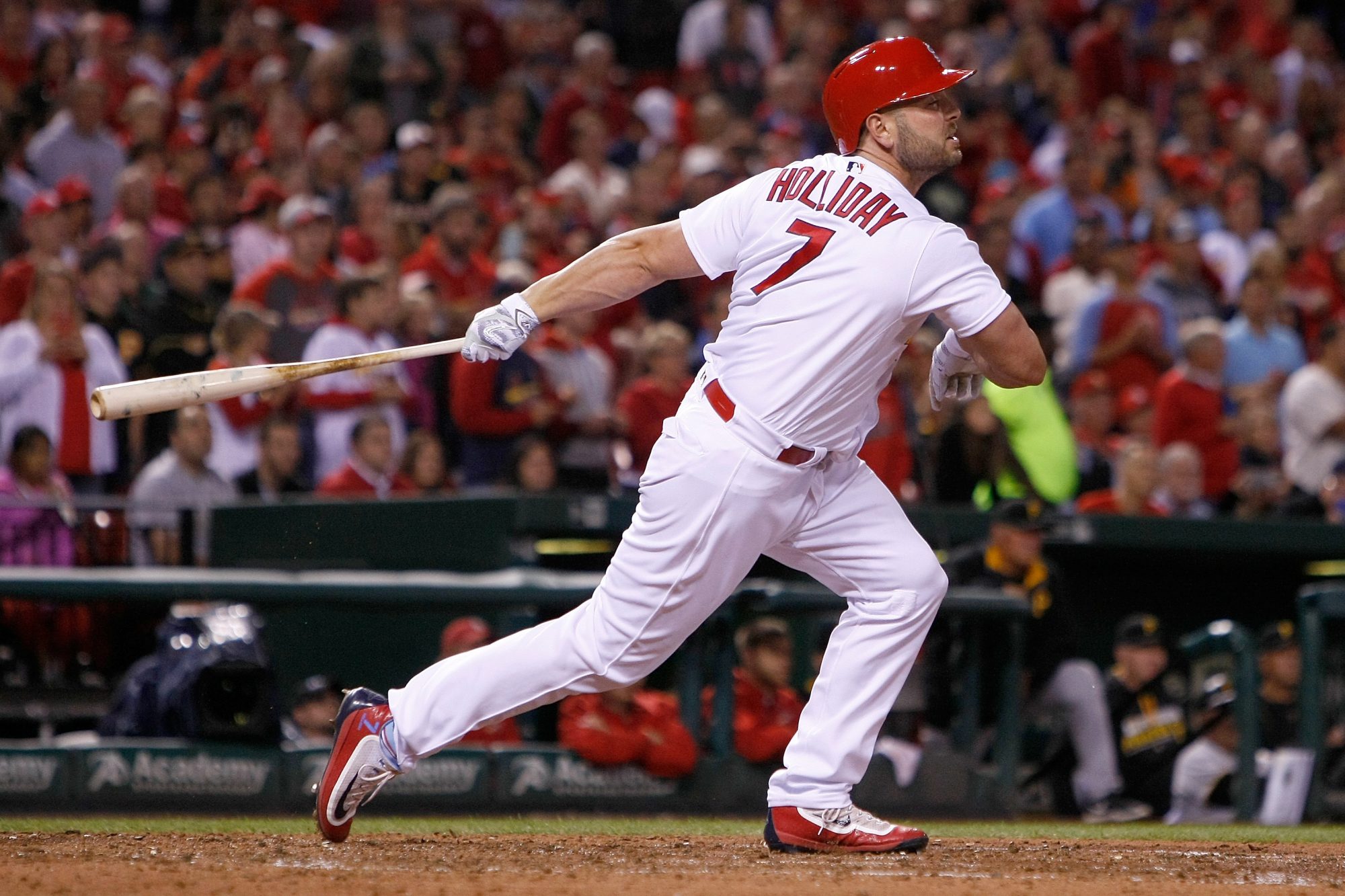 Key Additions: 
Aroldis Chapman:
We'll talk about Chapman a bit later in this preview, but the five-year, $86 million contract not only surpassed the record contract given to Jonathan Papelbon in 2011 as the highest paid closer, but it gave the Yankees one of the better closers in the game.
Last season, Chapman struck out 12.6 batters per nine innings with the Yankees before being traded to the Chicago Cubs (where he posted a 15.5 K/9 rate) and owns the most strikeouts (617) among major league baseball relievers since 2011.
It was the move we all expected from the day he was dealt to the World Champions for Rashad Crawford, Billy McKinney, Gleyber Torres and Adam Warren on July 25, 2016, but it was still the biggest signing by Brian Cashman this past offseason.
Matt Holliday: 
When McCann was traded to Houston, the designated hitter role was left vacant and a one-year, $13 million contract to Matt Holliday was the logical choice to fill that vacancy.
The 37-year-old slashed .246/.322/.461 in 110 games for the St. Louis Cardinals this past season while also hitting 20 doubles, 20 home runs and 62 RBI's. Holliday's average exit velocity, according to MLB.com's Stat Cast, sat at 95.26 mph in 2016, good enough for the fourth-best in major league baseball.
More importantly, however, he's a four-time Silver Slugger award winner, the 2007 NL Championship Series MVP, has won the batting title and is married to the Yankees for only a year.
Talk about a veteran you want your budding stars to learn from and the prototypical designated hitter.
Signing the reigning National League home run champion for just $3.5 million seems like a dream, but Cashman pulled it off on February 16, 2017, by signing Chris Carter for that exact amount.
The righty slugger played in 160 games in 2016 and slashed .222/.321/.499, maintained a .821 OPS. He finished tied with Nolan Arenado for the most home runs (41) in the National League and has hit the sixth-most home runs (131) in major league baseball since 2013.
Those numbers ought to have an asterisk attached to them, as he also struck out in 32 percent of hit at-bats last year and also owns the second-most strikeouts since 2013. Carter's 2016 -4.1 Base Running (BsR) rating by FanGraphs was the fifth-worst in the NL while his Clutch rating of -1.33 was the sixth-worst.
So, that's why he was a bargain but fortunately for New York, he'll be a mere bench player or insurance in case Greg Bird suffers an injury at some point in 2017.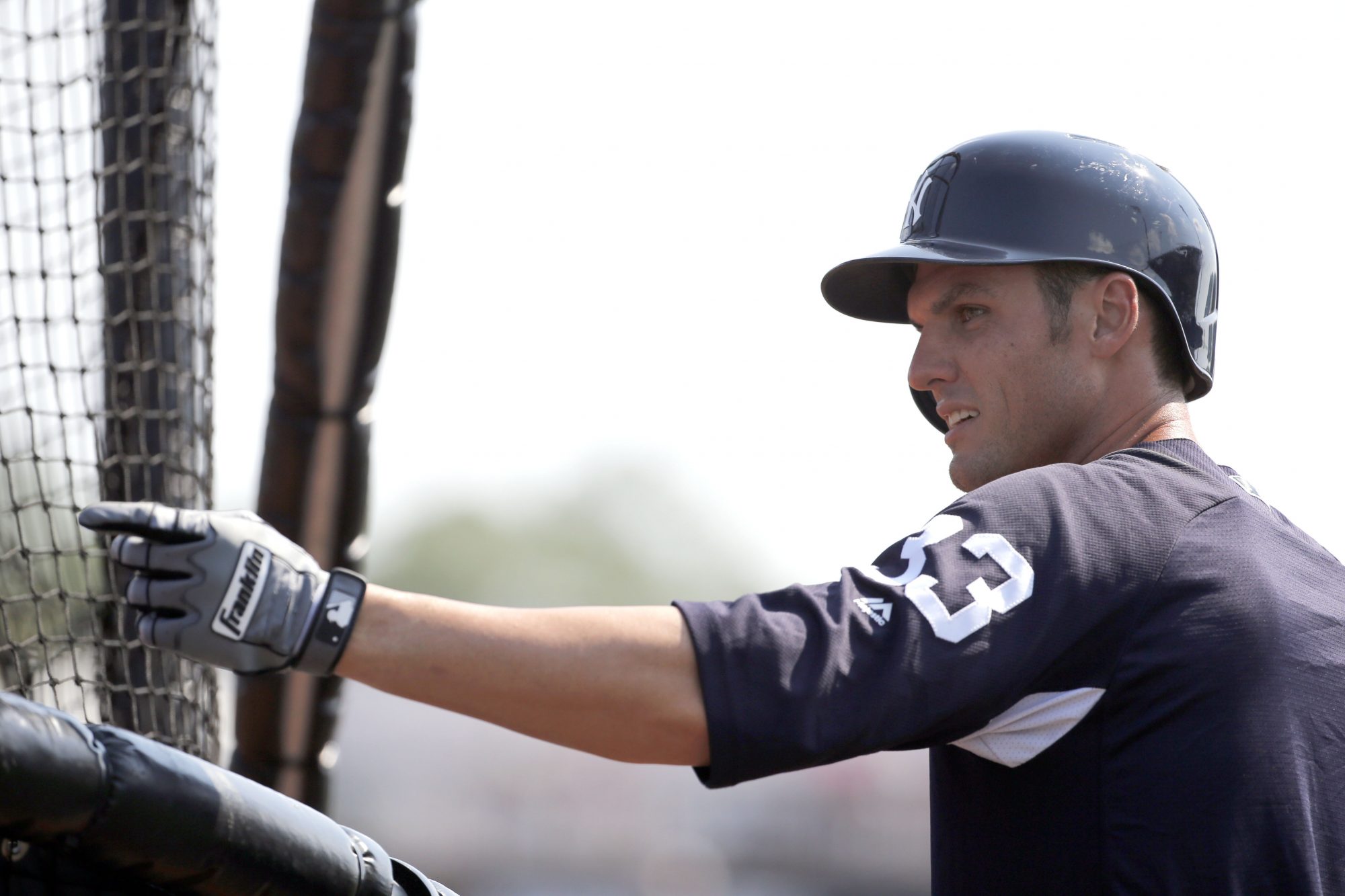 Players To Watch: 
Greg Bird:
You were probably going to keep a close eye on this guy before you clicked on this preview, but I'm still going to tell you to do some birdwatching this year.
---
---
Greg Bird, coming off a year in which he was sidelined due to labrum surgery, finished the spring leading the majors in extra-base hits (16), on-base percentage (.556), slugging percentage (1.098), on-base plus slugging (1.654) and was tied with Bryce Harper for the home run lead (8).
Back in 2015, while filling in for Mark Teixeira after he went down with a broken leg, Bird slashed .261/.343/.529 with 11 home runs in 46 games — a 38 HR/109 RBI pace when proportioned to a full season.
One of the many reasons why the Bombers struggled in 2016 was the treacherous first base shuffle that tried to fill the void left by Teixeira's struggles and the Birdman has the potential to bring consistency back to the first base position.
Gary Sanchez:
Another guy you, and the rest of major league baseball, were probably keeping an eye on prior to reading this but how can you not mention Gary Sanchez when talking about the 2017 New York Yankees? 
Last season, the 24-year-old not only became the fastest player in baseball history (45 games) to reach the 18 home run mark and later tied Wally Berger as the fastest to reach 20.
The power came from both at the plate and from behind it, as Sanchez gunned down 41 percent (13-for-19) of baserunners attempting to steal off him which was the seventh-best rate among major league catchers with at least 300 innings played at the position.
He also somehow managed to make 2016, a year that the Yankees didn't find their way into the postseason, seem like the opposite of an immense failure.
The presumed leader of the Baby Bombers will play his first full season as the Yankees' backstop and watching this kid perform over 162 games at baseball's most grueling position will be quite the spectacle.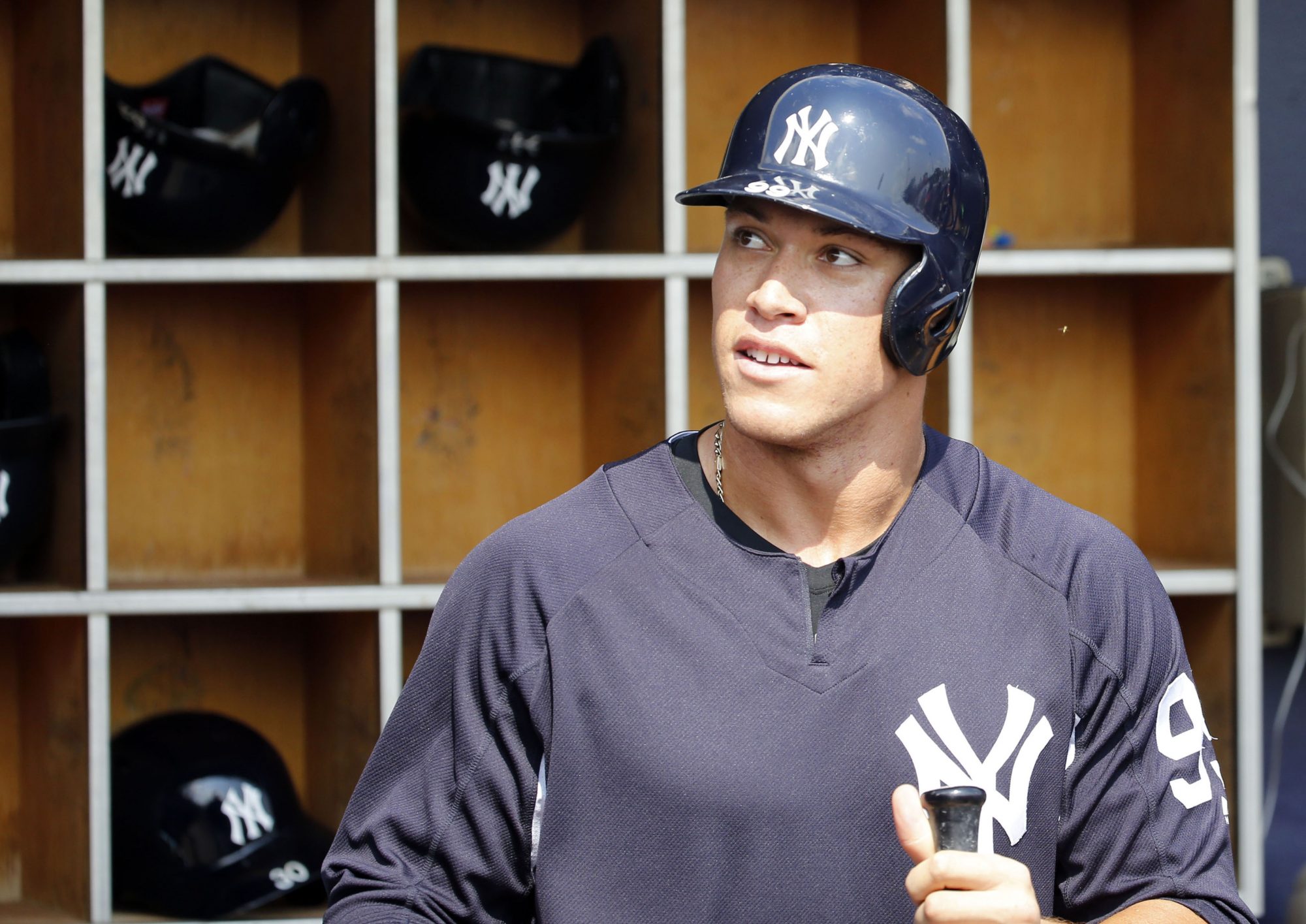 Breakout Candidate: Aaron Judge
Yes, the monstrous outfielder struggled immensely in 2016 with his 50 percent strikeout rate, but there is a ton of room for optimism.
Judge has encountered adversity at every promotion upon each call-up, yet arrives the next year and takes the level by storm.
When he was called-up from Double-A Trenton to Triple-A in 2015, Judge saw his OPS drop from .866 to .680 while also watching his strikeout rate climb from 28 percent to 32 percent. His OPS soared back up to .854 last year in Scranton/Wilkes-Barre but dropped to .608 in the majors when he was called to the show on August 13.
With a new, aggressive approach demonstrated in spring training this March, that trend of adjusting looks as if it's going to continue into 2017.
I didn't even mention the power.
---
---
Last year, despite striking out in half of his total at-bats, Judge owned the highest average exit velocity (96.8 mph) in all of baseball, according to StatCast. Higher than Giancarlo Stanton (95.9 mph) and Nelson Cruz (96.2 mph).
The power is for real, he has a track record of adapting to tougher competition and is a true competitor. Watch out, ballhawks.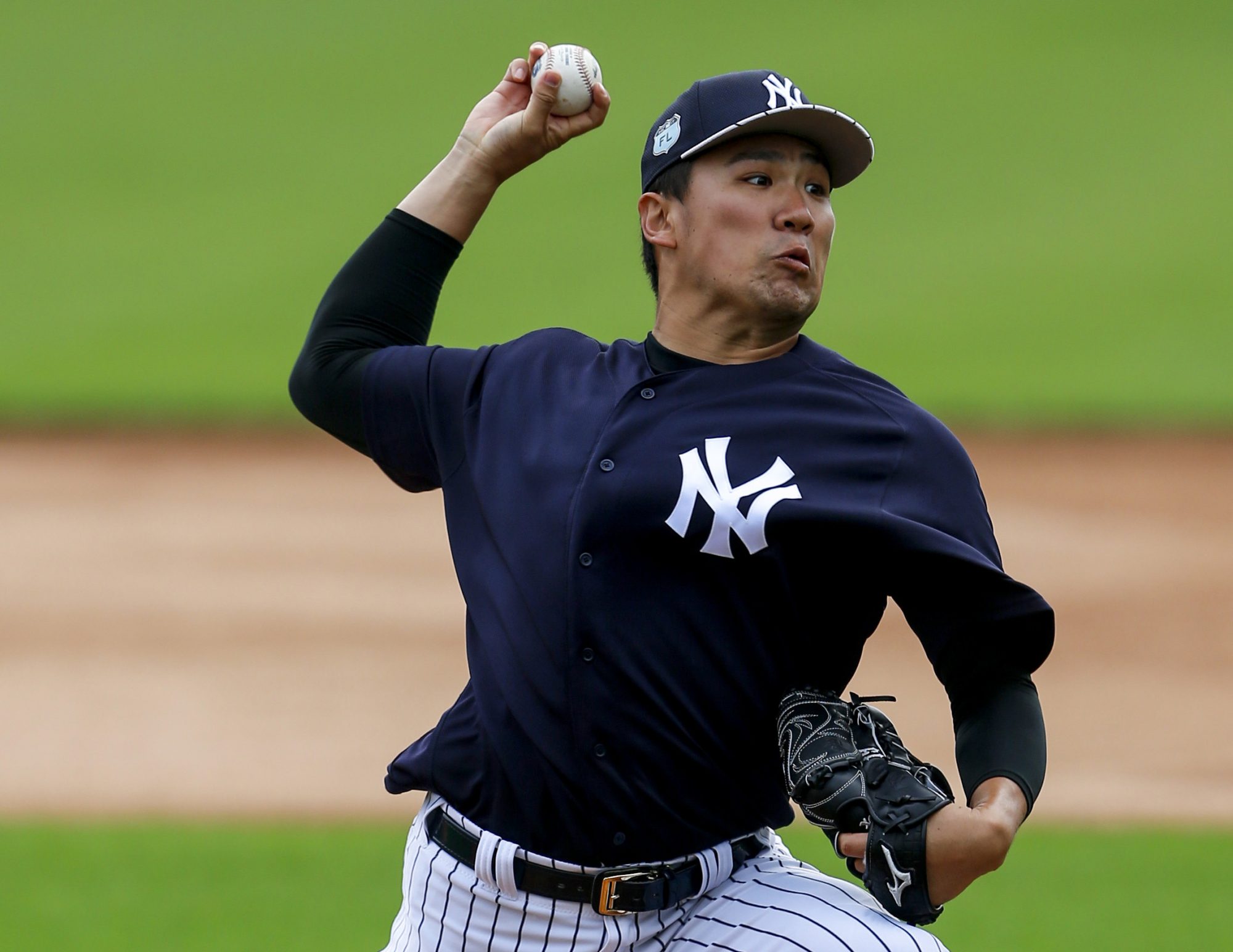 Strengths: 
Masa-HERO:
Masahiro Tanaka took those "ticking time bomb" concerns and completely threw them out the window in 2016.
New York's ace pitched in 199.2 innings, the most by a Yankee since Hiroki Kuroda in 2014, and finished with the third-best ERA (3.07) among qualified American League starters behind Aaron Sanchez of the Toronto Blue Jays (3.00) and Justin Verlander (3.04) of the Detroit Tigers.
New York was also 23-8 in games Tanaka, who maintained the third-best win probability added (2.90) in the AL last year, got the starting nod. With all the question marks surrounding this rotation, Tanaka is clearly the least of Girardi's worries.
Back-End Tandem: 
What else is there to say about the Yankees' eight-ninth inning combo?
---
---
Aroldis Chapman, who signed a five-year, $86 million contract in the offseason to return to the Bronx, will step in as the closer. Since 2012, only Craig Kimbrel owns more saves than Chapman (181), who also owns a 91 percent save percentage.
His setup man, Dellin Betances, is no scrub either. Since becoming a reliever, the 6-foot-8 righty has registered recorded 392 strikeouts which are the most in major leagues.
With an improved middle relief that should be able to carry leads into the eighth and ninth more effectively, we are possibly looking at a bullpen that is much better than the one that featured "No-Runs DMC."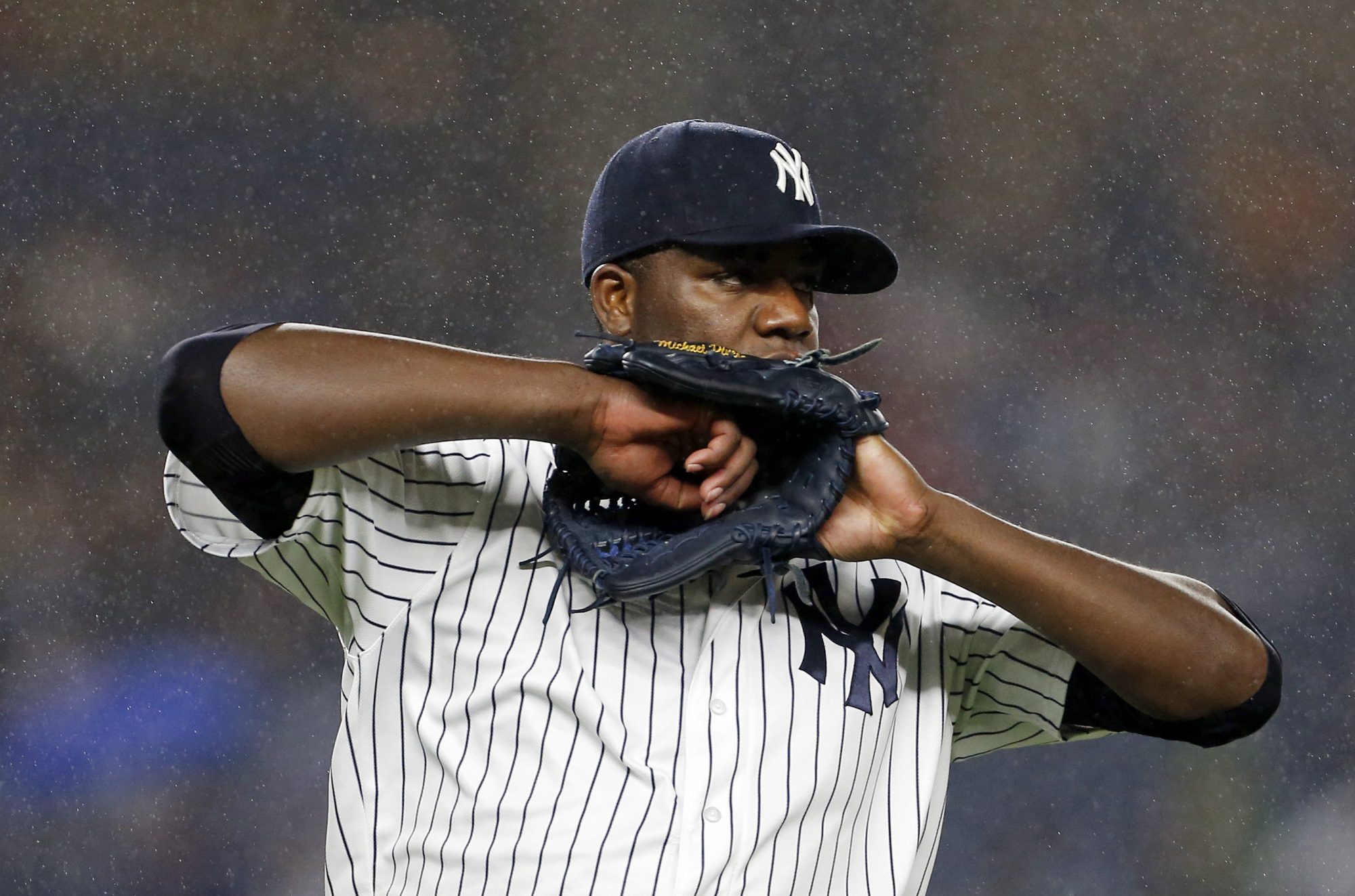 Question Marks: 
Starting Rotation:
Last season, the rotation somehow held its own. Overall, it ranked 16th in overall WAR, 19th in ERA, 10th in strikeouts per nine and 23rd in wins.
That's a rotation that featured a Masahiro Tanaka at his best, CC Sabathia's best year since 2012, the enigma of Michael Pineda, a struggling Luis Severino and 22 starts made by starters who weren't on the Opening Day roster.
---
---
Now, as the calendar shifts to 2017, the Yankees made no additions to this rotation and the only ray of hope lies in the partially torn UCL in the elbow of Tanaka, a 36-year-old lefty who's still a shell of his ace self, a Pineda that showed zero signs of fixing whatever issue he has, a Severino who still packs questionable fastball command and a bunch of youngsters waiting for their shot. * takes breath *
The chances of being close to what they were last year — which was still below average — is very slim and unless all of the starters take a step up, the rotation will cripple the Yankees' chances at competing.
Growing Pains: 
While everyone will watch specifically for Gary Sanchez to fall victim to the sophomore slump, the tough adjustment to life in the majors will be visible in all of the Baby Bombers that will take the field for New York tomorrow.
After all, we're all faced with these questions:
Will Sanchez continue his torrid pace or is last September a true example of his skill set? How will Greg Bird adjust to a full season of the majors after being absent for the entire 2016 season? Is Judge a guy who will continue to strikeout in half of his at-bats or will his aggressive approach translate to powerful results?
Most importantly: how well will these kids perform on baseball's brightest stage with all the asinine expectations on their shoulders?
Spring Success=Regular Season Success?
I've thrown this in here to have a little fun with those who think spring success means something.
Yes, they have finished with their best spring record since 2009 (24-10-1) but if recent history tells you anything (that is if common sense doesn't do it for you) it's that these records should be tossed out the window.
Since 2011, five out of the six teams that finished with the best overall spring training record did not make the postseason and only two finished above .500.
While it was fun for fans to watch this squad tear it up in the month of March, April is a whole other monster.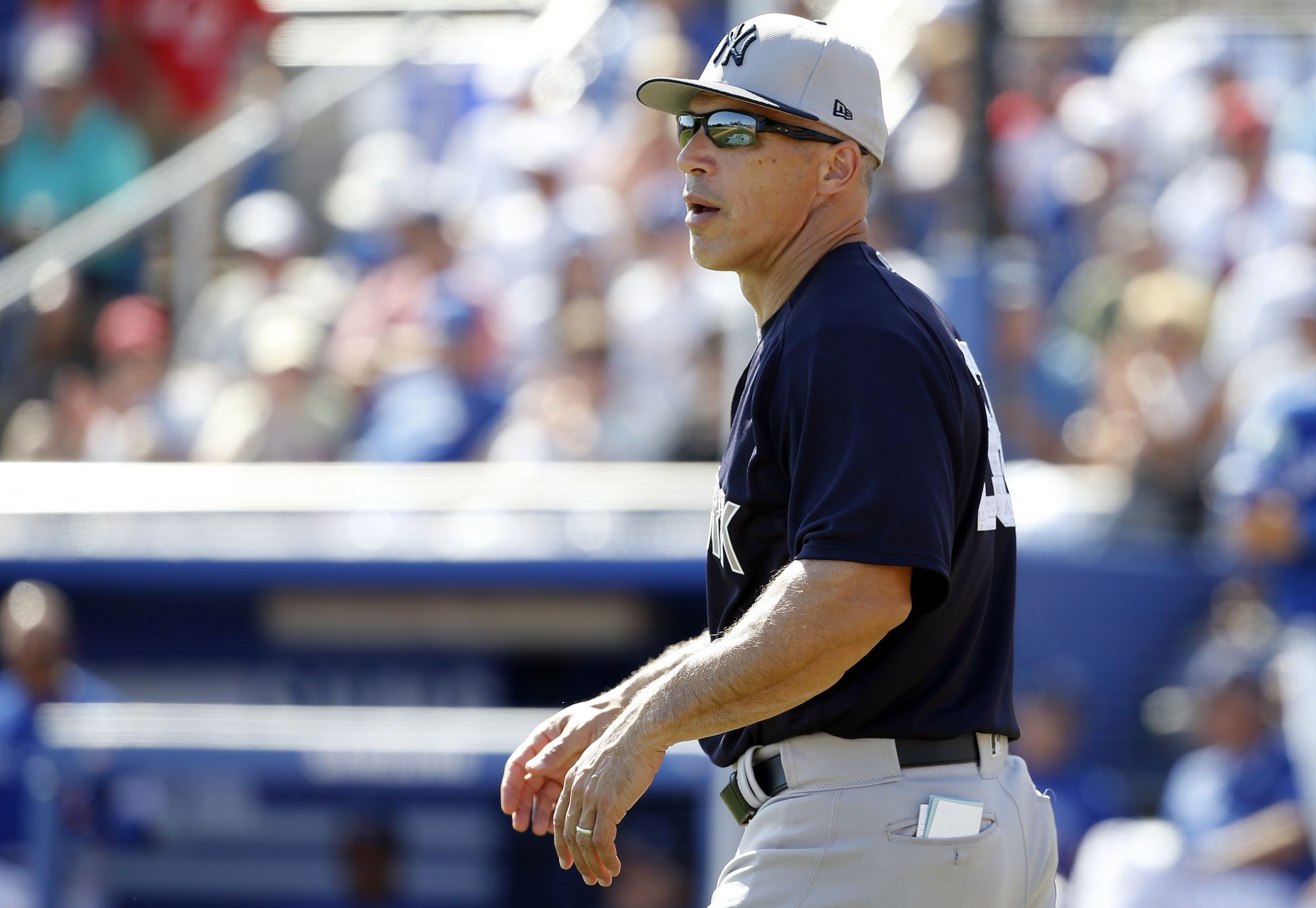 Predictions: 
86-76, Fall 3-4 Games Short Of Second Wild Card Spot
Look, there's a lot to be excited about if you're a Yankees fan. Brian Cashman has somehow put a winning product on the field despite being in year two of a rebuild and when you look at 2016, there is room for optimism heading into Sunday. 
The organization sold their best two relievers, their best hitter and didn't have a serviceable first baseman or a beneficial designated hitter. They did have a middle relief corps which ultimately made "No-runs DMC" a non-factor and a bunch of big-footed lefties hitting into the teeth of the shift.
Now, Greg Bird can provide the Yankees with some pop from first again, something Mark Teixeira couldn't do last season. Matt Holliday should be the total opposite of the Alex Rodriguez we saw last year. The middle relief corps is stronger with two guys (Adam Warren and Bryan Mitchell) shortening the game to put the ball in the hands of yet another nightmare-inducing back-end duo of Betances and Chapman.
Manager Joe Girardi managed to take last year's Yankees squad to the 84-78 mark despite a 9-17 start, a -22 run differential — good enough for a Pythagorean record of 79-83 — and a whole lot of misfortune.
A young, athletic team may be able to sneak into one of the two wild-card spots, but I have them falling just short thanks to inevitable growing pains and a rotation which wouldn't stun anyone if they finished last in the league in ERA. The American League could also see two 90-win teams square off in the one-game wild-card decider and that's a mark I'm not ready to buy into just yet.
No, my prediction — which is really a best-case scenario record — is not the "Yankee Way," but there's another dynasty brewing in the Bronx and this might be your sneak-peak at what that motion picture will look like.
---
---
Staff Predictions: 
Emmanuel Berbari: 85-77
A questionable starting rotation will be the weak link of an otherwise exciting Yankees roster. Depending on the strength of the American League, a second wild card could be in order for the Bronx Bombers. Regardless, it is safe to assume Joe Girardi's squad will be in the conversation come September, and it is downright asinine to think a team filled with franchise cornerstones (Gary Sanchez, Greg Bird, Aaron Judge and company) will take a step back. Do not count on the Yankees' first losing season in over two decades.
Patrick Hennessy: 87-75, Wild Card Appearance
Yankees will be a pleasant surprise in 2017, experiencing unexpected success with not a lot of pressure unlike in years past. They will gain a spot in the wild-card game due to the solid seasons from guys like Gary Sanchez, Greg Bird, Matt Holliday and Aaron Judge. Michael Pineda will finally live up to his potential and have a bounceback year, answering a big question mark in the Yankees rotation for the future. This will be a very exciting team to watch in 2017, which could bring playoff baseball back to the Bronx for the first time in years.
Allison Case: 87-75, First Wild Card Spot
Yes, they'll be better than last year. The expectations for these kids are incredibly high but Gary Sanchez and Greg Bird have already proven that they can handle the big leagues. They have a much stronger core of hitters and while their rotation is still questionable, the back end of their bullpen is lights out. They'll continue to fix some of the issues from last year, especially stagnant offense and poor middle relief, and while that won't be easy, they'll still remain competitive against a tough AL East division. I don't see the Yankees being any worse than last year, especially with the return of Bird and some high-quality bullpen pitchers. Gunning for the first Wild Card spot, the Yankees will make it. Welcome to the new dynasty!
Delia Enriquez: 88-74, Wild Card Spot
The Yankees finally seemed to have their offense figured out with the additions of Greg Bird, Matt Holliday and a full season of Gary Sanchez. However, the starting rotation has too many question marks starting with Pineda's effectiveness and ending with Tanaka's elbow being a ticking time bomb. I don't think the Yankees will win the American League East, especially with the dangerous Boston Red Sox in the division, but they might have a team strong enough to compete for one of the two Wild Card spots.
Robert Villa: 86-76, Loss In ALDS
The Yankees will win the Wild Card game but lose to Boston in the playoffs. The Yankees' lineup and bullpen will be good enough to overcome an average rotation. Cashman will resist the temptation to deal minor leaguers for Jose Quintana at the trade deadline, and Boston's rotation will be too much for them.
Mathew Castillo: 88-74, Wild Card Appearance
They may be young with guys like Gary Sanchez, Greg Bird and Aaron Judge in the lineup, but these guys can play and will provide offense. The question is the starting pitching. I believe Tanaka will have his best year this season and possibly be in the Cy Young discussion. Michael Pineda, if he is on, he can be one of the best pitchers in baseball and can help take the Yankees far if he has a great year. Sabathia showed last year that he can be successful even without a 95 plus fastball. If the back-end of the rotation does their job these team will be alright. Overall, I believe the Yankees will have a solid year and will be back in the postseason but they are not a World Series contender just yet.