A
s the New York Yankees split-shifted its path from a roster cluttered with past-their-prime-stars to a team focused on a future inspired by youth, it opened the door for many budding prospects.
Gary Sanchez took the opening and jump-started his career in historic fashion, by becoming the fastest rookie in baseball history to reach the 18 home run mark and tying Wally Berger as the fastest to reach 20.
---
---
Before the Sanchize, it was Greg Bird, who became the twelfth player in major league history to hit 10 home runs, drive in 28 runs and score 22 runs in his first 34 games.
Aaron Judge, one of the more recent top prospects to make his debut, also got off to a hot start but unlike the promising history the two that came before him made, the monstrous slugger set the Yankees' record for the most strikeouts (42) within a player's first 27 games. It wasn't pretty.
After homering in his first major league at-bat, Judge went 13-for-80 (.163) with three home runs while striking out in 51.25 percent of his at-bats despite showing insane power by owning the highest average exit velocity (96.8 mph) in the league, according to StatCast.
---
---
The promise was obviously there, but translating that power into major league success was his primary hindrance during the offseason and with spring training beyond its halfway point, one simple adjustment has already started to pay off for the 6-foot-7 right fielder.
It started with going back into the film room and looking at exactly why one of New York's top outfield prospects looked like a little leaguer when thrown into the big leagues. One of the problems was pitch recognition.
He generated roaring power against fastballs (97.3 mph average exit velocity) with a modest whiff percentage of 13.10 but whiffed on 34.69 percent of changeups seen, 24.44 percent of curveballs seen and 21.67 percent of sliders seen. Overall, he posted a 62 percent whiff-to-swing rate on breaking pitches and a 59 percent whiff-to-swing rate on offspeed pitches, all according to Brooks Baseball.
Judge also did a terrible job of managing the strike zone and requiring pitchers to throw strikes, but more importantly, he allowed a ton strikes he should have squared up go by which placed him into off speed/breaking ball friendly counts: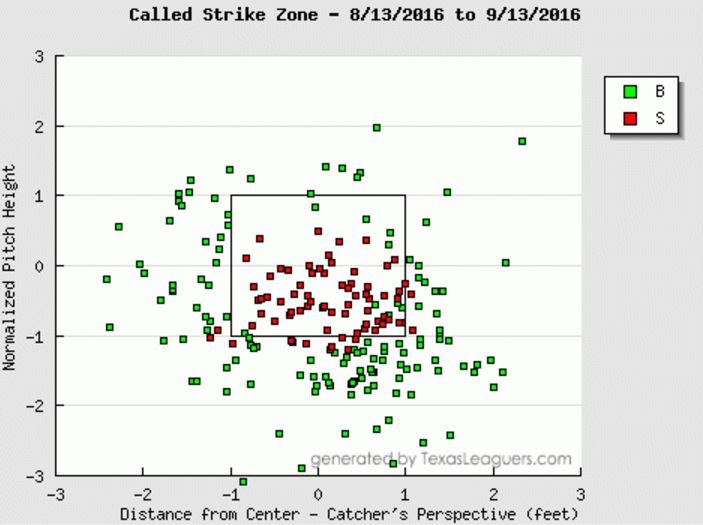 In his 95 plate appearances last season, Judge saw 4.29 pitches per plate appearance and judging by the graphic above, too many pitches that he easily could have squared up were taken over the heart of the plate and thus making it easier for opposing pitchers to set him up for "strikeout city."
This spring, he hasn't changed a whole lot mechanically but has become more aggressive with his approach at the plate.
In 12 games in Grapefruit League play, Judge owns a .310/.394/.586 slash line with two home runs and 17 total bases while seeing just 1.91 pitches per plate appearance — almost three pitches less than his 2016 rate. That ties into not only the higher average, but had a lot to do with the fact that his strikeout rate in camp (24.1 percent) is significantly lower than his career minor league rate of 28.7 percent.
So, perhaps we should change our philosophy on how Judge can bounce back after a dismal start to his major league career. It has nothing to do with his leg kick, which hasn't disappeared, but evidently along the lines of aggressiveness. As mapped out, he simply took too many good pitches, got into trouble in the count then swung and missed on the pitcher's go-to pitch during his first stint in the Bronx.
This is obviously tremendous news for the Yankees as they look to illuminate the "power outage" experienced from the right field position. The last time a Yankee right fielder hit 30 or more home runs was when Gary Sheffield hit 34 dingers in 2005 and before him, it was Reggie Jackson back in 1980. In both of those years, the team won 95 and 103 games, respectively.
---
---
New York's 1st round choice of the 2013 draft out of Fresno State can't and shouldn't be expected to carry the lineup, but by being more aggressive at the plate Judge will have an enormous bearing on driving the win column in the positive direction.