The silver lining in the Knicks 2016-17 struggles is the fact that they have a potential top five pick in this year's NBA draft. One name they should keep a close eye on is Kentucky point guard De'Aaron Fox — who would be a great long-term fit next to Kristaps Porzingis.
W
ith their
Thursday night loss to the Portland Trail Blazers
, the
New York Knicks
now sport a 27-45 record. Their win-loss total is the sixth worst in the NBA; however, for a team who is best served going forward with a full rebuild, losing isn't necessarily a bad thing.
Currently, the Knicks are just a half-game behind the Philadelphia 76ers and just one game behind the Orlando Magic in regards to the worst records in the NBA. That has them in prime position to land a top-tier player in the NBA draft.
One guy who fills a need is Kentucky point guard De'Aaron Fox, who would be a great long-term fit next to Kristaps Porzingis. (You know, the guy who poured in 39 points in the Elite 8 game against UCLA on Friday night.)
Kentucky's own De'Aaron Fox has put forth an impressive rookie campaign. Averaging 16.1 points, 4.6 assists as well as 4.0 rebounds a game on 47.6 percent shooting, Fox has shown the ability to compete on both ends of the floor.
Offensively, Fox is a scoring guard. He attacks the rim at will, can play in isolation and also plays above the rim. His ability to be a go-to scoring option is a valuable asset for a rebuilding team, such as the Knicks. Those same qualities are also ones the Knicks envisioned seeing in Derrick Rose's play. The only problem is … Rose's abilities haven't worked out at the Mecca.
While Rose is averaging 17.8 points a game, he has been unable to make a big enough impact to help propel the Knicks offense to greater heights. Could Fox do what Rose never did by taking the keys and driving the Knicks offensive attack?
While he's yet to play a game in the NBA, Fox has shown an ability to score in a number of ways, and serve as a playmaker – something that would be beneficial to Kristaps Porzingis.
Currently, big man Kristaps Porzingis is the clear future of the Knicks. The 21-year-old Latvian has shown the ability to be a two-way presence. By playing out on the perimeter, above the rim and also serve as a shot blocking presence, Porzingis has been an improving long-term asset for the Knicks; however, his game has bee held back a bit, given the Knicks slow style of play. Fox, though, would help change that.
While he does have the ability to play in half court sets, Porzingis is a run and gun, fast break player, much like Fox. Given that he likes to get out and run the fast-break, Fox would do wonders for Porzingis' game allowing him to play his style of game. With Fox and Porzingis uniting to form a run and gun, uptempo offensive duo, the two could potentially grow into a Chris Paul–Blake Griffin "Lob City" like-duo.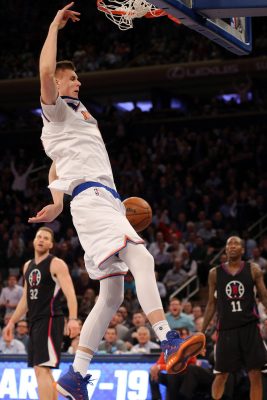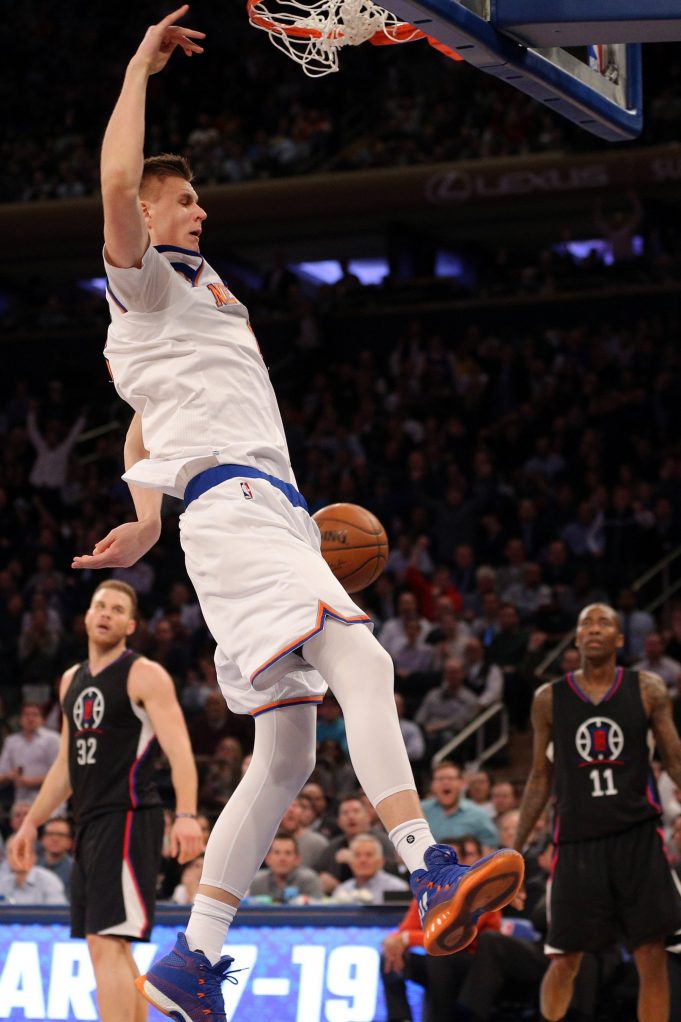 Also, while he would immensely help Porzingis' game, Fox would help the Knicks out defensively as well.
While his offensive play is impressive, Fox's defensive game is just as impressive. In addition to his impressive stats on the offensive end, Fox has also made an impact on the defensive end.
Averaging 1.4 steals a game, Fox has been a gnat on the defensive end. His defensive impact isn't just on the stat sheet, though.
While his ability to force turnovers is notable, Fox is also a great defender outside of his steal total. He's a great on-ball defender, who also has the capability to defend the perimeter. The southpaw's all around defensive game makes him a very skilled and intriguing prospect — one who makes a lot of sense for the Knicks.
While he would be a great fit next to Porzingis, Fox would also solve and relieve the Knicks franchise of a burden that's been held on them for a while – finally getting a franchise point guard.
If the Knicks were to lose to the point where they'd gain another lottery ball or two, their chances of landing Fox would increase significantly. In Draft Express's latest mock draft,  Fox is projected to go with the sixth pick in the draft – the spot the Knicks now possess after their Thursday night loss in Portland; however, while he may be projected to be on the board when they make their pick, Fox isn't a lock to be there. If the Knicks continue to lose, though, their chances of selecting him would increase. If selected, Fox would give the Knicks the long-term point guard they've been in search for the past decade, potentially making the losing worth it for the franchise and its fans when it's all said and done.
While they've had veteran point guards such as Stephon Marbury and Raymond Felton in the past, the Knicks haven't had a point guard who was guaranteed to be in the team's long-term plans; drafting Fox would finally get them that guard.
If selected, Fox would become the Knicks point guard of the future and would be paired with Kristaps Porzingis. The two together would be a great fit long-term in New York.