With the season being a lost cause, the New York Knicks would be best served starting Chasson Randle and Ron Baker.
A
fter Thursday night's loss to the Portland Trail Blazers, the New York Knicks now own a 27-45 record and the twelfth seed in the Eastern Conference. The 2016-17 season has been a rollercoaster ride for them, and they're now likely lottery bound. As a result of their inability to compete in the Eastern Conference, they're better off losing games, as opposed to winning them, so that they can give themselves a better chance at winning the NBA lottery.
Doing so though is a daunting task, being that the fans still come out to watch this team play and how head coach Jeff Hornacek is paid to win games, not lose them. There is a way to go about it, though.
The best way for the Knicks to tank and simultaneously play hard is for them to play their youth and rest their veterans in the remaining ten games of the regular season.
Currently, the Knicks starting lineup is composed of three key veteran players – Derrick Rose, Courtney Lee and Carmelo Anthony. While they've been solid contributors this year despite the team's woes, it's pointless for all three to start and play a lot of minutes going forward, more specifically Rose and Lee.
Instead, the Knicks are better off starting their younger players such as guards Chasson Randle and Ron Baker. 
Both Randle and Baker have produced well in the limited amount of time they've been given this year. Randle though has only been with the Knicks for a few weeks.
The Knicks signed Randle right after they released point guard Brandon Jennings to help add some depth at the point guard position; however, while he's been a solid offensive presence, Randle has been given little to no chance of showing what he's capable of.
Appearing in just ten games, Randle has averaged 4.6 points and 1.4 assists a game in just 9.9 minutes a game. Randle though has shot 40.0% from behind the arc and 95.7% percent from the free throw line. In reality, though, the limited amount of minutes Randle has been given has been a big part of why he hasn't been able to showcase himself.
In the ten games he's played, Randle hasn't been given a consistent amount of playing time. Finishing games with below five and also above 20 minutes a game, Randle hasn't been given a chance to get into any rhythm on either end of the floor. Starting Randle could give him an opportunity to do just that, though.
Starting him for the remainder of the year is the right move for a couple of the main reasons. One of them being whether he can be a piece going forward.
With a rebuild likely on the horizon, starting Randle gives the Knicks the opportunity to see whether he can be a long-term piece. It also gives them a chance to assess, while maybe a stretch, whether he could be their starting point guard in the 2017-18 season.
With current starting point guard Derrick Rose hitting free agency this summer, it's unclear as to whether he'll be back in the blue and orange next year. The Knicks are also said to be interested in going with a guard in the NBA draft.
If that's truly the case, then Rose is likely a goner.
Starting Randle gives the Knicks the ability to judge whether he can be a long-term fit at the starting or backup point guard spot. Starting rookie shooting guard Ron Baker would allow the Knicks to do the same.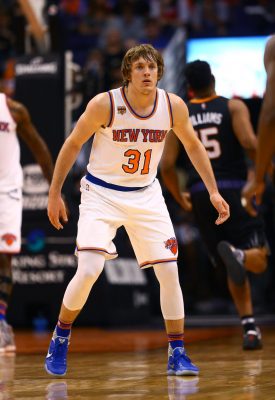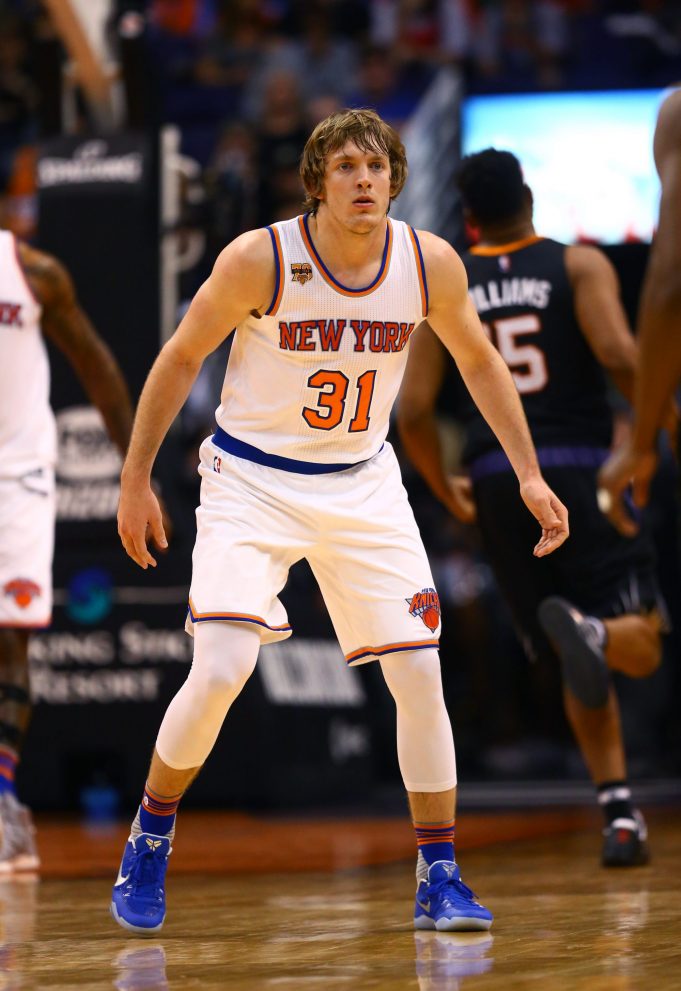 Much like Randle, shooting guard Ron Baker has seen little to no minutes this season. Appearing in just 42 games, Baker has averaged 3.5 points a game in just 13.0 minutes a game. By not playing a lot of minutes, Baker has been unable to get into any groove offensively, shooting just 32.2% from beyond the arc. Baker though has shown an ability to be a gritty defender.
While his offensive output hasn't been tremendous, Baker has been a presence on the defensive end. He's been a great on-ball defender, a good perimeter defender and has also played with grit and tenacity. By diving after loose balls, and being a gritty defender, Baker has made a good showing for himself. His game though has been held back as he hasn't played a lot of minutes. A big part of that is due to the presence of shooting guard Courtney Lee.
Currently, the Knicks remain committed to Courtney Lee at the shooting guard position; however, while Lee's been a solid "three and d" player, and a good veteran presence, he's an odd fit for the Knicks. His odd fit has nothing to do with his play, though, as he's been solid averaging 10.6 points a game, shooting 40.9% from beyond the arc. The issue with Lee is that he's a win-now player, who belongs on a playoff team, which the Knicks are not.
At this stage, the Knicks are probably best suited finding a new home for Lee this offseason. With that it mind, the Knicks would be wise to start Baker at shooting guard for the remainder of the year. Doing so would allow them to see whether Baker would be capable of playing a bigger role in the 2017-18 season.
With the season all but over, the Knicks are best suited resting their veterans and letting their younger players get some run, more specifically guards Chasson Randle and Ron Baker. Starting Randle and Baker in their backcourt allows the Knicks to see whether then two can hold a bigger role on the team in the foreseeable future. However, if they fail to play well, the Knicks chances of winning the NBA lottery would only increase, and it would become clear what kind of players they are in the present.