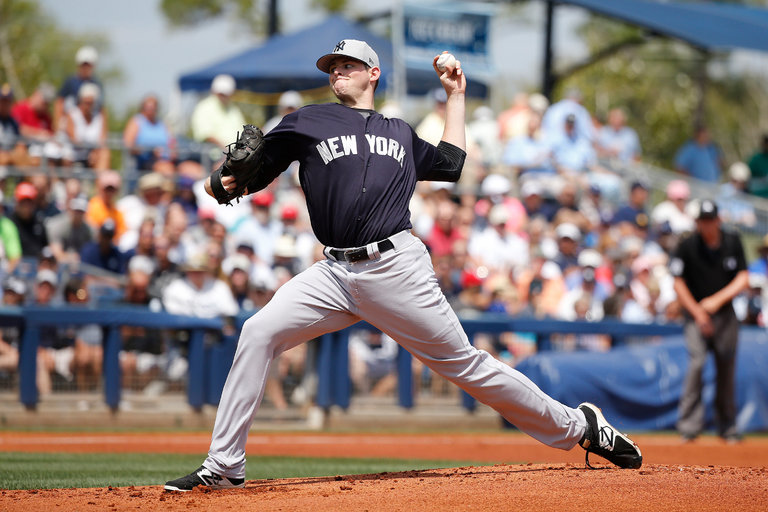 After yet another solid start by New York Yankees pitching prospect Jordan Montgomery, it's time for him to be considered a favorite. 
T
he battle for the fourth and fifth spots of the
New York Yankees
rotation has been unexciting and anti-promising through the first half-or-so of spring training.
Luis Cessa has struggled with command leading to a 6.52 ERA in 9.2 innings, Chad Green has walked six batters in just 12 innings, Luis Severino is struggling with fastball command, Adam Warren is better suited in the bullpen no matter what and Bryan Mitchell is leading the way.
---
---
Clearly, this isn't ideal for manager Joe Girardi, who's destined to begin his 10th season as Yankee manager with a rotation containing a surplus of question marks.
That is until 24-year-old left-handed starter Jordan Montgomery provided some answers.
Considered a long shot entering camp, New York's fourth-round pick of the 2014 MLB June Amateur Draft has struck out 13 batters in 14.2 innings of work this spring and has only let up six runs (3.68 ERA) while holding batters to a .185 batting average.
With Montgomery rising and with none of the original five rotation candidates standing out, the curious Girardi gave the young southpaw a start against the Tampa Bay Rays, where Montgomery may have legitimized his candidacy for one of the two remaining spots.
---
---
With his conventional mix of a sinker, curveball, slider, changeup and fastball, the 6-foot-6 Montgomery struck out eight batters over 4.1 innings of work against a Rays' lineup filled primarily with starters.
The lefty, who struck out three-time All-Star Evan Longoria twice in his outing, also became the fourth Yankees' starter to record at least seven strikeouts and walk none in a start this spring, joining Mitchell, Masahiro Tanaka and Michael Pineda.
He surrendered two runs — one caused by a misjudged sinking liner by Aaron Judge in right and one coming after he left the game — and after hitting 95 mph on his final strikeout of the afternoon, he assuredly made a positive impression on the Yankee brass.
https://www.youtube.com/watch?v=XqPnau-ZGPs
"I liked what I saw," Girardi said. "I thought he threw really well. I did. I thought he had swings and misses on his fastball, on his slider. I thought his changeup was good, I thought his curveball was good. Interesting case."
The case is interesting indeed. 
Before being an underrated prospect in New York's farm system, Montgomery was a big-time ace during his collegiate days at The University of South Carolina. In five career NCAA tournament starts, he went 5-0 with a 0.93 ERA and since being drafted, he has flown under-the-radar until 2016.
Between Double-A Trenton and Triple-A Scranton/Wilkes-Barre last season, Montgomery registered a 14-5 record featuring a 2.13 ERA and a 2.98 strikeout to walk rate in 139.1 innings. After striking out 97 batters in 19 starts at Trenton, his ERA dipped to 0.97 in his six Triple-A starts while holding the opposition to a .212 batting average.
In four starts from Aug. 7 to Aug. 25, he went 4-0 and didn't allow a single earned in during what was a 30-inning scoreless streak.
Montgomery capped off his unbelievable step-up in performance with a winning effort in the Triple-A National Championship game. He allowed just one run on six hits without a walk in five innings to secure the Governer's Cup for the RailRiders.
---
---
The most impressive aspect of Montgomery's game, however, has to the similarities in splits versus lefties and righties. In 2016, left-handed hitters batters went 32-for-139 (.230 BA) off him while righties went 90-for-386 (.233).
With clearly little proving left to do in the minors, the next logical choice is to truly assess the positives he can bring to the rotation. He has a unique mix of five pitches unlike the other competitors, has separated himself from the pack, is a lefty and ate some innings last year.
"I liked what I saw. Obviously, we still have seven, eight days to figure this out. I liked what I saw a lot,'' Girardi said.
---
---
It's unclear whether or not Montgomery will get another spring appearance, but he's a well-bred lefty with dominance at the Triple-A level — every level, for that matter — and if the Yankees consider him one of their starting options at the end of spring training, which he evidently is, then he should absolutely travel up north on the 25-man roster.