ESNY's Peter Schwartz was on hand when the New York Mets showcased what's fresh and new at Citi Field for 2017.
T
he frigid temperatures made it seem like it was football season.
There was heat being pumped in under the tarp to keep the frost off the pristine grass field and the remnants of last week's snow storm would lead you to believe that baseball season was far far away. Chills present or not, the reality is that the New York Mets will open the 2017 season at home a week from this Monday, Apr. 3, against the Atlanta Braves and the organization is ready for a winning campaign on and off the field.
On Thursday, the Mets held their annual "What's New At Citi Field" media event at which they unveiled the new visible and interactive elements to the ballpark, promotional items and the new food options that will be available for fans.
"We're very excited," said Lou DePaoli, the Mets' Executive Vice President and Chief Revenue Officer. "We spent all off-season and even late last season thinking about what we can do differently for 2017. We want to keep raising the bar on the experience level for fans when they come to games."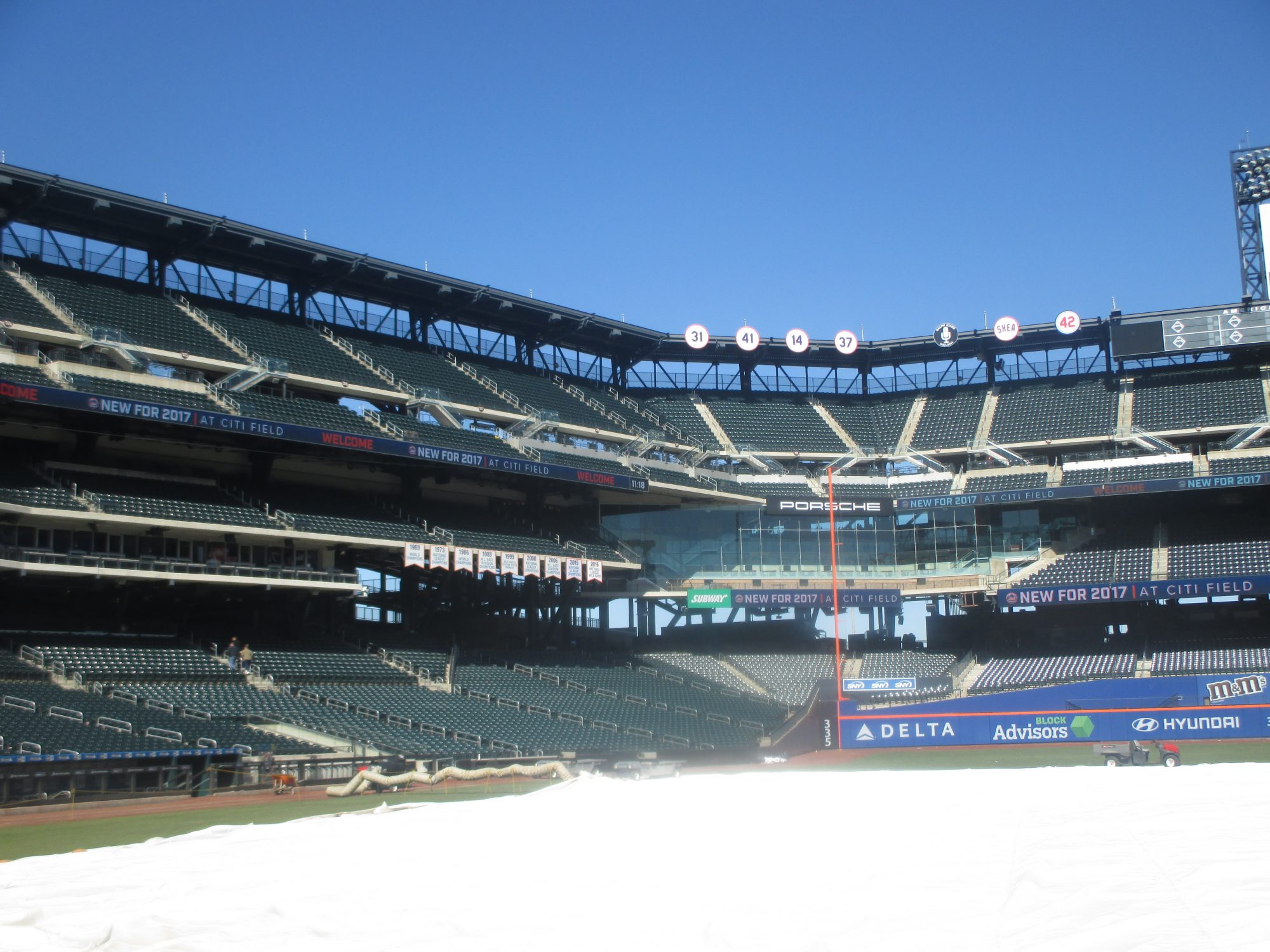 As the Mets contingent of executives led reporters and other guests on a tour around the team's magnificent ballpark, there were stops along the way to show off some of the new things that fans will notice this season at Citi Field.
Among the highlights are the new Jim Beam Bourbon Bar has been added behind the scoreboard in center field, the newly renamed Porsche Grille (formerly the Acela Club) in left field and the Bud Light Landing in left field which is a new lounge area for all ticketed fans. There is also a new Season Ticket Holder VIP room on the field level in centerfield to provide additional services to the season ticket base.
Every year, the Mets listen to their fans and adjust accordingly.
"We survey fans after every game," said DePaoli. "Online, we'll send out a post-game survey to ask people what they liked and what didn't you like. Tell us about the music, food, parking and guest services. We aggregate them the very next day as they come in and I look at them all."
When the tour made its way upstairs and inside the Porsche Grille, the Mets displayed many items that make up their 2017 promotional schedule. Whether it's "Free Shirt Fridays," "Super Saturdays," or "Family Sundays," the Mets have something for fans of all ages as part of almost one million items that will be given away.
"We try to make it better and better each year and we are really excited about our 2017 lineup," said Mark Fine, the Mets' Executive Director of Marketing. It's going to be a great year for promotions."
The item that seems to be generating the most buzz is the Noah Syndergaard-Thor Bobblehead that will be given away to the first 15,000 fans on Saturday, Jul. 22, when the Mets take on the Oakland A's. The bobblehead, a collaboration between the Mets and Marvel Entertainment, combines the Mets' dynamic pitcher with the super hero that he resembles.
"It's going to be one of the biggest promotions probably in our history and maybe in MLB history," said Fine. "It's the first time that Marvel Entertainment allowed an athlete or a team to be "Marvelized" into one of their superheroes. It made sense for Marvel and us to come together to do this type of promotion."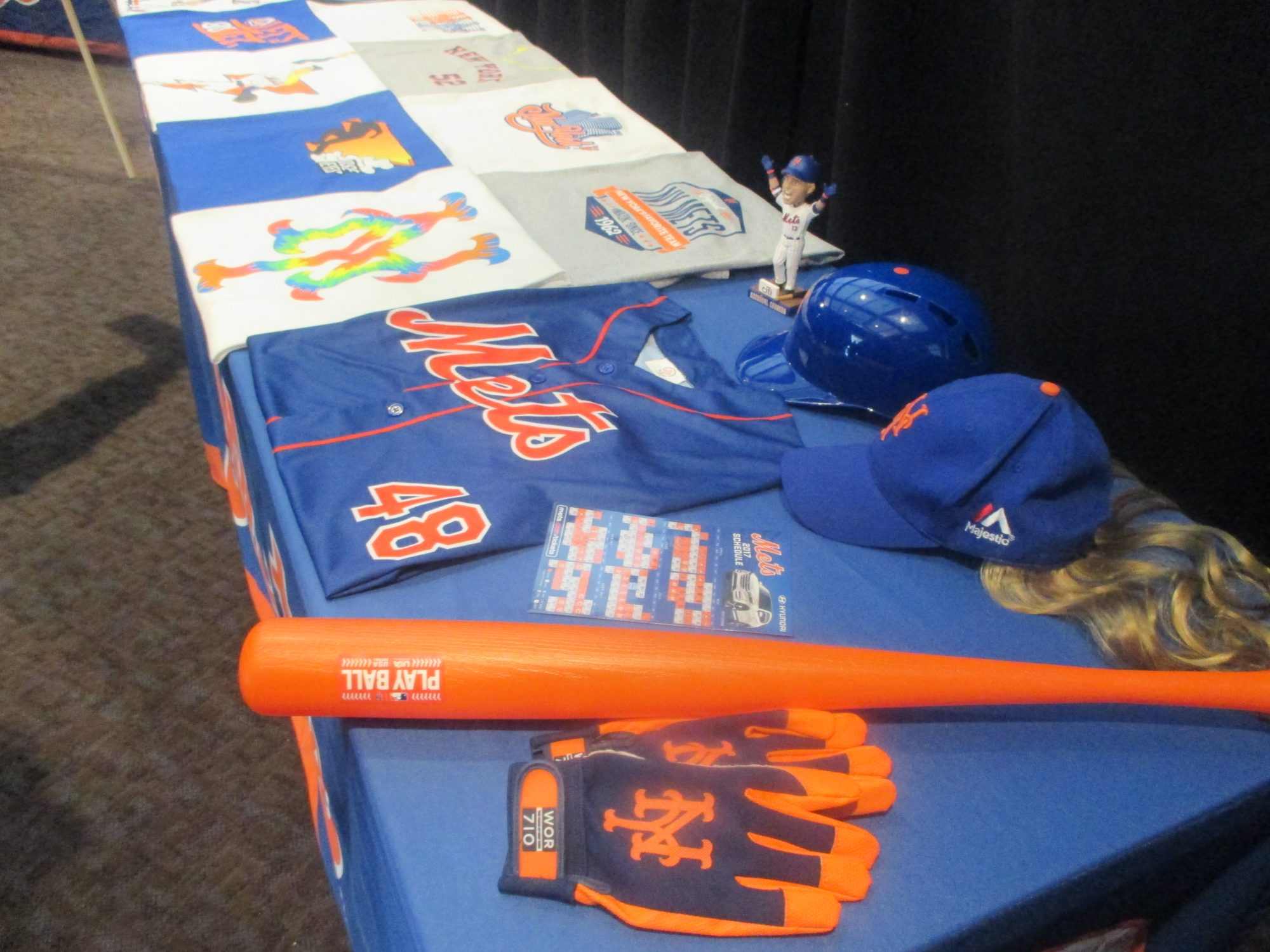 Other highlights of the 2017 promotional schedule include an Asdrubal Cabrera Bobblehead, batting gloves, a David Wright Starting Lineup Figurine, four Fireworks nights, a Yoenis Cespedes Compression Sleeve and a Matt Harvey Garden Gnome that will be given out to the first 15,000 fans on Apr. 22 against the Washington Nationals.
Last year, the Noah Syndergaarden Gnome drew the largest regular season crowd in Citi Field history.
"We're expecting the same this year on Saturday April 22nd with Matt (Harvey)," said Fine.
After the promotional items were unveiled and discussed, it was time to dine as the Mets rolled out their new food and beverage options for the 2017 season. Some of the delectables included Big Mozz Sticks which are hand-breaded mozzarella sticks, a ShackBurger from Shake Shack, Chicken Poppers from Box Frites, a pair of Jim Beam Specialty Cocktails and shakes from Mister Softee.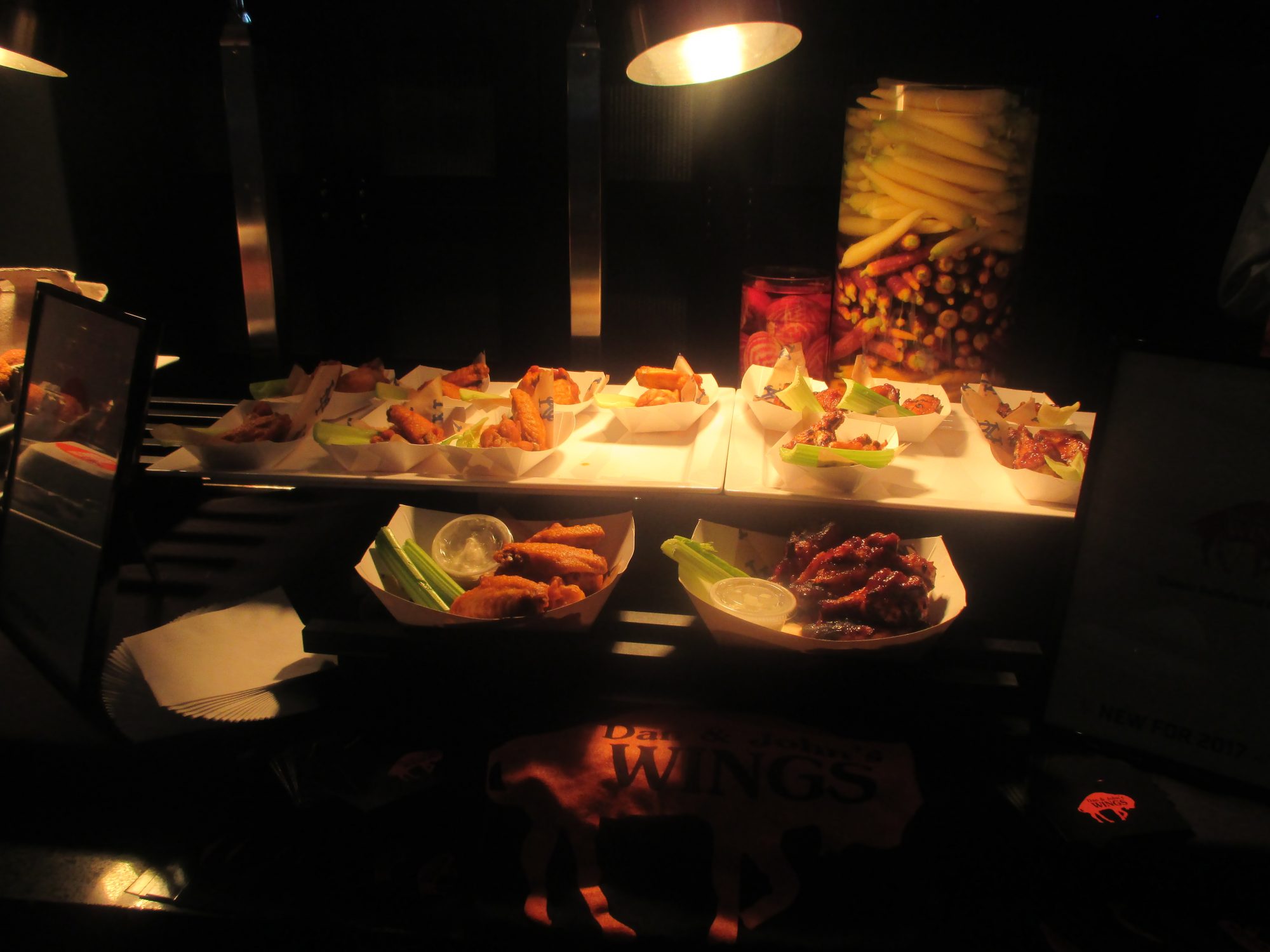 I indulged myself in a few of the menu item … OK, make that more than a few of them, but regardless of just how badly I stuffed my face, there's no question that Mets fans will be very happy with not just the food but the whole Citi Field experience in 2017.
Regardless of what happens on the field, a visit to Flushing will be Amazin' this summer.
"Whether it's the great food options that we have, the entertainment when you're sitting in the seats, or even when you come out to Mets plaza, it's all about raising the bar," said DePaoli. "Win or lose, we know that we can still provide a great experience."
The Mets continue to leave no stone unturned to make sure that their fans have a great time when they visit Citi Field. If everything goes according to plan, the Mets will send their fans home happy with plenty of wins, lots of cool giveaways and memories that will last a lifetime.
Oh, and maybe a few extra calories from all those great food options, but it's all in good fun.