Phil Jackson's three-year tenure with the New York Knicks has been a train wreck. Here are his three worst moves as president.
Y
esterday marks the three year anniversary of Phil Jackson's reign as president of the
New York Knicks
. Unlike regular anniversary's, this one doesn't bring warm and fuzzy feelings.
In his three years with the Knicks, Jackson has been very unsuccessful, failing to get the Knicks to playoffs once. Recording records of 17-65, 32-50 and yet another losing season this year, Jackson has been unable to rekindle any magic to the Garden faithful. Why is that, though?
In his time with the Knicks, Jackson has been keen on running his beloved triangle offense — a system which he succeeded with in his time as a head coach. However, Jackson success with that offense was thanks to the likes of Michael Jordan, Scottie Pippen, Kobe Bryant, Shaquille O'Neal and Pau Gasol. The only player Jackson has had on his roster who has drawn any similarities to those select bunch is Carmelo Anthony.
Was Jackson signing Anthony a terrible mistake?
Here are Phil Jackson's five worst moves as president of basketball operations: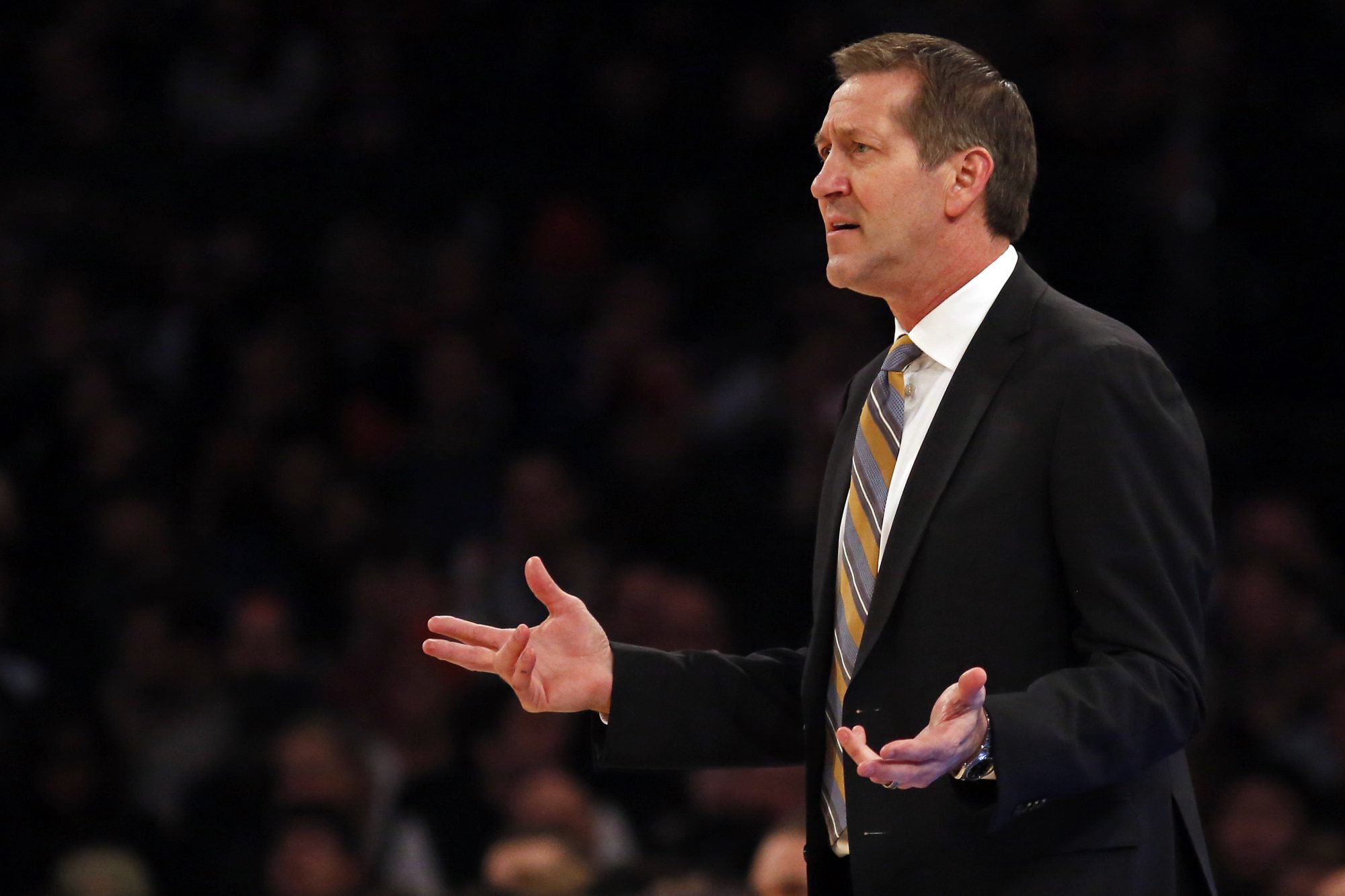 5. Hiring Jeff Hornacek
Last offseason, the Knicks were in search of a new head coach after a sub-par 2015-16 season. A big part of that was head coach Derek Fisher being fired mid-season, and assistant coach Kurt Rambis taking the position for the remainder of the year; however, Rambis won just eight games in his time as head coach. That led some to believe that the Knicks could pursue a new head coach. They did just that, but they pursued the wrong guy.
The Knicks had a plethora of options when it came to finding a new head coach. One option was former Knicks assistant and former Chicago Bulls head coach Tom Thibodeau. Thibodeau is a defensive minded head coach, who holds his players accountable night in and night out. That coaching philosophy would've been perfect for the Knicks. Another guy who would've been a viable option was Frank Vogel.
The former Indiana Pacers head coach Vogel is a New Jersey native. In addition to his hometown roots, Vogel also led the Pacers to back to back Eastern Conference Finals and led them to the playoffs in five of his last six seasons as head coach. The other option for the Knicks was sticking with Kurt Rambis another year. The Knicks opted for Jeff Hornacek though.
---
---
The former Phoenix Suns head coach Jeff Hornacek inked a three-year deal with the Knicks. Hornacek had some success with the Suns winning 48 games in the 2013-14 season, but he was an odd choice for head coach.
For starters, Hornacek had no ties to Jackson in the past and little knowledge of the triangle offense. While Jackson should be applauded for hiring someone outside of his comfort zone, Hornacek was not the right guy for the job. That's been proven by the Knicks woes.
Currently, the Knicks are 27-42 on the year and appear destined to miss the playoffs for a fourth straight year. Hornacek was also a bad hire for two other reasons. One of them being that while Jackson did reach for someone outside of his comfort zone, both Thibodeau and Vogel were much better candidates for the position. That was because they'd proven themselves to be more successful in the past.
Also, if Jackson wanted to run the triangle offense, he would've been better off keeping Rambis as head coach – who's very knowledgeable of the situation.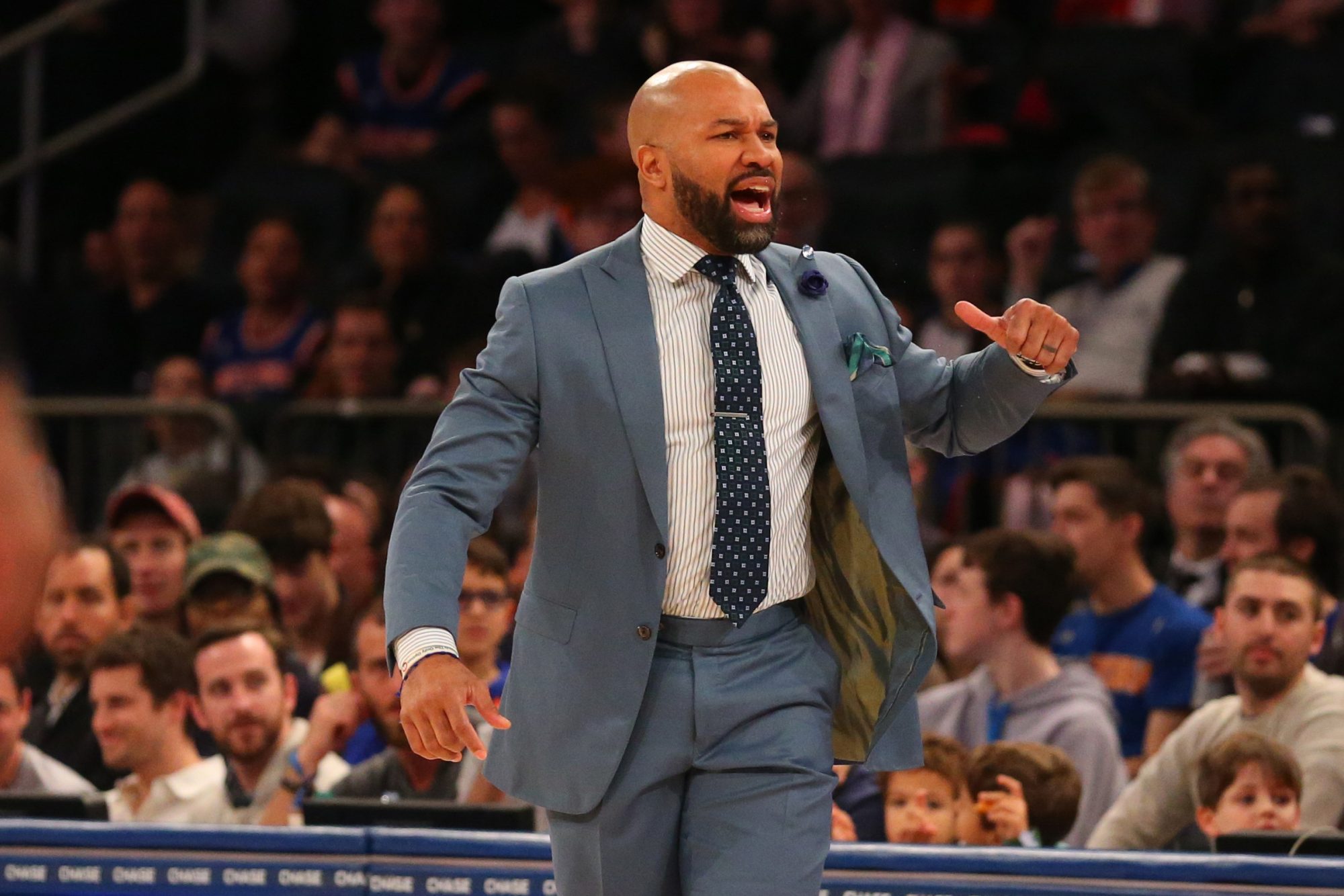 4. Hiring Derek Fisher 
After a disappointing 37-win season, the Knicks opted to shake things up in the coaching department. By firing head coach Mike Woodson, as well as the rest of the coaching staff, Phil Jackson and the Knicks cleared house to make way for a new coaching staff.
---
---
Jackson's first and most notable move on the coaching staff was hiring former NBA point guard Derek Fisher on a five-year, $25 million deal. Yes, the former Lakers and Thunder point guard Derek Fisher was the man called upon to run the Knicks.
The thinking on Jackson's part was that Fisher's leadership both on and off the court would be a positive in his hiring. Throughout his career, Fisher had been a leader and mentor on the court and a veteran mind in the locker room. In addition to his game attributes, Fisher had ties to Jackson.
Fisher played under Jackson when he was the head coach of the Los Angeles Lakers. When he played under Jackson, he ran the triangle offense – the Jackson special. Given that Fisher played in the offense in the past, Jackson thought he could help teach the Knicks the system; however, little did Fisher know, Jackson set him up for failure year and ridicule in year one of his deal.
---
---
In his first year with the team, Fisher and the Knicks won just 17 games. That was of course due to their lack of team continuity, but it was also because Phil Jackson low-key tanked the season. By trading away guards Iman Shumpert, J.R. Smith and also releasing forward Amar'e Stoudemire, Jackson essentially tanked the season for Fisher and the Knicks; however, while it wasn't his fault, the Garden crowd didn't treat Fisher so nicely for the Knicks struggles with chants of "Fire Fisher."
After a disastrous year one, Fisher and the Knicks went into the 2015-16 with some optimism after some offseason additions, but Fisher put himself on the hot seat before opening night.
With news leaking that Fisher was dating former teammate Matt Barnes' wife, it was said that the two got into a physical altercation. Whether Fisher was in the right or wrong in this situation, he made the Knicks look atrocious, putting his job in jeopardy.
Then, after going just 23-30, the Knicks fired Fisher just a year and a half into his deal. As a result, the Knicks had to eat the remainder of his deal, but also realized the reality of a mistake they made. They hired a guy in Fisher who had zero coaching experience in the past, and he ultimately made Phil Jackson and the Knicks look bad in the process.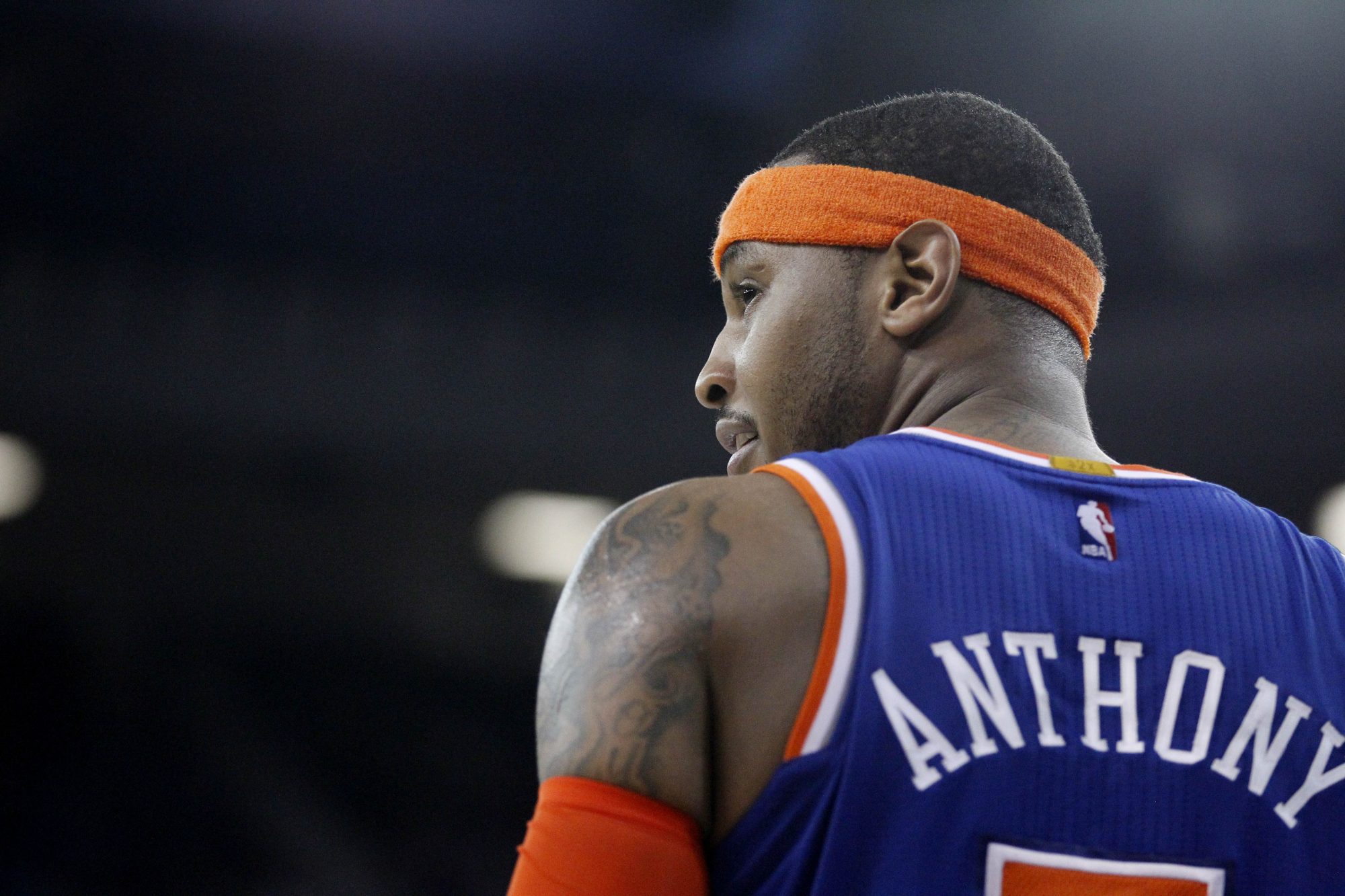 3. Re-Signing Carmelo Anthony 
After the Knicks 37-win season, many wondered whether star forward Carmelo Anthony would leave in free agency after the 2013-14 season. Anthony though ultimately stayed in the big apple, but on a very strong and excessive deal.
Anthony resigned with the Knicks on a five-year, $124 million deal. While the money is eye-popping, it isn't the factor that made his deal absurd. In addition to the money, Anthony received a no-trade clause, which allowed him to veto any trade he's involved in. Anthony also got a trade kicker with his deal, meaning any team that trades for him has to pay him more money than he's making at the moment. Those two factors have made his signing a bad one for the Knicks.
While Anthony has been a rough rider, and bull for the Knicks, his contract makes him a liability. It's prevented the Knicks from beginning a true rebuild, as many teams have shied away from an Anthony trade, due to fear of him not waiving his no-trade to play for them. The money is another factor.
Many teams are cap struck as it is, and adding Anthony's increased cap number doesn't help via his trade kicker.
The big picture with Anthony is that while he's an elite offensive player, his presence prevents the Knicks from an actual rebuild.
With Anthony having the option of hitting free agency in a year, it's unclear as to whether he'd waive his no-trade clause to play for a winning team, as he's actually loyal to the Knicks and the city of New York. That same loyalty though prevents the Knicks from starting over and rebuilding.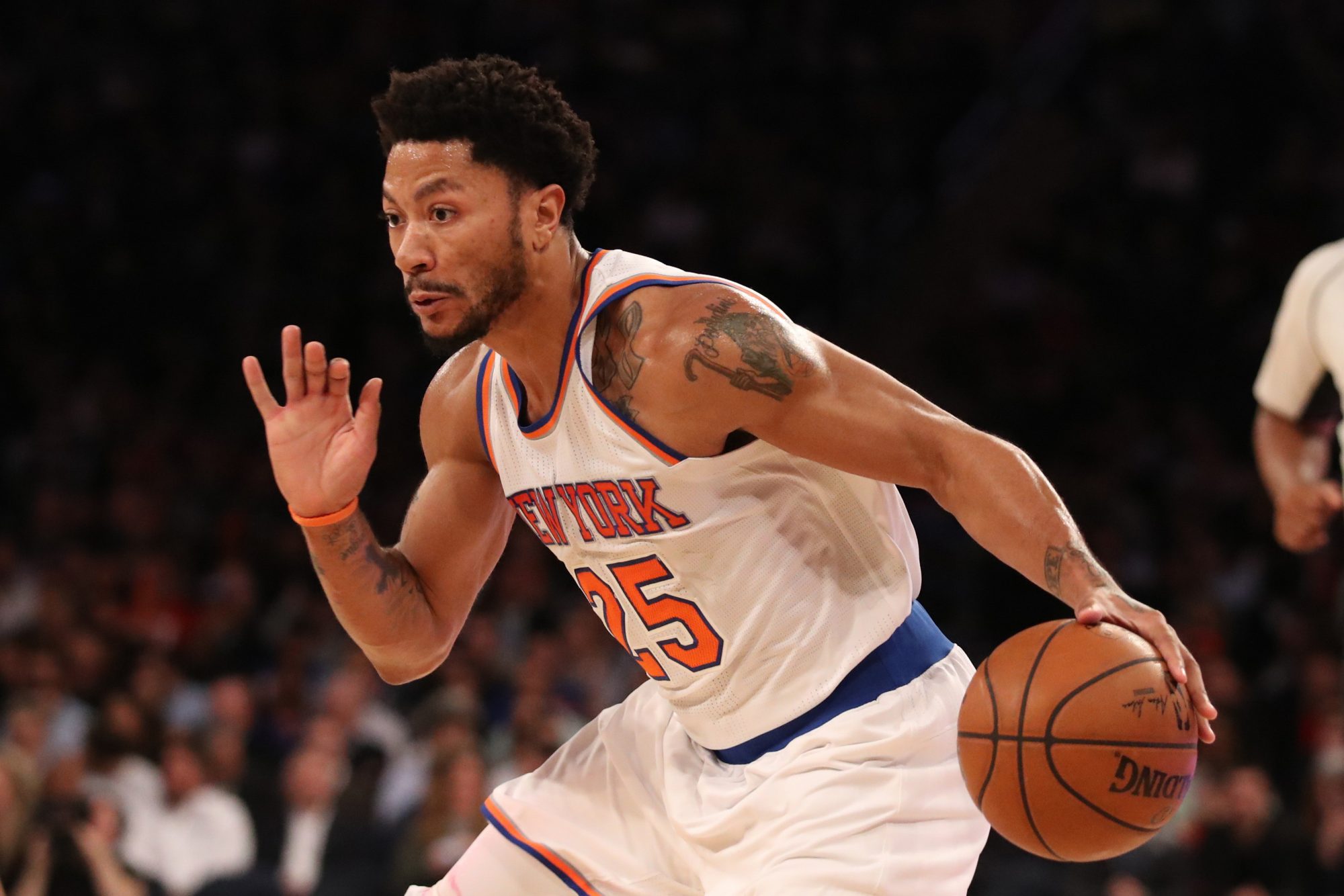 2. Trading For Derrick Rose
Last offseason, the Knicks made a mega deal with the Chicago Bulls. In the deal, they acquired, most notably, former MVP point guard Derrick Rose, as well as shooting guard Justin Holiday and a 2017 second round in return. On the flip side, they sent point guards Jose Calderon and Jerian Grant, as well as center Robin Lopez to the Bulls. This move though was a bad one on their part.
While Rose has been productive on the stat sheet, he hasn't been able to play at a high enough level to help propel the Knicks to the playoffs. He has also made some odd decisions this season, one being going AWOL in a game versus the New Orleans Pelicans. No one in the Knicks organization, as well as the NBA, had any idea where Rose was. The lack of communication was disturbing.
On the court, though, Rose has been a bad fit for the Knicks as well. He has been selfish at times and has been a bad fit with second-year forward Kristaps Porzingis – who the Knicks envision being the face of their franchise down the line. This could've all been avoided though had the Knicks never traded for Rose.
---
---
If the Knicks never traded for Rose, they would've kept two valuable assets. One of them being point guard Jerian Grant.
While his production wasn't astonishing, Grant had a solid rookie year with the Knicks. Grant showed the ability to facilitate for his teammates, and also play lockdown defense, both on the ball and out on the perimeter. Grant's youth and potential upside made his departure a little hard to swallow, but not as much as the departure of Robin Lopez.
A year ago, the Knicks and Robin Lopez inked a four-year, $54 million deal for him to come in and be the team's starting center. Lopez did just that.
---
---
In 2015-16, while he didn't light up the stat sheet, Lopez was a two-way presence for the Knicks. On the defensive end, Lopez was an anchor and a rim protector, who didn't get pushed around. On offense, Lopez wasn't elite by any stretch, but he developed a solid post game, which featured a signature hook shot. Lopez finishes in the paint as well. Another thing to keep in mind with Lopez though is his durability and contract.
In four of the last five seasons, Lopez has started every single game for his respected team. His ability to remain on the court is a highly valuable trait. A feature the Knicks took for granite, though, much like his contract.
Lopez was on a very team friendly deal in which he gets paid roughly $13 million a year. When you take into account the increasing salary cap, as well the insane amount of money being thrown out to free agents, Lopez's deal is a bargain for any team. His contract is even more valuable though when you look at who the Knicks replaced him with.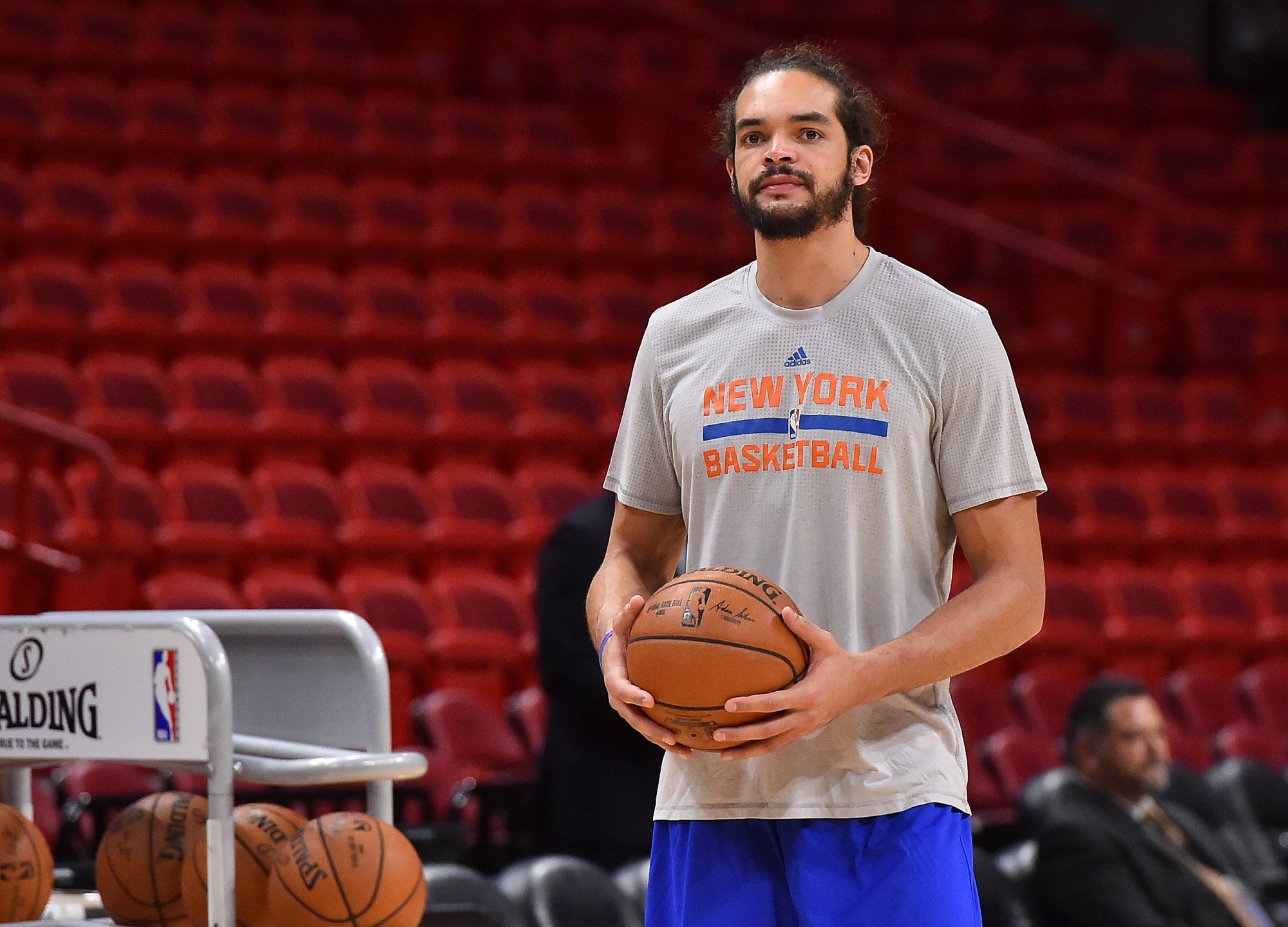 1. Joakim Noah
After the Knicks had traded for Derrick Rose, they created a hole at the center position. They decided to fill that gap with former Bulls center Joakim Noah.
The Knicks signed Noah to a four-year, $72 million deal. The Knicks thinking behind this move was that Noah would be a great fit next to Kristaps Porzingis, given his defensive game. They were also of the belief that Noah would be a good fit in the triangle offense, given his ability to be a facilitator at the center position.
In the past, Noah has been known to be an elite passing big man; however, despite his past success as a facilitator and a defensive anchor, Noah has had a rough 2016-17 season.
Averaging just five points and 2.2 assists a game, Noah has been unable to have a significant impact on the Knicks offensive attack and has been an underwhelming defensive presence. This year, Noah is averaging just 0.8 blocks a game. Considering his past success as a defensive backbone and an elite passing big man, Noah's failures to make a consistent and reliable impact on the Knicks have been very disappointing.
His injury woes have only worsened his struggles.
Playing in just 46 games this year, and likely being out for the remainder of the season, Noah has been unable to remain healthy. The biggest issue with Noah though is his contract.
Currently, Noah is due roughly $55 million over the next three years, and given his lack of production and injury woes, he's nearly untradeable. Also, due to the rise of rookie center Willy Hernangomez, Noah will likely be a backup for the foreseeable future; however, a 32-year-old, $18 million dollars a year backup center will be hard to fathom, as that contract eats up a big chunk of their cap.
Noah's contract, inability to produce with any consistency and injury woes make him the worst transaction in the Phil Jackson era.