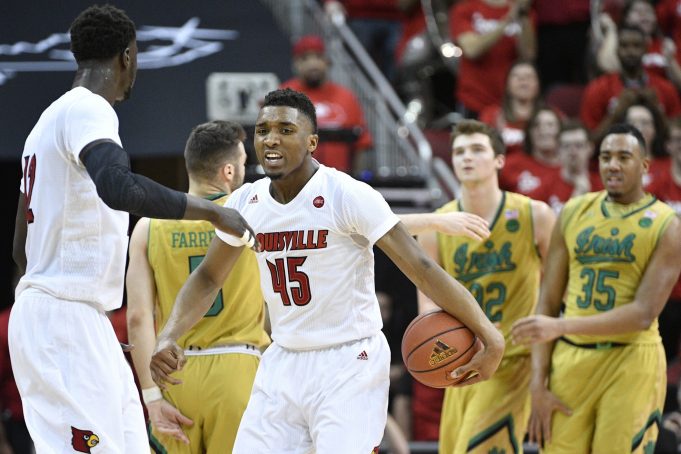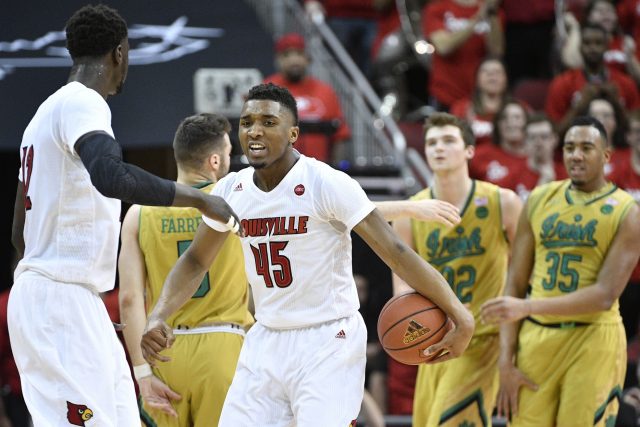 11. Donovan Mitchell, Louisville Cardinals
Position: Shooting Guard
Age: 20 (09/07/1996)
Height, Weight: 6'3.0″, 210 pounds
2016-17 Slash Line: .413/.363/.800
2016-17 Averages: 31.9 MPG, 15.7 PPG, 4.6 RPG, 2.6 APG, 2.1 SPG, 0.5 BPG
Donovan Mitchell is one of the most intriguing prospects in the draft. He plays primarily off the ball at Louisville because of point guard Quentin Snider.
Despite his size, Mitchell has more of a shooting guard's skill set. He would be best suited to play the two at the pro level as well.
What will really help his NBA stock is the fact that he's an elite defender. The 20-year-old leads the ACC in steals per game, and he can cover both guard positions. His dramatic improvement from three-point range led to him becoming the number one option on offense.
Mitchell has his weaknesses, though. First, there's the fact that he'll be labeled a tweener. Then his shot selection. Mitchell shoots 36.3 percent from three-point range. It's a perfectly average number, but according to hoop-math, over 51 percent of his FGA come from downtown.
That's too much for an average three-point shooter. Mitchell's defense is what will earn him minutes as a rookie.