Justin Holiday was seen just as a throw-in to make the Derrick Rose deal go through but he has proven he is far more valuable than that.
I
n his quest to acquire a point guard, Phil Jackson stumbled upon Justin Holiday. He was made a point of interest, or even a priority, to snare in accompaniment to Derrick Rose.
Justin Holiday is making just over one million dollars this season. He is also a free agent come July. With his current play and the current NBA market, he is due for a big payday. Holiday has by far had a career year. It should, therefore, be on the Knicks list of priorities to retain him this summer.
---
---
Since arriving in New York, the 27-year-old has exceeded expectations en route to becoming one of the more consistent players off the Knicks bench. As a matter of fact, Holiday is the only Knick to appear in all 65 games. That is also a career high in total games played, eclipsing the 59 games played with Golden State in their championship year.
Holiday has a nice, well-rounded game. He has been dubbed "The Fireman" for his defensive capabilities and ability to shut opponents down. Since become an NBA mainstay, which is the past three seasons, Holiday has held his opponents on average to 42 percent shooting overall and 31 percent from long range.
Aside from the numbers, Holiday stands at 6-foot-7 with a seven-foot wingspan. He is extremely long which is a great asset on the defensive end. Holiday is also the best athlete on the Knicks and it shows on this end. He has above-average lateral movement and he usually slides his feet, which is correct, rather than running alongside his opponent.
This is greatly showcased in that he has committed just 51 personal fouls in 1,245 minutes this year, which is a career-high.
---
---
Holiday may only average one steal per contest, but has four games with five or more steals because he pressures the ball and forces his opponent to give it up.
Furthermore, aside from the one steal, Holiday forces close to one turnover per night. This doesn't lead the Knicks overall, but it does per 36 minutes. The Fireman can turn on the hose.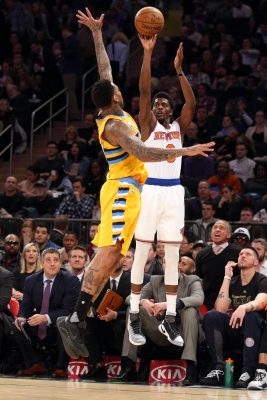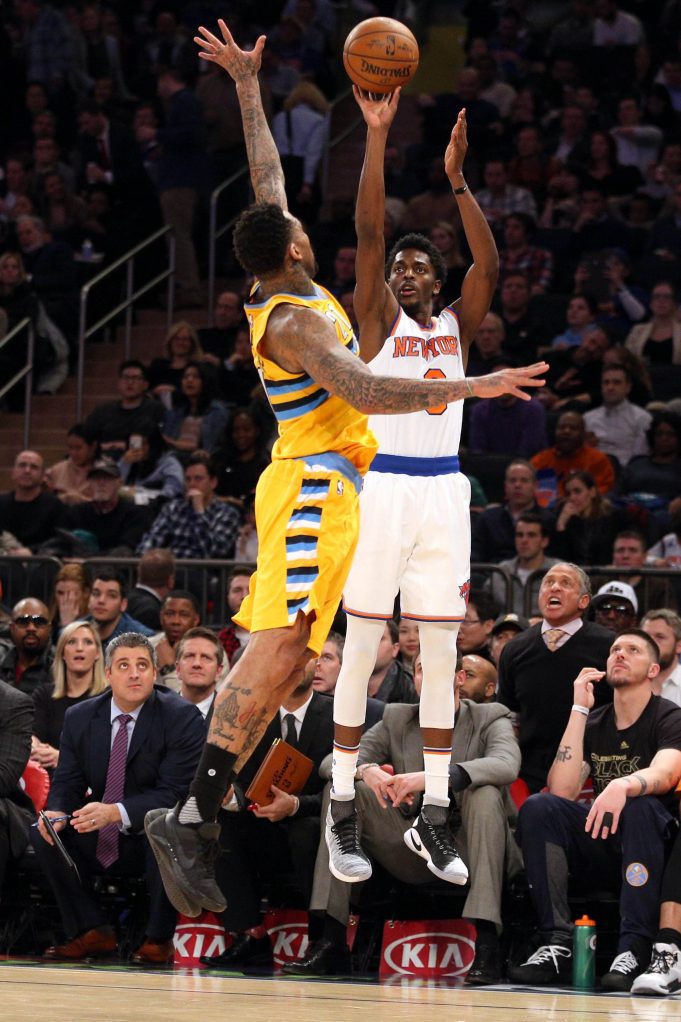 On the offensive end, he just successfully plays his role. He doesn't handle or dominate the ball. Just spots up shoots or creates off one or two dribbles, like he's supposed to.
Holiday's average of 7.5 points per game is a career high as is the 18 times he has scored in double-figures. He is shooting 37 percent from three point land which is also a career high as is his 43 percent overall. Aside from the two major shooting statistics, Holiday is converting on 44 percent of his attempts from 16 feet out to three point line as well as 48 percent from 12 to 16 feet.
The five-year NBA veteran also moves extremely well without the ball. He has 16 made dunks which are all assisted on. 76 percent of his two-point field goals are, too. The one-time Warrior is currently finishing 65 percent of his opportunities at the rim which is also a career high.
Aside from moving well without the ball, Holiday always knows where to be as 98 percent of his 78 made threes have been assisted on. The 78 made threes are a career-high as well by more than double his previous benchmark.
Holiday is a great defensive player and a slid contributor offensively but an underrated aspect of his game is his versatility. Despite the minuteness of it, he has spent 60 percent of his playing time at shooting guard and a career high 34 percent at the small forward position. This also shows in Holiday's rebounding numbers, as he averages three per game this year but on 12 occasions has pulled down seven or more.
Justin Holiday has been the Knicks most consistent player off the bench all season long. He has been the best perimeter defender on the roster by a street. His ability to clamp opponents, knock down shots consistently and move actively without the ball make him an ideal player to put around Carmelo Anthony and Kristaps Porzingis. Holiday should be high on the list of priorities this summer as he has shown how good he can be with consistent minutes.