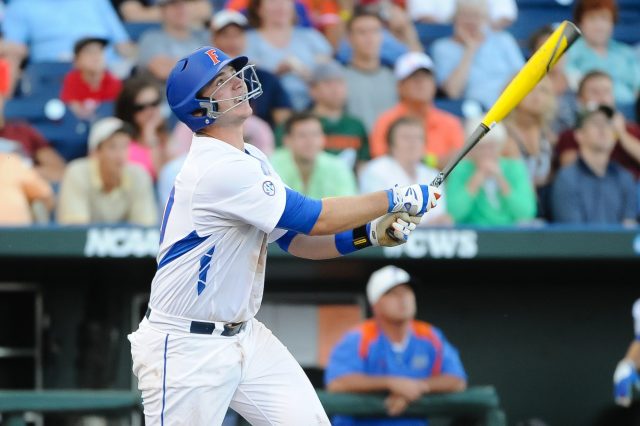 10. 1B Peter Alonso
Scouting grades: Hit: 45 | Power: 55 | Run: 30 | Arm: 50 | Field: 50 | Overall: 50
MLB Player Comparison: Dodgers 1B Adrian Gonzalez
S
ome scouts rank Peter Alonso's power as a 70, a rating that would show he absolutely has 30 home run potential. MLB.com, however, is showing to be a bit more pragmatic and realistic, as Alonso is still very rough around the edges.
The second round pick in the 2016 Draft hit .321 in his first professional season last year at Low-A Brooklyn. Over 123 plate appearances, the righty smacked 12 doubles and five home runs, paired with 21 RBIs. The 6-foot-3 Alonso also has a natural ability to use all fields with his bat, something that was clear as far back as his junior season at the University of Florida.
His glove is solid, but he isn't an especially gifted athlete, as is evidenced by his 'galloping' on the basepaths. But even with some struggles there, many believe Alonso can be in the middle of an MLB lineup someday, granted he can keep his strikeout rate low and hitting contact consistent.