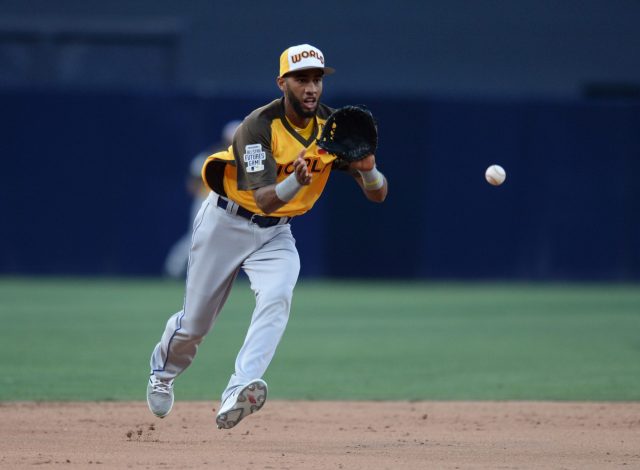 1. SS Amed Rosario
Scouting grades: Hit: 60 | Power: 45 | Run: 60 | Arm: 65 | Field: 65 | Overall: 60
MLB Player Comparison: Indians SS Francisco Lindor
M
ets fans — the moment you have all been waiting for. MLB.com's fifth ranked major league prospect, Amed Rosario, stands right on the cusp of being on the major league roster.
Rosario is quite possibly a Gold Glove caliber shortstop, as he has developed incredible range with his 6-foot-2 length, along with a strong arm that make him a hybrid between the Red Sox' Xander Bogaerts and Indians' Francisco Lindor.
His glove aside, he also stole nearly 20 bags last season between High-A and Double-A, showing the consistently good jumps and speed needed to be a respectable base-stealer in the majors.
But Rosario's bat is what really shot the 21-year-old prospect up the rankings this past summer. His gap-to-gap power finally appeared more often, hitting 24 doubles and a Jose Reyes-esque 13 triples last year.
He also finally got some balls over the fence, producing five home runs paired with 71 RBIs on the year. But even with the upgraded power numbers, Rosario still held a .324 average and a .374 on-base percentage in those 120 games, making this man look like a future star for the Metropolitans.