Despite noticeable improvements, Kristaps Porzingis has to improve multiple facets of his game if he's going to become the New York Knicks go-to option and franchise player.
T
he 2016-17 season has been a solid one for second-year forward
Kristaps Porzingis
. The 7-foot-3 Latvian has produced well and more efficiently than he did in his rookie season. Averaging 18.2 points, 7.1 rebounds, while shooting 44.7 percent from the field, as well as 37.3 percent from beyond the arc, Porzingis has shown improvements in the stat sheet. Both shooting percentages are improvements off of his 2015-16 ones.
Understanding this, while he's produced at a higher level in 2017, Porzingis still isn't a franchise player or a player who can serve as a go-to option. In order to become one, Porzingis must improve a number of facets of his game. 
When he came onto the scene in the 2015-16 season, Kristaps Porzingis took the NBA world by storm. He did so with his high flying, above the rim play, as well as his ability to make the long ball. What set and has set him apart from other big men around the league is his ability to play out on the perimeter, and to handle the rock. Those skill sets are unique for a player his size.
While many compare Porzingis to Mavericks legend Dirk Nowitzki and the towering force that was Yao Ming, he's ultimately his own breed.
Porzingis' ability to play out on the perimeter, put back dunks, handle the rock and attack the paint make him one of the most unique players the NBA has ever seen. Despite the number of things working in his favor, Porzingis has hit a roadblock.
While he's making a bigger impact on the offensive end of the floor and is still a force on the defensive end averaging 1.9 blocks a game, Porzingis has shown some noticeable flaws.
Creating his own shot
For starters, despite his height, Porzingis struggles to create his own shot. While he can shoot over anybody in the association, he struggles to get buckets inside the three point line. A big part of that is due to him not being a post presence.
Unlike a handful of talented big men, Porzingis doesn't have a reliable post game or a post move that he can repeat. Due to his tendency to play out on the perimeter, Porzingis rarely plays in the post. If he's going to become great, he must develop an at best mediocre post game, or one that he can at least repeat. He's too big to not be able to take advantage of a team in the post. Another reason for his struggles at creating his own shot is the on and off presence of Carmelo Anthony.
While Porzingis may just be a budding star, Carmelo Anthony is still the best player on the New York Knicks. Despite being on the back nine of his career, Anthony remains a go-to scoring option for the Knicks. The 32-year-old forward is averaging 23.3 points per game in just 34.4 minutes (which is the fewest amount of minutes he's averaged since 2012). Anthony's presence helps take the pressure, and more importantly the defensive attention off of Porzingis.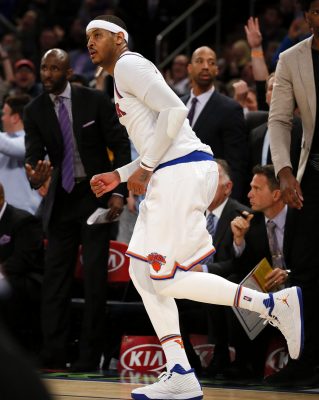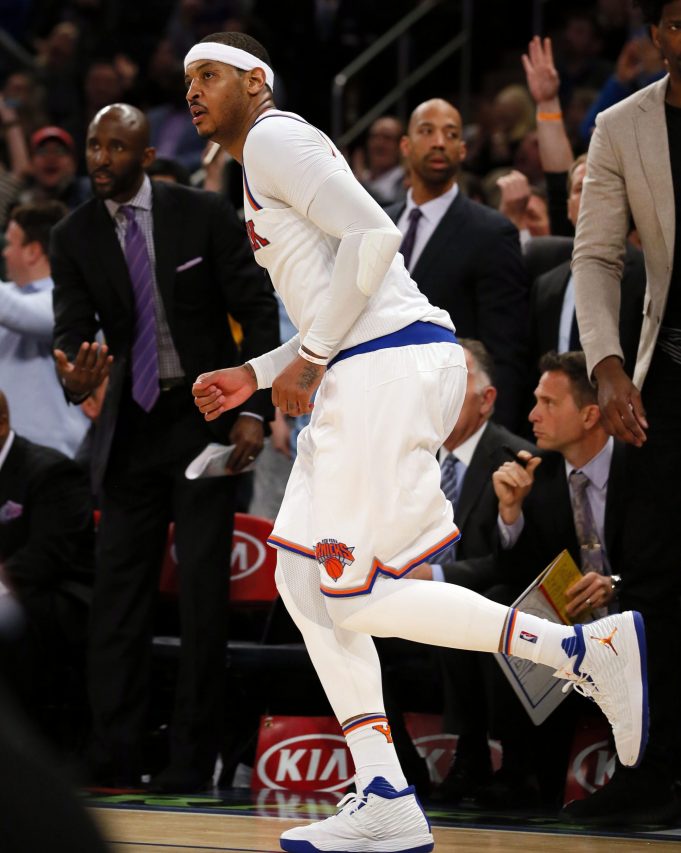 Being that Anthony plays in the post and in isolation, he attracts double teams and the majority of a team's best on-ball defender's attention. That allows Porzingis to get good, open looks. When Anthony isn't on the floor, though, Porzingis is a different player.
When Anthony's off the floor, Porzingis is, in theory, the go-to guy option for the Knicks offense; however, being that he's given more defensive attention and that he's the top gun on the floor, Porzingis doesn't produce at the same level without Anthony.
For example, in a December affair with the Golden State Warriors, both Anthony and point guard Derrick Rose didn't play. That made Porzingis the logical go-to option. Porzingis though posted just eight points and attempted just 13 shots in 35 minutes of play. His struggles aren't just when Anthony misses an entire game, though.
Even when it's just Anthony taking a three or four-minute breather, Porzingis doesn't handle the defensive attention well, resulting in a disappointing product. If he's going to be that top gun for the Knicks, he must figure out how to handle double teams, as well as the defensive attention that comes with it.
Kristaps Porzingis has a unique skill set. There's no denying that, as the potential is clearly there; however, he must improve his game in a number of facets if he's going to one day be the Knicks franchise and go-to option offensively.