The New York Knicks are in a dark place. If they're to get out of it, they'll need some free agency help in bringing favor back to the Garden.
T
he
New York Knicks
are in a dark place both on and off the court. Whether's it's the Charles Oakley drama,
Phil Jackson
's triangle offense or their defensive inconsistency, the Knicks are a mess. How do they go about fixing it? The answer won't come from anything on their part.
If the Knicks fortunes are to change, they'll need a player to step up and take on the bright lights of Madison Square Garden in free agency, much like Amar'e Stoudemire did back in 2010.
During that time, the Knicks were in search of a new identity. After years of misery, they had put themselves in a position to make a big splash in free agency on a max player or two. That free agent class was filled with plenty of superstar talent, from Lebron James and Dwayne Wade to Joe Johnson and Chris Bosh, the talent in the 2010 free agent class was endless. The question though was whether a player, if any, was willing to come to New York and take on the challenge of reviving the mecca of basketball. One player stepped up — Stoudemire.
On July 5, 2010, the Knicks and Stoudemire agreed to a five-year, $100 million deal to bring the star big man to the Big Apple. In his time with the Suns, he was a force to be reckoned with.
Stoudemire was arguably the most intimidating big man in the NBA. He'd dunk on anybody and anything in his way, and played with an attack mindset. He also developed a jumper as the years went on.
His arrival signaled hope for the Knicks, as they finally had their star player to begin building around. In addition to Stoudemire, the Knicks were able to sign point guard Raymond Felton. That duo was quite the presence for the Knickerbockers.
Forming a lethal pick and roll setup, Felton and Stoudemire helped bring some magic back to the Garden. They were also paired with up-and-coming forwards Wilson Chandler and Danilo Gallinari — however, the arrival of Stoudemire ended up doing something else that wasn't at first expected. That something else was helping lure Denver Nuggets forward Carmelo Anthony to force a trade to play for his hometown Knicks.
At the 2011 NBA trade deadline, the Knicks agreed to a three team deal, which ultimately netted them Anthony. The explosive and high profile player that Anthony was made him a headline 'get' for the Knicks.
That combo was viewed as a potentially unstoppable duo, and one that could challenge the new look Miami Heat, who had James, Wade and Bosh. However, after their brief time together in 2011, Anthony became the Knicks go-to guy the following season, overtaking Stoudemire.
Unfortunately, Anthony's presence derailed Stoudemire's career. Both of them were guys who needed the ball in their hands to operate, Anthony especially. In 2011, Anthony was considered one of the more ball dominant players in the NBA, as he tended to demand the ball in certain situations. That eliminated Stoudemire's star power.
Not getting the ball in his hands as much, and not being the go-to guy hurt Stoudmire's game. Considering the fact that he had been a go-to guy throughout most of his career with both the Suns and Knicks, taking a back seat to Anthony was a major adjustment for him.
Despite the fact that his impact on the Knicks gradually diminished ever since Anthony arrived, Stoudemire put the Knicks back on the NBA map. He made them respectable, and helped get them back in the playoffs in his first year with them.
At the end of the day, Anthony's arrival in a way derailed Stoudemire's career, however, if it wasn't for Stoudemire, the Knicks may have never landed Anthony and maybe never won a playoff series. The Knicks went on to defeat the Boston Celtics in six games in 2013.
The question today, though, is whether someone would be willing to do what Stoudemire did for the Knicks?
Currently, it appears as if Anthony will be dealt in the offseason, clearing the way for the Knicks to begin building around forward Kristaps Porzingis; however, Porzingis has some flaws in his game.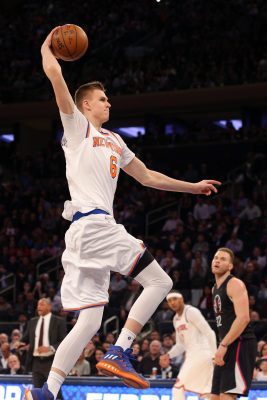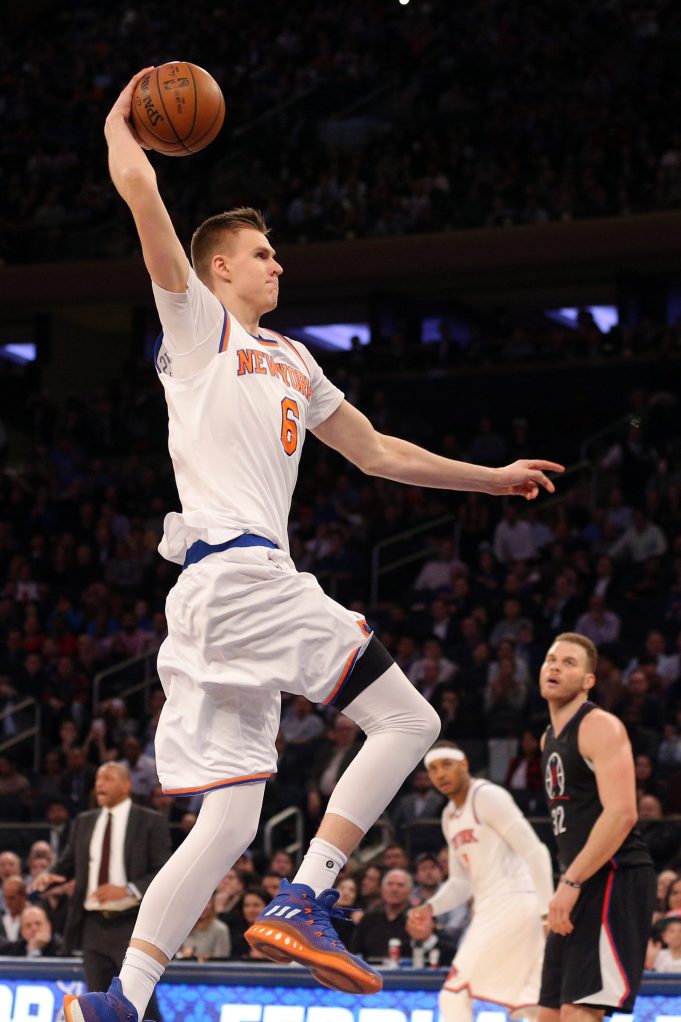 While his 7-foot-3 frame gives him an advantage over any defender, Porzingis struggles to create his own shot. He doesn't take complete advantage of his height for a big man.
By not being a post presence for the Knicks, Porzingis isn't taking advantage of the unique skill set he possess. He also tends to struggle when Anthony isn't on the floor. Back in December, Anthony missed a game versus the Golden State Warriors, and Porzingis contributed just eight points.
Anthony opens things up for Porzingis, by attracting attention from opposing defenses. By doing that, Porzingis is able to get good open looks out on the perimeter. If the Knicks are going to trade Anthony, then they're going to need to get a scorer who can help attract some attention to help open up Porzingis' game.
Who could be that guy?
The 2017 NBA free agent class is a point guard heavy class, however, the top tier guys such as Chris Paul, Stephen Curry and Kyle Lowry are unlikely to leave their respectful teams. The next tier though is nearly as productive and more realistic for the free-falling Knicks.
Point guards such as George Hill, Jeff Teague and Jrue Holiday are more realistic targets for the Knicks, but all three are more than serviceable guards — Holiday especially.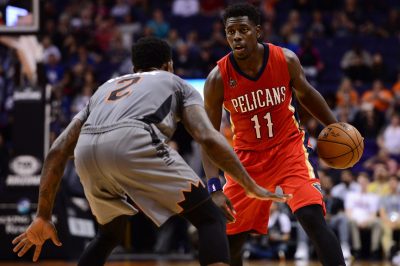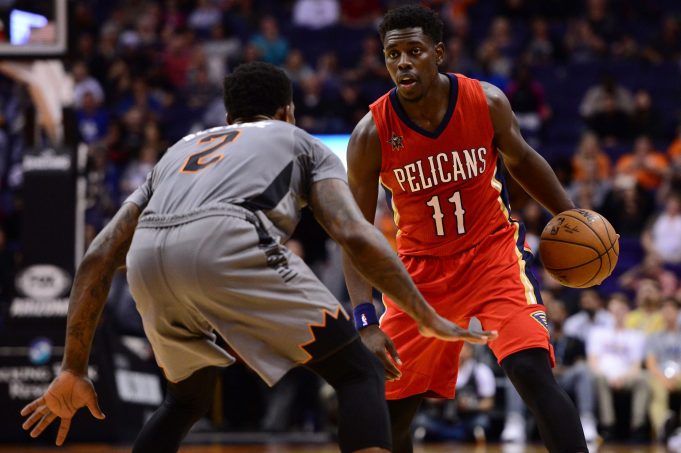 Holiday, while not a star, is just what the Knicks need. While Derrick Rose has been okay, he hasn't been consistent enough to be crowned the Knicks point guard of the future. Holiday may be worthy of that honor though.
His production has been pretty consistent, and you know what you're getting from him. This year, Holiday is averaging 16 points and 7.3 assists, as well as 1.6 steals per game. While not superstar numbers, Holiday is a productive and well above average point guard. His ability to attack the rim, find his teammates and play defense make him a reliable force in the NBA.
The question remains though — is Holiday willing to take on the bright lights of New York?
Currently, Holiday's Pelicans are competing for a playoff spot in the Western Conference, but have regressed a bit since acquiring Kings center DeMarcus Cousins. If the Pelicans fail to reach the postseason, then Holiday could look to bolt New Orleans. Also, Holiday's brother, Justin, is on the Knicks roster. Coming to New York would unite the two. However, if he decides to not come to the Big Apple, the Knicks could take a different approach.
An alternative route would be to trade Anthony for Clippers point guard Austin Rivers. Rumors swirled at the deadline that the two teams were discussing a deal, but now the offseason could allow both sides to make the deal straight up, assuming Anthony would waive his no-trade clause to go to Los Angeles. If the Knicks could facilitate that deal, they could then put the full court press on signing Jazz forward Gordon Hayward.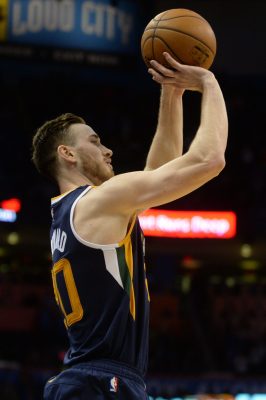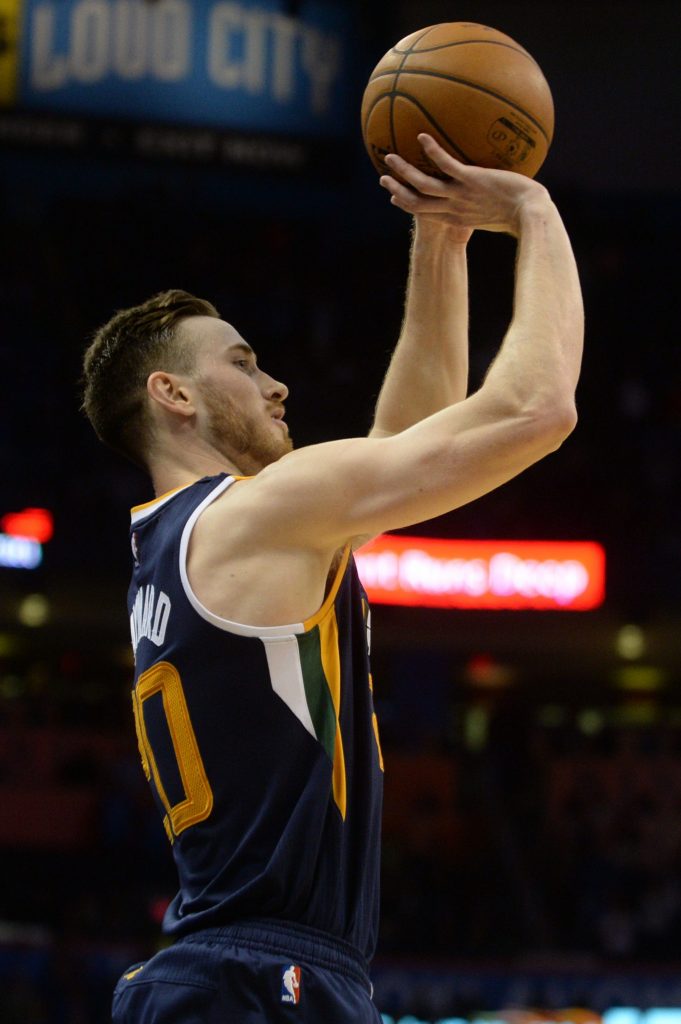 Hayward has blossomed into a full blown star. He's a complete player, averaging 22.3 points, 5.5 rebounds, 3.5 assists and one steal per game. He has even helped put the Jazz in the driver's seat for a postseason berth.
The 37-24 Jazz are currently the fourth seed in the Western Conference, thanks in big part to Hayward's play. Hayward's upward progression over the years have helped put the Jazz in position to do damage in the 2017 NBA playoffs.
But again — is there any way that the Knicks could convince him to leave Utah?
Over the course of his career, Hayward has been under-noticed. Whether it's the Jazz's struggles of the past, or the fact that he's playing in a small market, Hayward has been under-the-radar his entire career. This year, though, his glamour has fortunately increased.
It'll be difficult for the Knicks to persuade Hayward to leave Utah, but it's not impossible. If Utah happens to fall apart, or gets bounced in the first round, then maybe Hayward considers his options. Also, Hill has broken out this year, but his future in Utah is uncertain due to his impending free agency. Losing Hill could also impact Hayward's future in the West.
If the Knicks are to land Hayward though, it won't be because of anything they could do, it'll be whether Hayward wants to take on the challenge of bringing the focus back to the Garden.
If the Knicks are going to get out of the black whole they've put themselves in, they'll need someone to come take on the challenge of bringing the bright lights back to Madison Square Garden in free agency – much like Stoudemire did back in 2010.