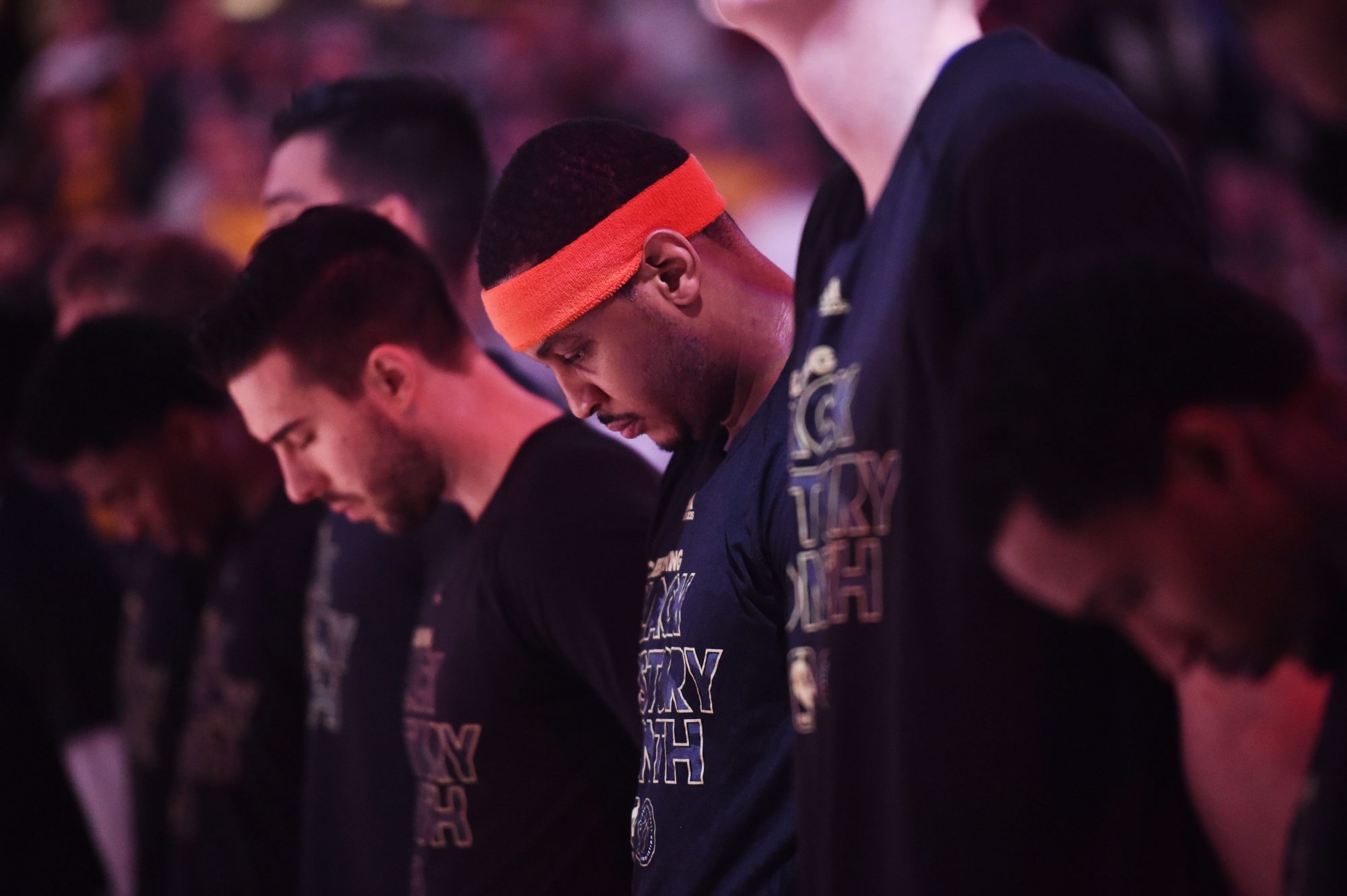 2.  The Carmelo Anthony conundrum
First and foremost, no matter how astonishing a prospective deal was for the Knicks, the ball was always in Carmelo Anthony's court.
He had a no-trade clause in his contract that he was never truly willing to waive.
Secondly, any team acquiring Anthony would be forced to pay him over $26.2 million in 2017-2018 and $27.9 million in 2018-2019, figures that would rise incrementally each season, thanks again to a clause in his contract that demands he be paid more if he were ever traded.
Furthermore, Melo is not the complete player an interested club would seek in a trade, especially one that would need to command a draft pick or two.  Despite his savant-like scoring ability, the song remains the same for Carmelo: he has not, nor will he ever, commit any measurable exertion on defense.  He is not a durable workhorse who expounds the maximum effort that LeBron James does on a nightly basis.  These are merely the cold, hard facts in evaluating Anthony.
Were he five or six years younger, a team would be willing to part with assets to acquire Melo in spite of his defensive woes, just as the Knicks did prior to the trading deadline in 2011.  Now?  Carmelo is a liability on the other end of the floor, and the Celtics, more in need of defense and less in need of the luxury of another offensive weapon to supplement Isaiah Thomas, Al Horford, and potentially Marcus Smart, were never going to pull the trigger to land Anthony.
And given the inability to claim Griffin with Rose on the roster (with no guarantee at re-signing Blake, who isn't entirely worth it anyhow), the Knicks would have settled on any combination of J.J. Redick (a free agent to-be), a bad contract in Jamal Crawford, Austin Rivers, and a mid-level pick from the Clippers, a less than desirable haul.
Unfortunately, Melo is also an "old" 32, set to be 33 in May.  Already a fifteen-year veteran, Melo, who only played one season at Syracuse, has logged 37,321 minutes, including the playoffs, over 1,025 games in the NBA.  He has lost a step, and is no longer as explosive slashing to the basket.  Relying on his perimeter shot more than ever of late (albeit, with more than a respectable efficiency), Melo has not proven he can hack it as the number one option on a championship contender.  A second or third option?  Perhaps.  But like Patrick Ewing, Melo will likely end his career as a superstar without a ring.