While the New York Mets' David Wright is a third baseman to the bone, he may need to find a new spot to keep himself viable in the majors.
T
here's no doubt how much of a fixture
David Wright
has been at third base for the
New York Mets
over the last 13 seasons. In his prime, he was one of the best third basemen in the MLB, if not the best. Fans will forever remember how good a hitter he was with power, while also keeping a more than adequate presence on the left corner of the infield.
Wright won the National League Gold Glove twice in back to back seasons in 2007 and 2008, showing the good range and hands that voters look for in the top fielder at a position.
However, Wright has suffered various injuries the last few years, most notably to his back and neck. In 2015, Wright had spinal stenosis, missing the majority of the regular season due to it. Last season, Wright suffered a setback in his neck and was forced into surgery again, missing the rest of the year from May on.
Over these last two seasons, those injuries have really affected Wright's play at third. Not only does he not have the range he used to, but his throwing around the diamond has been abysmal and inaccurate.
If you look closely, Wright doesn't do use his patented sidearm style throw anymore. He now has an always changing arm angle that results in a ton of inconsistencies. He does it to keep his pain to a minimum, but the ball consistently doesn't come out clean, hitting the dirt on a regular basis, making the first baseman's scooping job much more difficult.
Wright's troubles have even lead to errors when the first baseman can't pick up the throw, which can drastically affect a game as it did in Game 1 of the 2015 World Series when Wright's errant throw to lead off the last extra inning led to Kansas City's game-winning run scoring.
To prevent instances such as that, the Mets should consider moving Wright to another position, not only to squash his errors, but to prolong his career which could be coming close to retirement.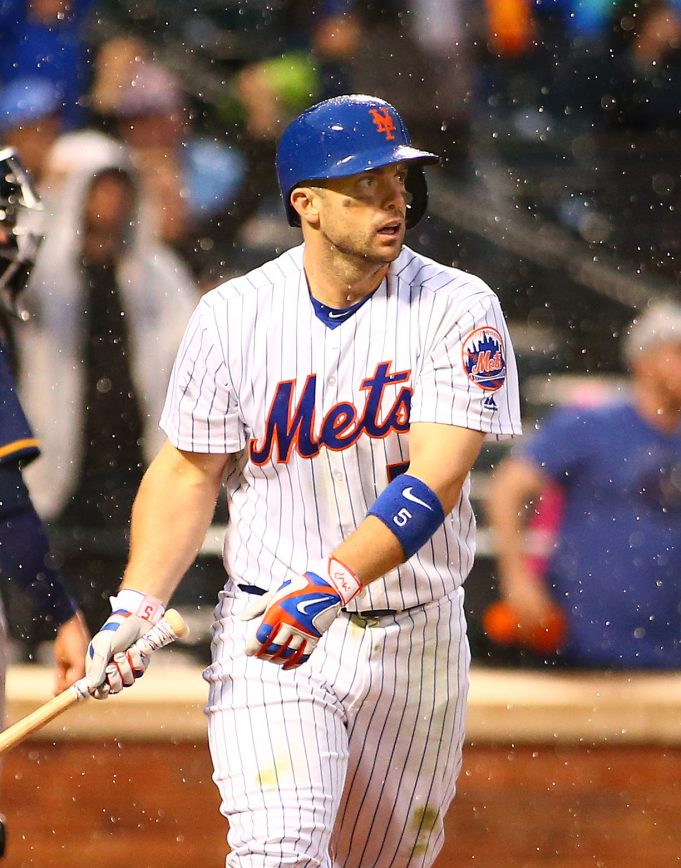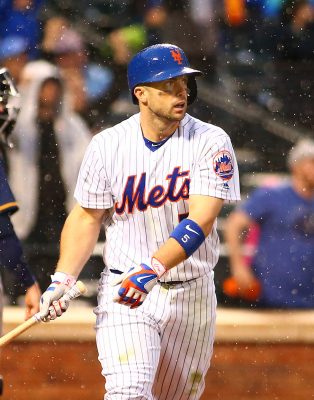 There have been thoughts of the Mets giving Wright a try at first base, which clearly makes the most sense. He gets to stay in the infield while playing at a much less strenuous position. Wright wouldn't have to throw as much at first as he did at third, and it also doesn't require as much range.
Plus, there's also uncertainty in the Mets' current first baseman, Lucas Duda, and whether his back can hold up over the course of an entire season, after missing most of 2016 due to just that issue. Even if Duda is healthy, he can platoon with Wright there since 'The Captain' can still destroy lefty pitching.
Wright can look to a familiar face for advice. His good friend Ryan Zimmerman of the Washington Nationals was also a third baseman to start his career, but eventually the workload there was too difficult after he too suffered injuries.
The Nats decided to move Zim to first base last season. So although Zimmerman isn't the hitter he once was, he has contributed well for Washington and was able to play most of the season by manning first base.
Pedro Alvarez, who was the Pittsburgh Pirates' main third baseman, also switched to first base when he went to the Baltimore Orioles.
Based on what these two did and that they're still in the league and productive enough to remain starting, the Mets should give Wright more of an incentive to move there as well. He wants to play many more years, although the screams for him to retire are getting louder and louder every season.
If Wright wants to extend his career, third base is not the place for him anymore. First base is the best spot for him if he wants to keep going and hopefully avoid more injuries. He's in a perfect situation for the move as well, as the Mets have a ton of depth in the infield in Jose Reyes, Wilmer Flores and T.J. Rivera.
'The Captain' is still a team player and an unselfish guy, so if the Mets ask him to, he would likely scoop up the opportunity. And with Wright still remaining a tremendous athlete, along with his Gold Glove awards from his prime, it shouldn't be too troublesome for him to switch to another infield position.
If Wright wants to prolong his career and still be productive, a first base change is the necessary move for him to achieve that.