https://www.instagram.com/p/BOTJ_qiAyil/?taken-by=abigailratchford&hl=en
New York Knicks star Kristaps Porzingis takes a shot at love with model Abigail Ratchford.
Love is in the air and New York Knicks star Kristaps Porzingis is taking his shot at it.
Model Abigail Ratchford posted a revealing pic of herself in a red dress on Instagram Tuesday night. Porzingis responded to the post by posting two bulging eyes emoji's in the comments. Ratchford responded to Porzingis's comment with the same eyeball emoji and a kissing lips emoji.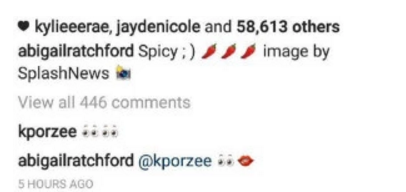 According to Jaclyn Hendricks of the New York Post, other users commented after the Sports Illustrated model responded to the Knicks phenom.
"My man's @kporzee is trying to slide in the DMs what's up?" one user wrote. Another user wrote, "@kporzee if you don't smash the knicks will never win a title." Another user wrote, "@kporzee doesn't slide in the DMs. He powers forward through them."
The Knicks star won the Skills Challenge during NBA All-Star weekend last weekend. He is averaging 18.3 points, 7.1 rebounds, and two blocks this season.
Good luck, Kristaps, with getting a date with Ratchford. And Abigail, don't worry if things don't work out with Porzingis. Many of us here at Elite Sports NY are familiar with the bulging eyes emoji as well.
https://www.instagram.com/p/BOTqYDdgvBw/?taken-by=abigailratchford&hl=en
https://www.instagram.com/p/BOVsuCEAlZY/
https://www.instagram.com/p/BQYb1yQAoB7/
https://www.instagram.com/p/BQZoQ8ZgRBA/
https://www.instagram.com/p/BQgpWq3Ai7y/?taken-by=abigailratchford
https://www.instagram.com/p/BQk3Ld5A4g6/
https://www.instagram.com/p/BQswQuJgciL/