Kristaps Porzingis began the year on fire, but has dropped off dramatically. Despite this, the New York Knicks can get him going again.
K
ristaps Porzingis began the 2017 season at an all-star level, but has since dropped off dramatically and hit the so-called "wall" for the second straight season.
Over the first 33 games of the year — October 25 to January 6 — Porzingis was averaging 20.2 points per game, 7.9 rebounds per game and 2.1 blocks per game on shooting 46 percent from the field and 41% from long range. However, as the Knicks play has deteriorated, so too has Porzingis' play. In his last 16 games, the 21-year-old is posting just 14.6 points per game and 5.5 rebounds per game and his shooting has slumped to 43 percent overall and 32 percent from long range.
Notably, he has only broken the 20-point mark once during this stretch.
In that stretch, Porzingis was suffering from an ailing achilles and bouts of illness and this was all accompanied by a lack of confidence and as recently as last Friday, little enjoyment in the game of basketball.
The NBA is just about to get underway for the second half of the season following the All-Star break. KP led Team World to a 150-141 victory over the USA, contributing 24 points and 11 rebounds. He followed up this performance but taking down guard/forward, Gordon Hayward to bring it home for the big men in the NBA Skills Challenge for the second consecutive year.
So, how can the New York Knicks rejuvenate Kristaps Porzingis in the second half of the season?
The first step the Knicks can take to getting the budding star on track is to move him permanently, or for the remainder of the year, to the center position.
As a five man, Porzingis will stay at home on the defensive end more frequently which makes sense as he is New York's best shot blocker at 2.0 per game this season. Moreover, he will have to chase big men around and off the perimeter far less frequently which is beneficial for his achilles and the Knicks overall defensively as he has had his struggles guarding the three point line.
Case in point:
On the offensive end, more often than not, Porzingis' opponent will run straight back to defend the basket, leaving Porzingis open for a trailer three or mid range jumper. If his opponent is on the glass with him, Porzingis is more agile than his opponent most of the time meaning he can get ahead for easy rim runs. In New York's usual style of game or pace, the half court game, Porzingis will be able to exploit his mismatches by using his agility and ball handling skills.
Another point related to the offensive end is that Porzingis is a confident player. When he gets shots off to begin the game and sinks a few buckets he will likely remain in an attacking mindset for the remainder of the outing. Henceforth, the Knicks should make a concerted effort, or his fellow starters should, at finding him and creating easy looks for him. Giving him the ball and clearing out isn't the way to go.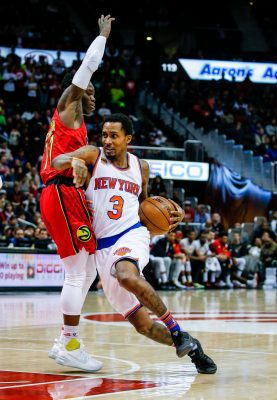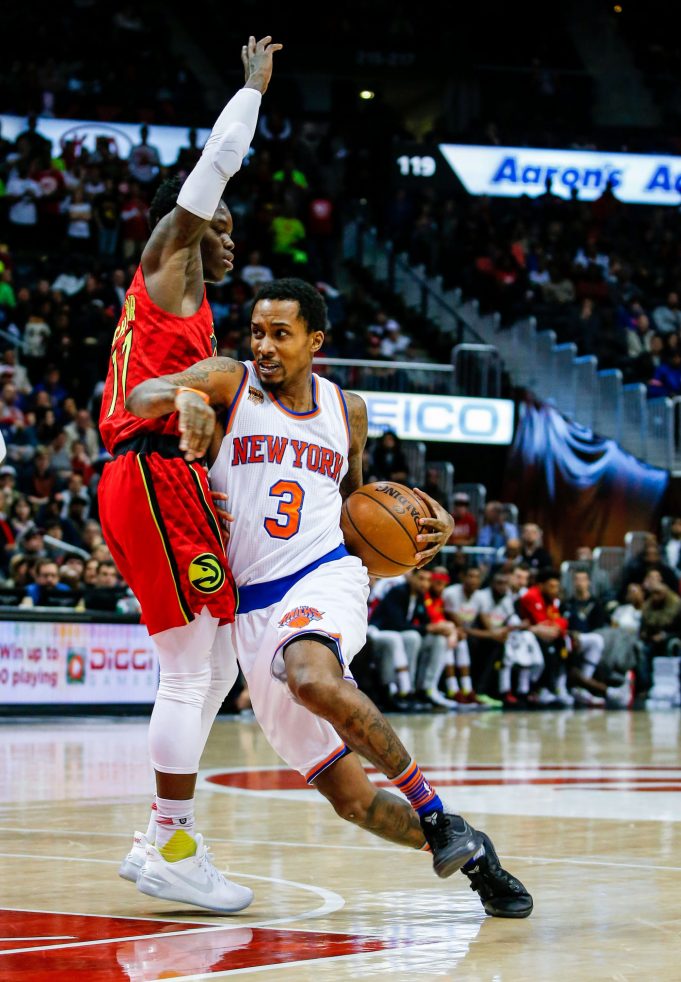 Another lineup change would also need to be made for Porzingis to get back on track which would be to insert Brandon Jennings as a starter. Ideally, they'd move Derrick Rose altogether, but that is quite unlikely. Jennings seems to have a certain chemistry with Porzingis, dishing a total 405 passes to Porzingis which is second to only Anthony at 424. Furthermore, Porzingis has made 67 baskets from Jennings' passes. Porzingis also seems to thrive more in an uptempo style of game and that is exactly what Jennings provides.
When you couple Jennings' pass first mentality with his chemistry with Porzingis, it is a match made in heaven. Jeff Hornacek has willed his team to run this year but that hasn't happened, but the next best option is the pick and roll between these two. Jennings has now fully recovered from his achilles injury and is still lightning quick, meaning he can get draw the attention of the opposing defense and kick it back out to Porzingis for open looks, both from mid and long range. Also, Jennings is a far more wiling passer when doubled in a pick and roll situation, meaning that Porzingis would potentially have fairly easy looks right around the basket.
Over the course of the season, it seems that Jennings has tried to feed his young star which has built his confidence and pairing this two together more frequently could only be beneficial for Porzingis.
In order to rejuvenate Kristaps Porzingis in the back end of the 2017 season, Jeff Hornacek must permanently move him to the five spot, get him going early on in games and pair him with Brandon Jennings more frequently.