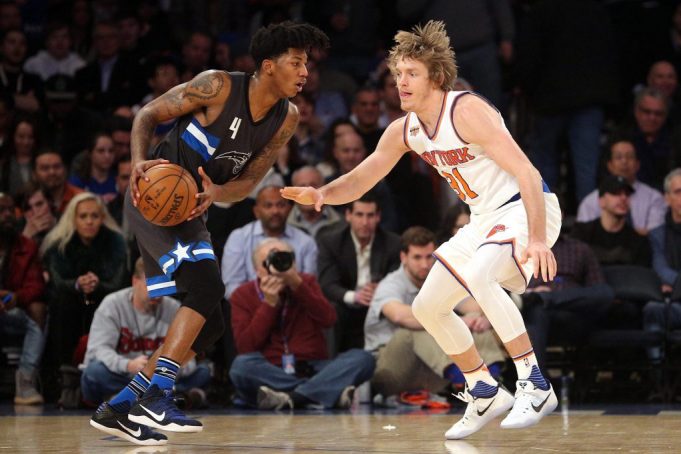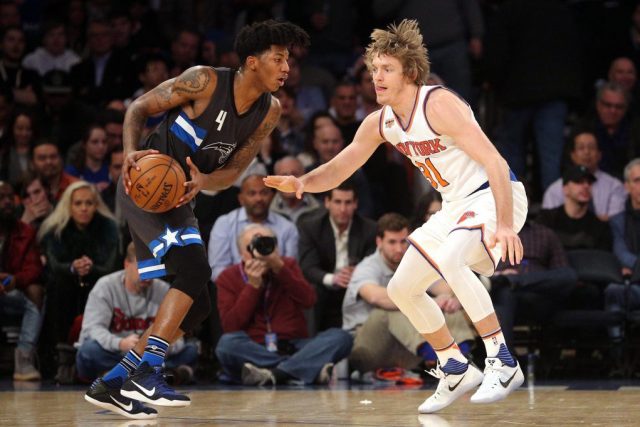 Other Minor Adjustments
It is clear that the Knicks should make adjustments to the lineup as they have nothing to lose at this point but they should also distribute more minutes to other players on the bench.
Ron Baker has appeared in 27 games including three starts and he has had his moments and shown that he is a capable NBA player. The Knicks have had success through the draft and finding the diamond in the rough and Baker could possibly turn out to be another. Since the turn of the calendar, the 23-year-old rookie has shot 39% from behind the arc and has a defensive field goal percentage of 41% which is the best of any Knicks point guards.
Baker has the potential both offensively and defensively to become a viable rotation player and he should, therefore, receive playing time outside of garbage time following the All-Star break.
Mindaugas Kuzminskas has also dropped out of the rotation as of late, but he should return to the rotation. The 27-year-old Lithuanian has also had his flashes of brilliance, including a career-high 17 points in Boston. Kuz, as he is known to the fans as, has a solid touch from outside with seeming effortless form but to the surprise of the fanbase he is fearless when attacking the basket. Overall, he has a polished offensive game but he still seems to be getting used to the NBA style of play especially on the defensive end where some help is still needed.
Kuzminskas may have his flaws but many other Knicks do and he too should find his way back into the regular rotation.
Other potentials include Marshall Plumlee, who in his limited minutes has played with endless effort and enthusiasm and has shown his defensive and rebounding capabilities. Maurice N'Dour is another, however, he seems to be lost — a tweener type. He just hasn't really found a niche yet but to be fair he has gotten barely any playing time. Overall, providing a few minutes here and there over the remainder of the year could do nothing but could things for the two individuals.