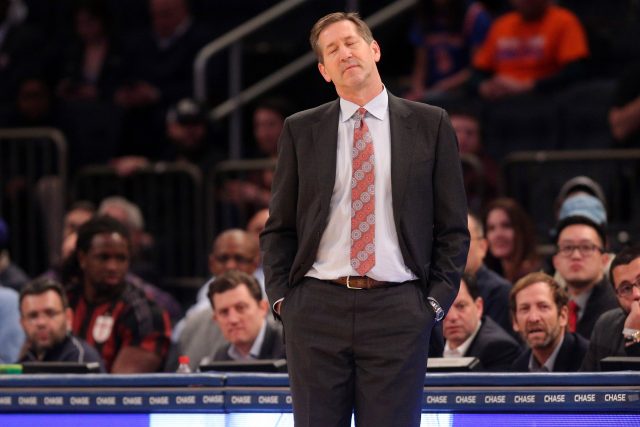 Where's the defense?
Offense, offense, offense … this all we get from Jeff Hornacek. From as early as training camp on, offense was all the New York Knicks worked on.
It's now Feb. 11 and we now understand how important defense is in the game of basketball. Or, at least (we hope), the Knicks finally understand it.
New York ranks 25th in the land in points per game relented with a cool 109.4. 
This is what Phil Jackson has given us and, quite frankly, what the Knicks deserve for not even looking in the direction of the most talented coaching candidate on the market in years, in Tom Thibodeau. Instead, Jax went with the offensive-minded Hornacek while keeping Kurt Rambis on as the role of spy.
A personnel mixing like this will never help a young 7-foot-3 stud flourish, especially on the defensive end of the floor. Whether it's Derrick Rose or Brandon Jennings at the point allowing dribble penetration or Carmelo Anthony's sluggish body allowing quicker small forwards to blaze past him, KP's role on defense is chaotic.
Make no mistake about it: Porzingis is not a good NBA defensive player. He's an excellent weakside help man, but struggles in one-on-one situations.
The people around him just make it far worse.