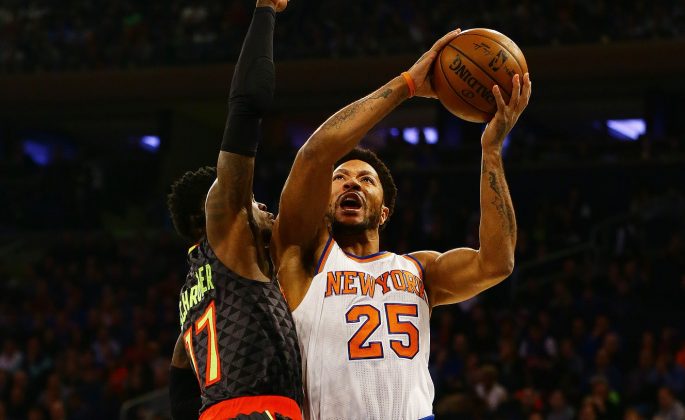 The point guard problem
Acquiring Derrick Rose this past offseason wasn't a terrible thought. In fact, Phil Jackson pulled off a heist when considering Justin Holiday is now in a Knickerbockers uniform.
Moreover, his stat line of 17.5 points and 4.5 assists only furthers the above statement.
There's just one little problem: D-Rose is out for himself. 
The very same reason acquiring D-Rose was a good idea, is why he's hurting the development of Kristaps Porzingis.
Playing out the last year of a current contract, Rose is looking for that next payday. Therefore, everything he does is geared towards getting that money, not helping Porzingis flourish into the franchise player he needs to be.
Instead of more pick and rolls, we get superman drives to the bucket with three defenders draped on the Knicks one-man. Instead of more pick and pops, we get forced 15-footers from D-Rose.
Porzingis's point guard needs to be a guy who plays defense, first and foremost, and a guy who sees the court better than any of his teammates.
Rose only hinders Porzingis's development.