James Dolan appeared on the 'Michael Kay Show' on ESPN Radio with a message for New York Knicks fans they might not take kind to.
H
ey Knicks fans, if you have any questions about the team's disastrous ways, the owner of the squad has advice he hopes resonates profoundly with you. "Ask Phil," James Dolan said in an interview on ESPN Radio this afternoon when asked what his message would be to the fan base.
This dumpster fire has so many different layers, but Dolan's interview at least provided some clarity on the situation. If anyone was of the mindset Phil Jackson was on his way out, the incompetence of the Knicks organization was woefully underestimated.
"It doesn't matter if I think (Phil) is right or if he's wrong. I'm going to honor my agreement."

-James Dolan on not stepping in

— The Michael Kay Show (@TMKSESPN) February 10, 2017
And that agreement was to relinquish all of the decision-making duties to Jackson for the entirety of the five-year contract. In a vacuum, this makes sense and initially tugged on the heart strings of Knicks fans. The time had finally come where Dolan removed himself from a position he was never qualified to be in.
The problem is the one he brought in to change the team's fortunes has somehow positioned them in a worse state than they were prior to his arrival.
Of course, there are those who wave their Phil Jackson pom poms. Pledging your allegiance to a side often leaves you vulnerable to readily absolving the party of any and all guilt in wrongdoing.
"He's not the one playing defense or missing open jumpers," many have argued.
But he's the president of basketball operations. The product on the court is a direct reflection of his failings as it pertains to executing his plan.
The team Jackson, who's smarter than everyone, put together is 22-32 on the season with an adjusted defensive rating of 112.04. This ranks 25th in the NBA. He might not be physically defending opposing players, but maybe if he got off Twitter and did the job he's being paid $60 million to do they'd be much better. Surely they couldn't be much worse.
So Dolan claims banning Charles Oakley from the Garden was a decision motivated by his duty to the fans. I guess decades of losing doesn't quite fall into that category of what fans shouldn't be subjected to.
Dolan saying it doesn't matter whether Phil is right or wrong because he promised to stay out of it is nauseating. This would be a fireable offense if he wasn't his own boss. How does one with the team's best interest at hand utter such foolishness with a straight face?
The message is clear. The owner of the New York Knicks has a stronger allegiance to Phil Jackson than he does to the fans he claims to care about so much, who have watched Jackson go 71-147 since taking over.
This team is devoid of heart, passion and the sense of direction needed to be relevant. Ultimately, that falls on the owner, who insists we "Ask Phil."
If only Phil made himself available to speak to the media instead of sending riddles via Twitter. If only he could achieve a fraction of the success that made him one the greatest coaches of all-time. Or better yet, if only Dolan started ripping Jackson publicly the way Phil has done with Carmelo Anthony.
Simply put, the Knicks are in trouble like never before. Entering Friday, their neighbors in Brooklyn have lost 11 straight and 22 of the last 23 games. This is the first time since the 1989-90 season the Nets have had multiple losing streaks of 11+ games. Plus, they're in a lose-lose situation (literally) because they don't own their upcoming first-round pick. But somehow, they're not as bad the Knicks.
Don't be fooled, James Dolan did not have the fans in mind when he agreed to this interview. He never makes these type of media appearances. The sole purpose of this one was to refute Oakley's claims of innocence. The firing of the Garden employer and talking to Michael Kay was all about damage control. The task: repair the public image of the NY Knicks.
But in doing so, he came off as arrogant, disrespectful and incredibly naive. And Dolan didn't assuage any of those concerns when he voiced that Oakley had a problem, maybe that alcoholism. It was eerily similar to how he addressed a displeased fan in an email a few years ago.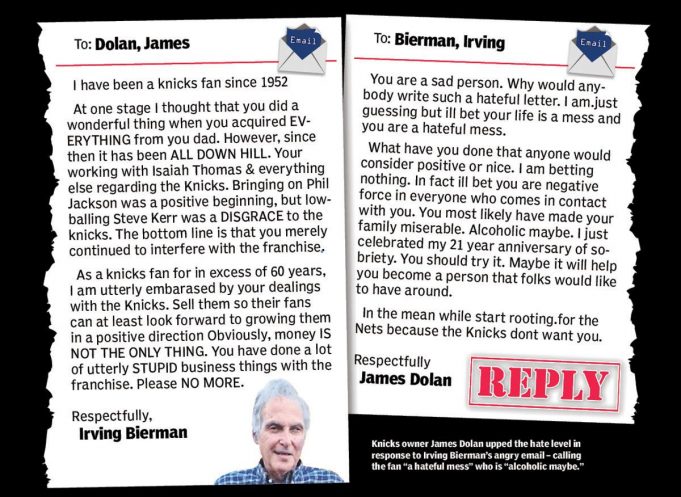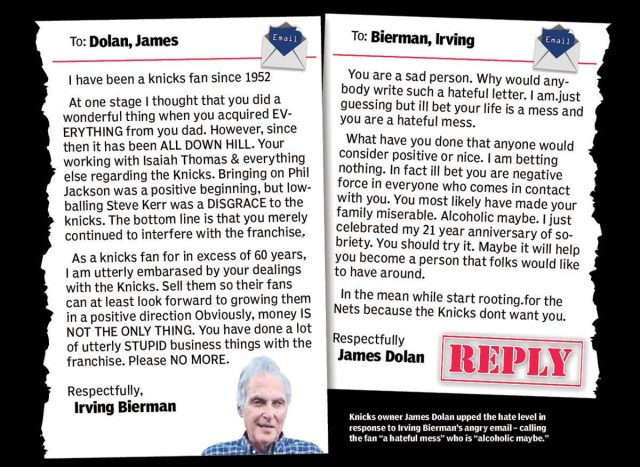 This was another egregious decision by Dolan that produced ire in the sports world. Shocker.
One of the biggest takeaways of this interview is that James Dolan and Phil Jackson will continue their fast-track to making the sure the Knicks have the distinct legacy of being the worst franchise in the history of sports.