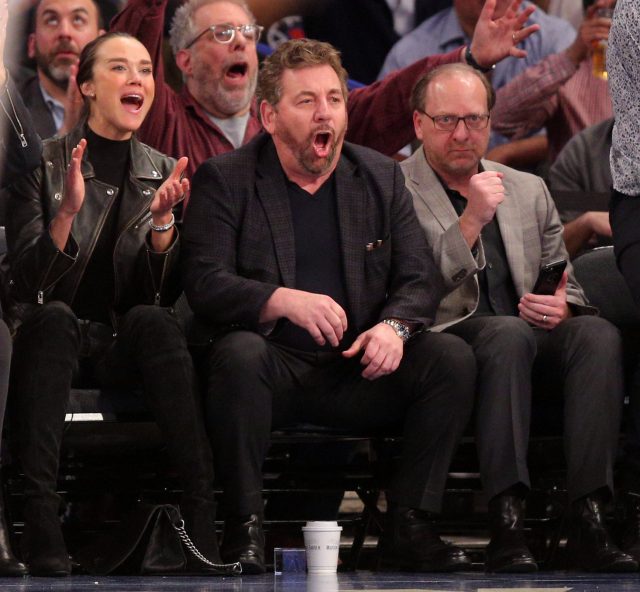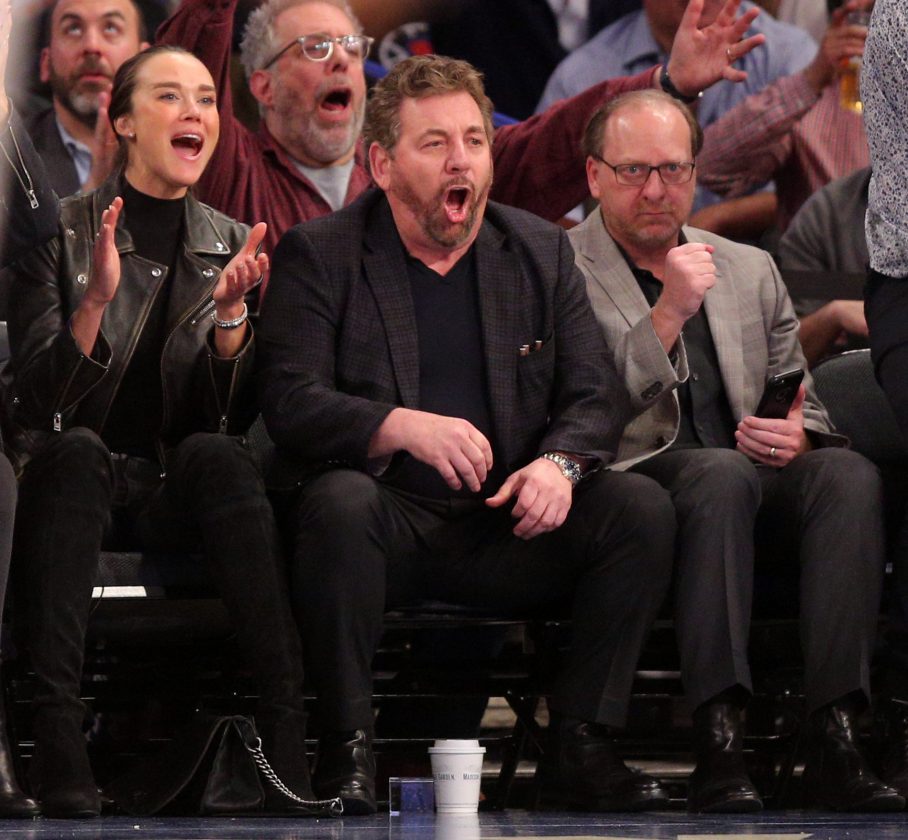 New York Knicks owner James Dolan went on The Michael Kay Show and called Charles Oakley an alcoholic, said he has an anger problem and banned him from the Garden.
N
ew York Knicks owner James Dolan said that former Knicks star Charles Oakley has been banned from Madison Square Garden on
The Michael Kay Show
on Friday.
Oakley had directed comments at Dolan during Wednesday night's game at the Garden. The former Knicks star was seated a few rows behind the owner and was escorted out of the Garden by security.
"It's not necessarily a lifetime ban," Dolan said. "We need to keep the Garden a place that's comfortable and safe. Yes, I understand that he was a big star and a Knick, etc., but that doesn't excuse people from that kind of behavior."
The Knicks owner said that Oakley came to the Garden with an agenda. He also called the former Knick an alcoholic and said he had an anger problem. On Thursday, the Knicks star admitted that he had a couple of drinks before entering the Garden.
"Charles needs help," the owner said.
The Garden has released 16 witness statements to try to show that Oakley was rude, belligerent and verbally abusive as soon as he entered the Garden, according to Amara Grautski of the New York Daily News. The former Knicks star was arrested and charged with three counts of assault after the incident. He has said that he is innocent.
According to ESPN, Frank Benedetto, who was the senior vice president for security at the Garden, was fired on Friday.
The Knicks are 22-32 and play the Denver Nuggets at the Garden tonight.
Charles Oakley has been banned from Madison Square Garden. pic.twitter.com/08zQlVgBPf

— YES Network (@YESNetwork) February 10, 2017
James Dolan: "Every time we've tried to patch things up with [Charles Oakley], it ends up the same way: abusive, disrespectful." pic.twitter.com/HVaCuWfro8

— YES Network (@YESNetwork) February 10, 2017
James Dolan on conflicting accounts over Charles Oakley's actions at MSG: "I think he's somewhat in denial." pic.twitter.com/nuM2xC0Twb

— YES Network (@YESNetwork) February 10, 2017
James Dolan: "It's very clear to us that Charles Oakley came to The Garden with an agenda." pic.twitter.com/hQrMXhwN6D

— YES Network (@YESNetwork) February 10, 2017
MSG Chairman James Dolan joins #TMKSonYES to clarify recent events regarding former Knicks player Charles Oakley. pic.twitter.com/7DSfcwGnUa

— YES Network (@YESNetwork) February 10, 2017