With the Madison Square Garden crowd chanting, "Trade Melo," New York Knicks captain Carmelo Anthony addresses the faithful emphatically.
It appears that the New York Knicks and Carmelo Anthony are heading towards a nasty divorce.
The tension is now not only with Anthony and the New York Knicks organization, but with the fans as well.
Before Friday's night game against the Charlotte Hornets, fans were chanting, "trade Carmelo," during the National Anthem. The tension continued from the fans in the third quarter, When Anthony was fouled shooting a three-pointer.
He missed the first two free throws, which caused the crowd to boo. Before he took the third shot the crowd began to cheer. They did it as if they were hoping to distract Anthony, hoping he missed the third free throw so they really could boo him.
Knicks fans and Melo need some counseling. #ItsComplicated pic.twitter.com/EPqx8Yx8Za

— Bleacher Report (@BleacherReport) January 28, 2017
Pretty sad when the home crowd is trying to distract their own player. Anthony made the free throw and the crowd gave a sarcastic and "atta boy-type" cheer.
Several times the Knicks offense became stagnant, no surprise there, which caused Anthony to take difficult shots. Melo was unable to hit the tough contested shots, which the crowd became irritated with him.
Late in the game, as the Knicks began to pick up their defensive intensity. Offensively they got a spark from Courtney Lee, who helped the Knicks re-take the lead.
As the Knicks led by two points late in the fourth quarter, Anthony made a tough step back shot over Michael Kidd-Gilchrist, which he also drew a foul.
According to Bleacher Report, "Melo appears to tell cheering home crowd, 'I don't want it' after fans chanted to trade Carmelo before the game."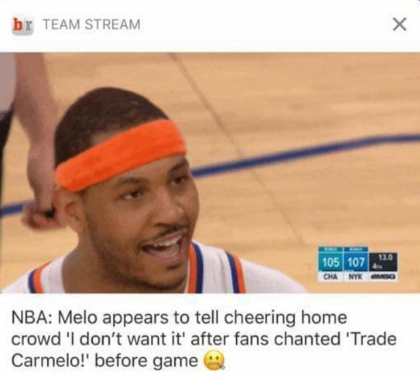 Anthony connected on the free throw and the Knicks won the game, but it is clear the messy situation is getting worst and worst by the day.
It is sad when a team win's a game and there is still nothing but drama. I supposed this is just the way it is for the pitiful New York Knicks.