The New York Knicks and Carmelo Anthony walking separate ways needs to happen and has very little to do with Melo's failures.
I
t's a topic that's been discussed to death. At this point, most of us are sick and tired of it.
For that, we're sorry. 
Still, it must be discussed. It's a necessity in today's NBA and when it comes to your New York Knicks, the topic needs to be broached immediately.
The Knickerbockers are horrible. Now, sitting at 19-26, 11th in the Eastern Conference after Carmelo Anthony's 3-point game-winning attempt circled out in a fashion that could easily symbolize the entirety of the season, the discussion around the future of the franchise has arrived in a panic.
Even if, somehow, Jeff Hornacek pushed all the right buttons and the team sneaked into the tournament, this organization has no shot at a Larry O'Brien Trophy. Depressingly, only three, perhaps four teams have a shot at an NBA championship this spring. Even worse, we know LeBron James and the Golden State Warriors are on a crash-course for a third consecutive season.
That's only the best case scenario. And even in the best case scenario, this personnel grouping has very little future to speak of.
The worse case scenario is, obviously, bleak. The Knicks stand pat at the deadline (Feb. 23, 3 p.m. ET) and continue on this painstaking journey.
But let's get back to the real issue at hand. The one that involves shipping the captain out of town.
A picture, when it comes to Melo and the #Knicks, is worth a million words. pic.twitter.com/PfE4fPQuj5

— Elite Sports NY (@EliteSportsNY) January 22, 2017
Melo, for all of his positives and faults, is the man of the hour for better or worse. He's the name that'll either catapult a Knicks rebuild or keep the roster stagnant en route to nowhere. Waiving his no-trade clause means everything.
What fans have to realize is that looking to ship Melo out of town has very little to do with the man himself.
If Anthony is shipped, it means the Knicks as we currently know them are dead. It would mean uncertainty and rebuild lie ahead. It doesn't, however, mean, that it's all Carmelo Anthony's fault that this happened.
Sometimes organizations need a fresh start.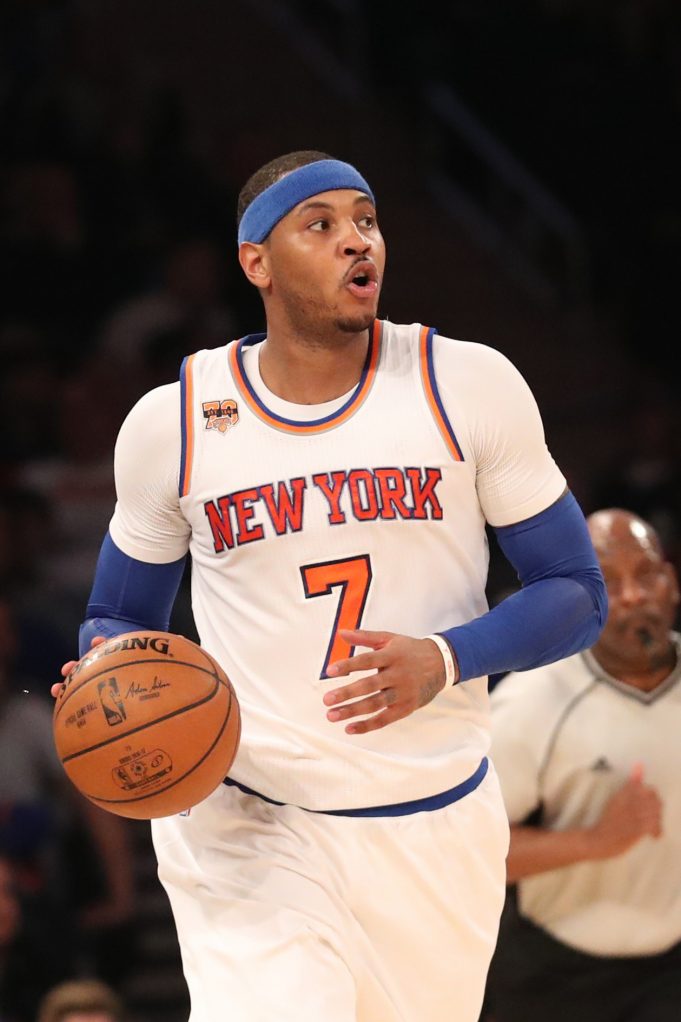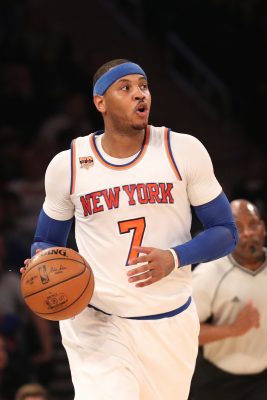 When Phil Jackson took office during the spring of 2014, he had one big time chore in front of him. This chore directly revolved around keeping Anthony or allowing him to walk.
Jackson chose to bring Melo back. Melo chose, despite flirting with the Chicago Bulls and running a free agency special on MSG explaining the subject, to remain loyal to New York for terms equating to slightly less than a max contract (as farcical as that notion was).
Whether you believe it was the right move or not makes no difference now. Whether you believe Melo is the main culprit in the Knicks struggles the last half-decade, again, makes no difference at this present time.
What matters is what the organization does moving forward.
What matters is what Melo does moving forward.
LeBron, famed friends with Melo, has stated in the past he'd love to play with the Syracuse grad. We assume Melo would waive his NTC go play with the Cleveland Cavaliers. Would LeBron welcome Melo with open arms?
As much as LeBron has claimed he'd love to play with Melo, his actions have told a different story. When the chance was there to play with the man, it never happened. And now, when Melo is possibly up for grabs during a season the Cavs could have used a perimeter shooter, the team goes out and snags Kyle Korver.
After all, James is a guy who values defense and certain intricacies of the game above all else. Anthony has never demonstrated these values.
The other rumored squad is the Los Angeles Clippers. Honestly, who the hell knows if Anthony would take flight to L.A.
Solutions are tough to come by. The direction, on the other hand, is simple. 
Jackson needs to fully comprehend his missteps and build his personnel the right way, the fresh way with Kristaps Porzingis as the leading man.
Derrick Rose is a free agent at the end of the season. His expiring contract is a valuable commodity and could be moved prior to Feb. 23. Joakim Noah is a man New York is stuck with. Courtney Lee can remain a valuable member of the roster in the coming years.
Anthony is the guy. He's the man of the hour and the player who'll either spearhead this thing or keep the Knicks in the mud.
What everybody needs to understand, though, is that this is not an indictment on him. He's not the caliber of a LeBron or Michael Jordan. He can't elevate players around him the way few immortals can.
This is understood, and it's OK.
Sometimes, both player and team each need a fresh start.