New York Mets general manager Sandy Alderson has been very protective of a few young pieces in the organization – and here's why.
F
ans of the
New York Mets
have been frustrated at times with the painstakingly slow construction of a winning roster during the last six years of general manager Sandy Alderson's reign over the organization.
But one thing has become utterly obvious: his plan is beginning to truly come to fruition.
Alderson has brought plenty of impactful changes to the franchise, with possibly the most important being the hiring of manager and team leader Terry Collins as soon as he arrived in Queens. He's also let go of lots of names near and dear to Mets fans' hearts including the likes of Jose Reyes – who he eventually brought back – Carlos Beltran, R.A. Dickey, Johan Santana and the ever-improving Daniel Murphy.
But even with all that massive change, the Mets stand in possibly the best personnel situation that they've been in since their 2006 NLCS team.
Consider the now important players that the Mets have received in exchange for some of the above Alderson removed ex-Mets: Noah Syndergaard and Travis d'Arnaud came back for Dickey and Zack Wheeler for Beltran.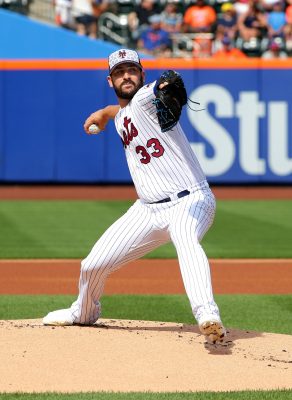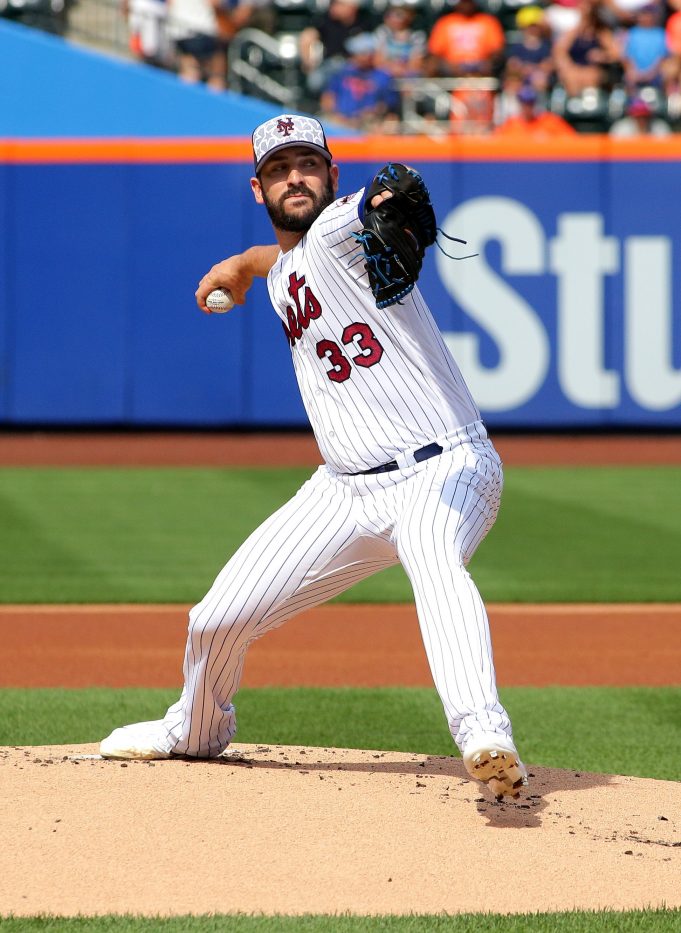 That patience Alderson has displayed has formed one of the best rotations that Major League Baseball has seen in recent memory when healthy – and they're all no older than 28. Matt Harvey, Jacob deGrom and Steven Matz have all been drafted by the Mets and grew up in the lower levels of the organization – a testament to the strong minor league coaches Alderson has quietly developed and held onto.
A flurry of reliever trade reports came out at the dawn of this offseason after it was realized by Mets brass that closer Jeurys Familia would likely be suspended by the league following an alleged domestic violence incident on Halloween. Common names brought up in the rumors were then Kansas City Royals closer Wade Davis and Tampa Bay Rays closer Alex Colome.
It was also widely reported that both teams, among others, were looking for a significant return for their respective power-relief arms, including highly touted outfielder Michael Conforto and MLB.com's No. 11 overall prospect in shortstop Amed Rosario.
But Alderson stepped in and made it clear that those two would be completely off the table, especially just for a relief arm, when setup man Addison Reed – who produced a 1.97 ERA and 91 strikeouts in 77.2 innings pitched – was already tabbed to take over for the fireballer Familia as the team's ninth inning guy.
Fan favorite shortstop Asdrubal Cabrera and streaky first baseman Lucas Duda are both due to have their contracts up following next season. Cabrera does have a team option for 2018, but that is unlikely to be picked due to Alderson's next perfectly planned out part of his blueprint.
Rosario and MLB.com's No. 55 overall prospect in Dominic Smith will be the starting shortstop and first baseman respectively come Opening Day 2018. And that's a guarantee.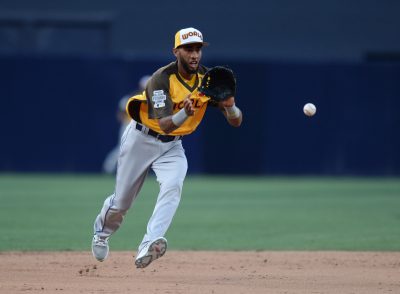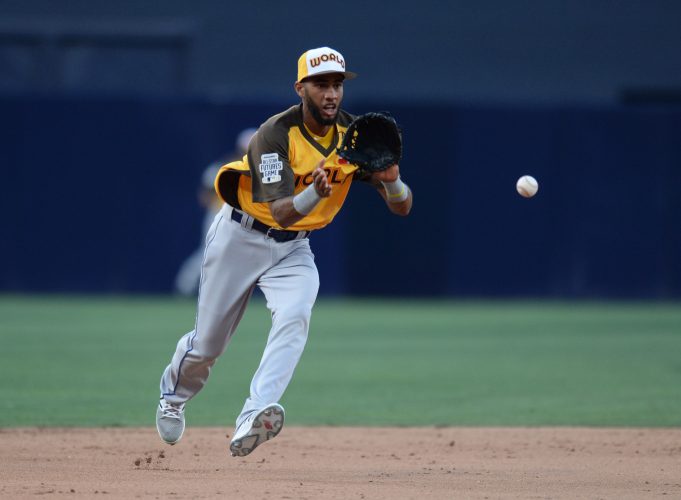 A first-round pick by Alderson in 2013, Smith has largely been overshadowed by the excitement surrounding Rosario in the Mets-verse, but he deserves plenty of attention in his own right. The 6-foot, 250 pound lefty has steadily improved his glove and bat since his arrival in the farm system from Junipero Serra High School in California.
Smith spent all of 2016 in Double-A, hitting .302/.367/.457 with 29 doubles, 14 home runs, 91 RBIs and 50 walks/74 strikeouts. To put his power explosion into perspective, Smith hit just 11 homers his entire three professional seasons prior to last year.
He has also been ranked by MLB.com scouts as a 60 fielder, which on a scouting scale rates as above average. Some have even remarked that Smith could develop into a Gold Glove-caliber first baseman, as he has already shown considerable ability at just 21-years-old.
Rosario had a very similarly explosive 2016, as his bat finally came alive how Mets management had envisioned it following his signing out of the Dominican Republic. In fact, he hit a whopping .324/.374/.459 with 24 doubles and 13 triples, five home runs, 71 RBIs and 19 stolen bases.
His even-keel performance has reminded many of Cleveland Indians standout shortstop Francisco Lindor, both in his ability in the batter's box, but also at one of the toughest positions in baseball to handle.
MLB.com scouts Rosario's fielding at a 55 – a bit above average – but his arm is ranked a 65 – nearly well above average. But he is also known for his range, as he has no issue getting to hits deep in the hole, with the arm strength necessary to get the ball to first on time.
The duo of Rosario and Smith will likely occupy two of the top four spots in the Mets' lineup for some time when they make their major league debuts sooner rather than later.
The aforementioned Conforto is also going to play a big role in Alderson's ultimate plan, as he is currently trying to trade one of the roster's surplus of veteran corner outfielders in Curtis Granderson or Jay Bruce to open a starting gig for him.
Conforto was called up to Queens out of necessity during his first professional season in 2015, producing a solid .270 average with nine homers and 26 RBIs in just 56 games – even contributing three home runs over the World Series run.
The sophomore slump was real in 2016 though, as he fell to a .220 average, even dropping down to Triple-A for 33 games at one point – although he did rake there. So fans and the organization alike are looking for a third-year resurgence from the southpaw, and it appears as though he'll be given plenty of chances to do just that.
All the pieces are really beginning to fall into place for Alderson, and the wins are following, as the Mets made the postseason in 2016 for a second consecutive year – just the second time that has occurred in franchise history.