If the New York Mets are going to let outfielder Jay Bruce go, they want a haul back. But will their price be too high to complete a deal?
I
f you've ever wondered what the asking price for a 30-plus home run hitting outfielder might be, wonder no longer.
Jim Salisbury of CSN Philly has reported that New York Mets general manager Sandy Alderson has asked the Philadelphia Phillies for two prospects in exchange for right fielder Jay Bruce.
Alderson has spent a great deal of time this offseason trying to trade one of his aging outfielders, Bruce and Curtis Granderson. A trade would open up a starting position for highly touted prospect Michael Conforto, while also alleviating the franchise of $13 million in cap hits.
Many consider that asking price not overly outrageous, considering what the Chicago White Sox received from the Washington Nationals for 28-year-old center fielder Adam Eaton.
The deal was centered around two of Baseball America's Top 100 pitching prospects in Lucas Giolito and Reynaldo Lopez. The exceptional young pitchers will help speed up a rebuild in the southside of Chicago. With Eaton, the Nats received an outstanding defensive player who is consistently able to get on base.
While his defense is lacking a bit more, Bruce is a much more dangerous bat than Eaton, and has posted 20-plus home runs in eight of his nine major league seasons.
The Mets may need to wait until the outfield free agency pool begins to thin out before receiving their asking price for Bruce. With Brandon Moss and Michael Saunders still unsigned, Bruce may need to stay put until Spring Training, at the earliest.
Citizens Bank Park in Philadelphia would make a great home for Bruce, who can hit absolute bombs when he's dialed in. That park plays much more like the Great American Ballpark in Cincinnati – Bruce's old stadium – then does Citi Field.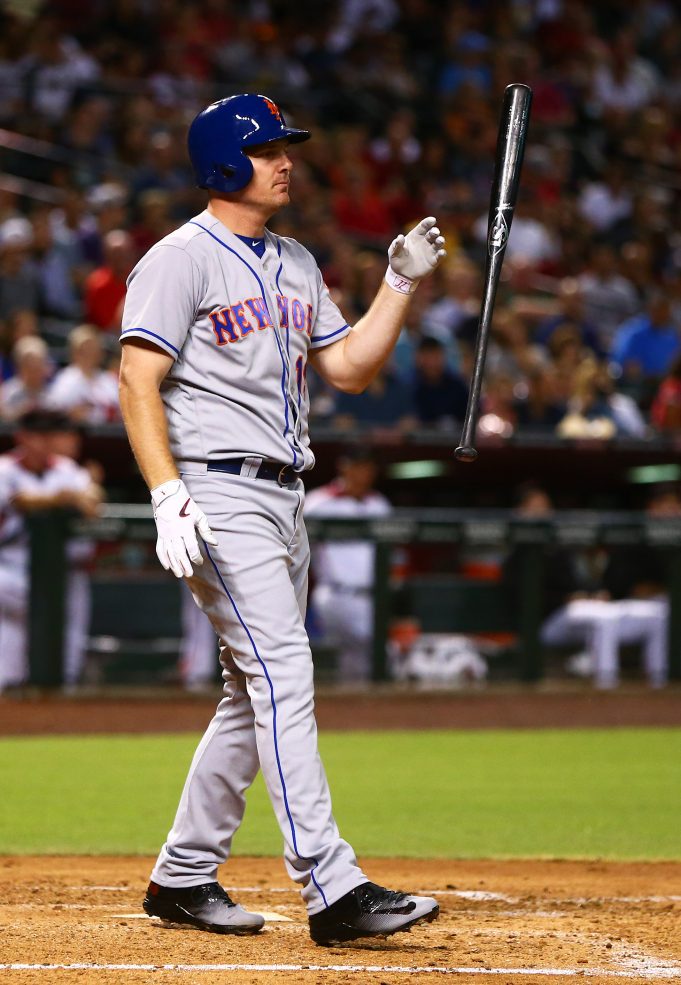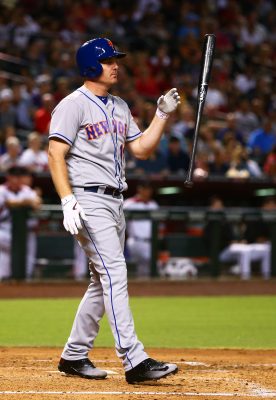 A move to the Phillies, who are also in rebuild mode, may be an easier transition for Bruce, who could play mentor to many on the young Philadelphia roster.
The trade that brought the slugger from the Reds to New York provided moments of classic "Jay Bruce", but overall could be defined as a major letdown.
His batting stats in two-plus months with the Mets were as follows: .219 average, eight home runs and 19 RBIs. This came after he hit .265, 25 home runs and 80 RBIs in a campaign that landed him on the National League All-Star team during his time with the Reds.
Bruce's combined season stats should still make him a viable option for any team looking for a power hitting outfielder/designated hitter. His 33 home runs and 99 RBIs were still good enough to finish in the top ten of the NL in both categories.
One thing Alderson will need to consider is to absorb some of the $13 million contract owed to Bruce. If New York would agree to pay anywhere from $6-7 million, it would likely increase their chances of landing two prospects for Bruce.
The clock is ticking with just under 30 days until pitchers and catchers report to Port St. Lucie to kick off 2017 Spring Training. If Bruce is still with the team on Opening Day, Terry Collins' lineup options will seem endless, but in this case, that's not really an ideal situation.