A promising offseason and a hot start gave the New York Knicks some life, but in reality, Phil Jackson's squad is mired in mediocrity.
E
veryone in their right mind had an inkling the preseason cheering of the dawn of a third "NBA Superteam" — in the form of the helpless New York Knicks, no less — was an unrealistic joke, mere hyperbole to entertain and tease the loyal faction of Knicks fans dreaming their team was actually a well-functioning organization built to succeed.
Everyone other than team president Phil Jackson, of course.
The 2016-'17 Knicks are plagued with the very same issue holding back Knickerbocker teams of the past 15 years — not quite good enough to "go for it," yet still doing anything to make it work. And for that, the man that runs the show deserves criticism.
This irrational confidence mentality of thinking the team is better than they are started with Isaiah Thomas, Stephon Marbury and Eddy Curry and spread its way into the next decade.
For the Phil Jackson era, it all started with the re-signing of Carmelo Anthony to an apparently lifelong contract. It's hard to fault Phil for laying it all out on the table to the franchise face who seemingly had one foot out the door, but it made for an imminent second round exit ceiling for a New York franchise and fan base dying for success.
With the prospect of a more refined 7-3 Kristaps Porzingis, today's Knicks team had promise the moment last season's 82nd game (and 32nd victory) came to an end. The Zen Master took the "ante up" approach on that promise when he showcased a little "summer magic," once again, one year after nailing the fourth overall draft selection of his prized Latvian. Jackson traded nothing Jerian Grant, quasi-starting point guard Jose Calderon, and RoLo for Derrick Rose, former MVP.
He was dishing out bad point guards to NBA teams like he does summer reading and yoga lessons Zen Sessions™. The only difference is unlike Jackson's spreading of philosophical BS, this time he was giving out trash and getting bonafide talent in return.
Derrick Rose: High motor, relentless penetrator, former NBA MVP.
It was a nice try, you know, revitalizing a position that the Knicks have been torched and tortured by in recent years. But for all the excitement and pace he brings, Rose's deficiencies have shined brightest thus far. Derrick Rose, former MVP, is an incredibly athletic and talented player hampered with a me-first mentality, ugly shot and court vision that makes one sit and genuinely think, "at least Calderon would have passed that."
Swing or miss, credit to Phil for ignoring the now-dead "Return to Los Angeles" narrative and reasserting his commitment to making these Knicks watchable again and someday — hopefully — bearable. Still, if the first half of this season is any indication, New York might be good, but not nearly good enough for their playoff aspirations.
There's been some good.
Courtney Lee is a keeper. Kyle O'Quinn may, in fact, be a solid contributing role player. Jackson found Mindaugas Kuzminskas and Willy Hernangomez in the middle of Siberia, two players that actually have more value than their pennies-on-the-dollar contracts. But for every European and Courtney Lee, there is a Joakim Noah contract, a starting point guard who's simply playing for his next contract, and somehow, someway Sasha Vujacic's ghost hanging around like an albatross.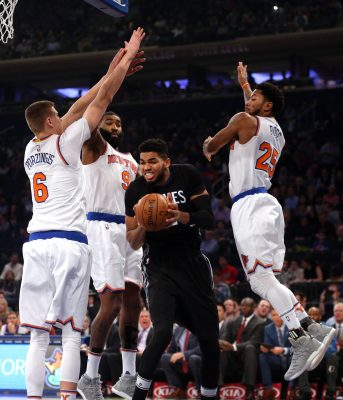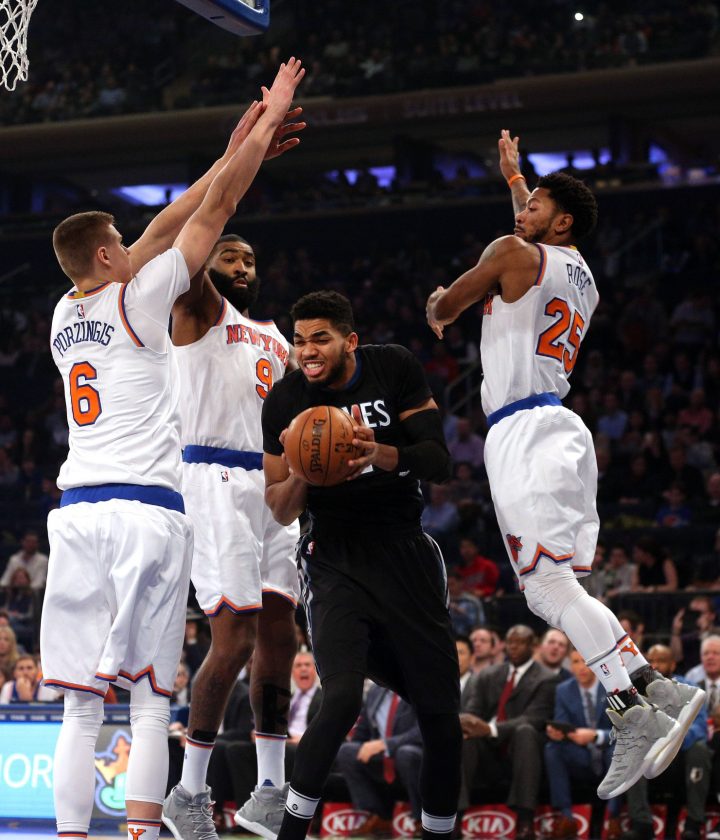 When you trade for Derrick Rose and sign a hobbled player to a fat four-year deal to be your starting center instead of breaking it all down and building it back up — something fans prayed was coming with the drafting of a cornerstone player like Porzingis — you're once again "going for it" without a team capable of doing so. When you're 16-19 nearly halfway through a once promising season and a lottery pick is looking more realistic than "Playoff's Return to the Garden," something has got to give.
New York is stuck with Noah, hampered by Melo's full no-trade clause, and couldn't give a team $1 million to watch Lance Thomas airball wide open threes on a nightly basis.
Maybe the answer comes in the shape of another big PhilJax trade, offing Rose (former MVP, don't forget) and getting value in return for his current season full of highlight plays. You can see the Knicks ponying up way too much money when Rose hits free agency this summer from a mile away, while they forget Jrue Holiday is better and probably cheaper too.
Maybe the right move is letting this mediocre squad play out and letting the diehards enjoy the rollercoaster that is hoping for a five-seed until gradually coming to the realization that losing — and the lottery pick in a stacked draft that comes with it — is better for the team.
To me, only one thing is sure: It's time to prioritize long-term success ahead of everything else.