Despite easily being the weak link of the 2017 New York Yankees, the rotation could surpass expectations if two aspects go their way. 
N
o one will deny it.
The 2017 New York Yankees have immense potential, but will ultimately be held back by a rotation that consists of nothing but question after question.
---
---
Entering this season, Masahiro Tanaka, who maintained the third-best ERA in the American League in 2016, CC Sabathia, who's coming off his best season since 2012, and Michael Pineda who was the AL Leader in K/9, lead the charge.
Following those ostensible locks, the Yankees have either unproven or questionable arms competing with each other for the latter two spots.
Those unproven arms feature Luis Severino, who has to earn his way back after posting an 8.50 ERA in his sophomore year as a starter, Luis Cessa, who allowed 11 home runs in nine starts, Chad Green, who was shut down due to an elbow issue, and Bryan Mitchell.
Enough to merit anxiety? Certainly. But if two arms can tap into their immense potential, the vibe surrounding New York's rotation would take a monstrous turn in the positive direction. 
We start with Michael Pineda, who is an incredible puzzler that not only makes everyone scratch their head, but is also something that has never been witnessed in baseball.
Last season, he became first starting pitcher in major league history to give up 25+ homers while maintaining an ERA over 4.80, a K/9 rate of 10+ and also striking out 200 or more batters.
The worst part is, it's so hard to figure out why someone with an arsenal so nasty (staggering 25.22 whiff percentage with slider) can struggle the way Pineda has.
It ultimately comes down to "attacking" hitters and pitching to his strengths, something that Pineda fails to do on a regular basis.
When he's ahead in the count, batters are hitting .184 with just four homers and an OPS of .487 but when he falls behind, those numbers jump to .344 with 10 homers and a 1.140 OPS.
While that's a general inclination across baseball, batters are also swinging at Pineda's first pitch 43% of the time and are slashing .291/.300/.550 compared to .254/.331/.421 when they took the first pitch.
Again, that's fixed by trust in your stuff and being able to pitch to your strengths. His wipeout slider is easily the greatest pitch in his arsenal while his fastball gets hit out of the park on almost a nightly basis — especially when he falls behind.
If he can get that trust and transform himself into that pitcher we all know he could be with some help from pitching coach Larry Rothschild, then New York not only has a Cy Young dark horse on their hands, but an ideal No. 2 to throw behind Tanaka.
---
---
Then, there's Luis Severino. A 22-year old who has previously shown he has the capability of handling a major league rotation job.
After all, the kid was arguably the reason why the Bombers didn't fall completely out of contention in 2015.
Following his major league debut on Aug. 5 in that same season against the Boston Red Sox, the then 21-year old went 5-3 with a 2.89 ERA to compliment an 8.1 K/9 rate, .229 BAA and a 1.203 WHIP.
In his sophomore season, however, his title of "future ace" didn't quite fit the production, as Sevy went 0-8 with an 8.50 ERA while serving up 11 home runs and 70 hits in 47.2 innings of work across the same amount of starts (11).
His K/9 ratio also dwindled from 8.1 to 7.7 while his opponent's batting average spiked from .229 to .337.
Then, after a couple demotions, manager Joe Girardi decided to throw the youngster into the bullpen — where he may have commenced his legacy as a dominant reliever.
In 23.1 innings of relief starting on July 27 against the Houston Astros, he has held opponents to a .105/.209/.158 slash line while maintaining a 0.39 ERA and striking out 25.
More impressively, his strikeout-per-nine ratio sat at 9.6 out of the 'pen while his rate, as previously mentioned, was 7.7 as a starter. Additionally, he did not surrender a single home run while teams totaled just 12 total bases off him.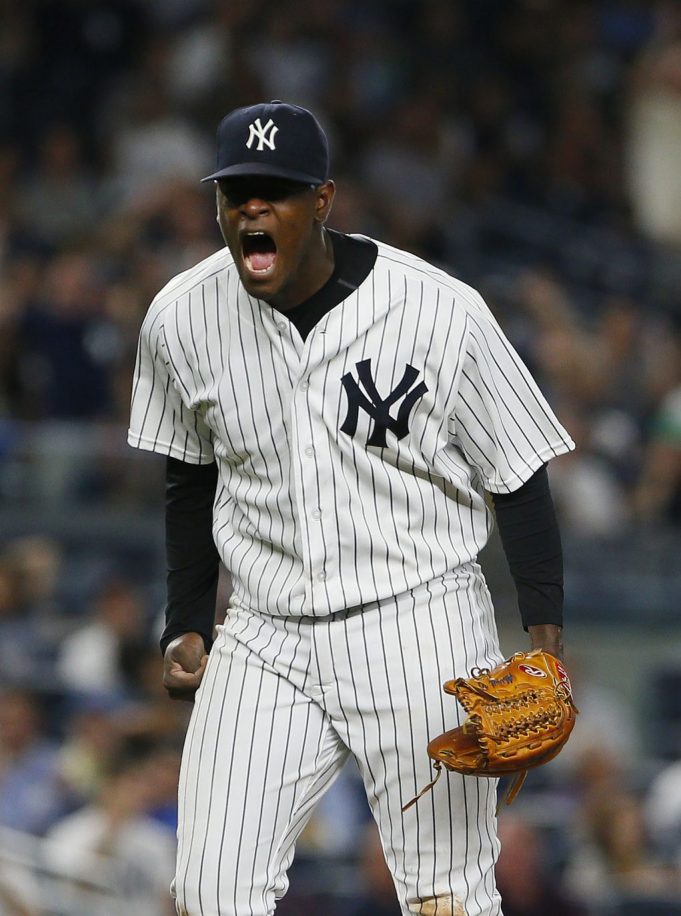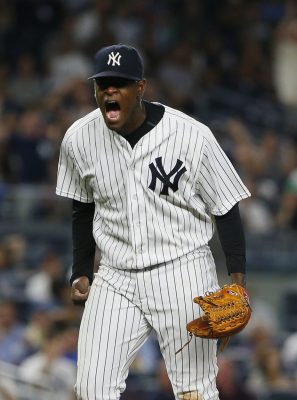 We're going to steer away from talking about why he's meant for a relief role, and focus on what it will take Severino to help bring balance to the starting five.
When batters face Severino (in his career as a starting pitcher) for the first time in a game, they slash .257/.333/.449 but come the second plate appearance, they slash .319/.373/.540.
Digging a little deeper into that, batters hit .237 off Severino's fastball, .182 off his changeup, and .135 off of his slider when facing him for the first time, in 2016.
For the third (or more) time, batters hit .278 off Severino's fastball, .500 off his changeup, and .313 off his slider.
That's because the use of his changeup was at a mere 9.69% last year and as a starter in the majors, you'd be figured out a second without a deep arsenal to turn to besides a fastball — despite the electricity.
In the end, it comes down to trust and a game plan for Pineda while proceeding to handle Severino like he is: a kid developing in the majors.
It's too soon to give up on Pineda. It's felonious to throw Severino into the bullpen and not think twice about it. Most importantly, these two hold the key to success from rotation — which could lead to a very promising 2017 campaign.
Not to mention how deep and solidified the rotation will become for the future with Sevvy under team control until 2023, the unit will be primed for magnificent support from the 2018 market and beyond — in addition to making the already underrated Yankees instant contenders.
---
---