A lefty reliever can't be forgotten on the New York Mets 2017 roster. So here's who could be donning the blue and orange come next season.
T
he image is forever ingrained in
New York Mets
fans' memories:
Jesse Orosco
, in feeling the euphoria of championship glory, lofting his glove into the air as he falls to his knees. In capturing game seven of the 1986 World Series, the left-handed closer – who appeared in 58 games that season – had done his job.
Fast-forward 30 years, and, again, left-handed relievers are making their mark on the Fall Classic – and on the sport as a whole.
Dueling lefties Andrew Miller of the Cleveland Indians and Aroldis Chapman of the Chicago Cubs each had his impact on the 2016 postseason, and each is among the game's most coveted southpaws. Chapman was recently paid handsomely, as he signed a five year, $86 million deal to return to the New York Yankees.
In other words, lefties are a hot commodity and a valuable asset for contenders. The Mets, undoubted contenders and certain players for a World Series run in the next few years, boast Josh Smoker as the team's best lefty – with other arms in Josh Edgin and Sean Gilmartin currently stocking the reserves.
All that considered, it's a sort of perfect symbolism that the Mets' most recent championship featured a final pitched pumped in from Orosco's rocking left-handed motion.
And as the Mets chase that World Series glory over three decades later, a lefty of the caliber even near that of the 2016 NL pennant winner's is totally absent in Queens.
Given the state of the bullpen, which awaits the inevitable punishment of its closer, and, of course, is without a reliable left-hander, a fusion of both those elements could be just the remedy the Mets need.
A late-game lefty who can help shoulder the burden of Jeurys Familia's likely suspension, while adding a third head to the Familia-Addison Reed duo, and who can expire Daniel Murphy and Bryce Harper in a pennant race's most decisive moment is an ideal creation for next season's team.
But it's also obviously obtainable upon market inspection – that is, the trade market. If general manager Sandy Alderson is seeking to kill two birds with one stone in his lefty reliever acquisition, he should look past the likes of Jerry Blevins, Boone Logan, and Mike Dunn – a hardly stunning trio of veteran soft-tossers.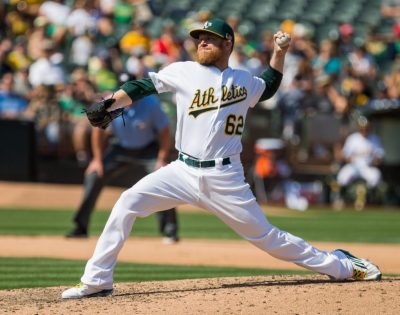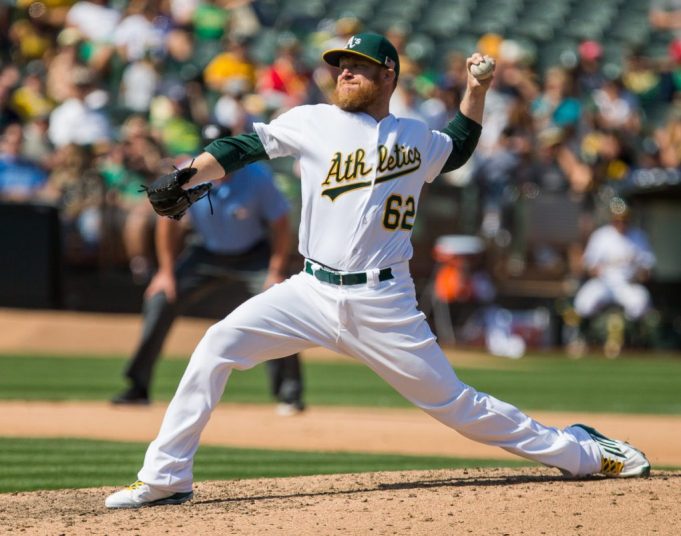 So let's start on the west coast.
Oakland A's lefty Sean Doolittle, a resurgent candidate who has been crippled by injury, is a name worth checking in on. In his last two seasons, Doolittle has thrown less combined innings than his 2014 All-Star season alone. The presence of Ryan Madson, who effectively ousted Doolittle from the closer job, doesn't help the 30-year-old's case either. Yet, Doolittle still managed modest results, twirling a 3.23 ERA in 44 innings pitched last year.
Riding a team-friendly contract that has him signed for another three seasons, and bearing a solid – and at times stellar – track record, Doolittle is an attractive option for a lefty-needy Mets team.
And, by the way, as it pertains to Murphy and Harper, Doolittle held left-handed hitters to a .206 batting average with a .219 on-base percentage last year.
In San Diego, lefty Ryan Buchter, a 29-year old journeyman, was one of the few bright spots for the Padres. His 2.86 ERA and 1.03 WHIP should appeal to the Mets, and the Friars are almost surely open to a possible deal.
GM A.J. Preller could look to sell high on the southpaw despite the club's pre-arbitration control. Unlike Doolittle though, Buchter has zero track record, throwing just one big league inning prior to 2016, but the Mets cant't run the risk of missing lightning in a bottle.
Perhaps most intriguingly, the Pittsburgh Pirates are a club that seems willing to sell. Tony Watson, the team's default closer since Mark Melancon was dealt, represents a fine option for Alderson.
Consider his consistency – Watson has thrown over 65 innings in each of the last five seasons – and his productivity – a career ERA of 2.56 – and it's easy to be hooked by the prospect of the Pirates moving him. The 31-year-old is under contract only for this year and the next, so the Bucs would likely prefer to escape his high arbitration tags – that is if they could acquire the right youth in return.
On that note, it's conceivable to think a starter-hungry Pirates' team could bite on Robert Gsellman or Seth Lugo in exchange for Watson.
From the American League Central, two other candidates – low cost, higher ERA choices – could fit the Mets' lefty need.
Detroit's Justin Wilson, who is being marketed and discussed with the Cubs, and Minnesota's veteran Glen Perkins – a longtime closer and three-time All Star whose stock has dropped to the ground floor – present some buy-low security for the empty-handed Mets.
In its totality, a thorough examination of the trade market could uncover some hidden jewels for the Mets – back-end of the bullpen material or not. Whatever lies out there though, Sandy knows all too well in his decades in the business: seek and ye shall find.