It's Winter Meetings time in the MLB – the annual safe space for New York Mets fans to vent about how the team isn't spending enough.
T
he day that
New York Mets
fans stop complaining about how the team isn't spending enough money is the day that….something really,
really
 improbable happens. It could be a time when 
Jason Bay
 can actually hit, or maybe when
Bartolo Colon
can smack a homer – oh wait, that legitimately occurred. In real life.
But fans must give credit where it's due. General manager Sandy Alderson did buck up and pay star outfielder Yoenis Cespedes the four year, $110 million deal he wanted, including the all important full no-trade clause that Yo and his camp so overwhelmingly desired.
Baseball-reference.com is projecting the Mets' payroll for the 2017 season at $149.2 million. Although this number is very liable to shrink as more trades and roster moves are expected, that near $150 million payroll would've ranked in the top 10 in the MLB to open the 2016 season.
Before things get too in-depth, let's check out the current 2017 roster payroll breakdown.
All figures are from baseball-reference.com. All players marked with a " * " are arbitration players and their salary figures are estimated by MLBtraderumors.com.
[visualizer id="90347″]
Third baseman David Wright's still enormous contract has been a major concern for, not only Mets fans, but the front office as well. Wright has participated in only 75 combined games over the last two seasons and is owed $67 million total over the next four seasons.
If he even remotely resembled his old self, then that money might still be worth it, due to his leadership and extreme importance to the entire Mets' roster and locker room. But that's just unfortunately not the case.
Cespedes is topping the team's salary charts as the highest earner after recently signing back. Money like that is well deserved for a hitter that completely changes the atmosphere and direction of the lineup when he's in there.
The bigger news on Cespedes though is the full no-trade clause he received on that contract as well. This likely locks him into the Mets roster for the full length of the deal, barring a situation where he waives that clause to head to another franchise.
While it may not be for long, outfielders Jay Bruce and Curtis Granderson are both still on the 25-man starting roster for the Mets.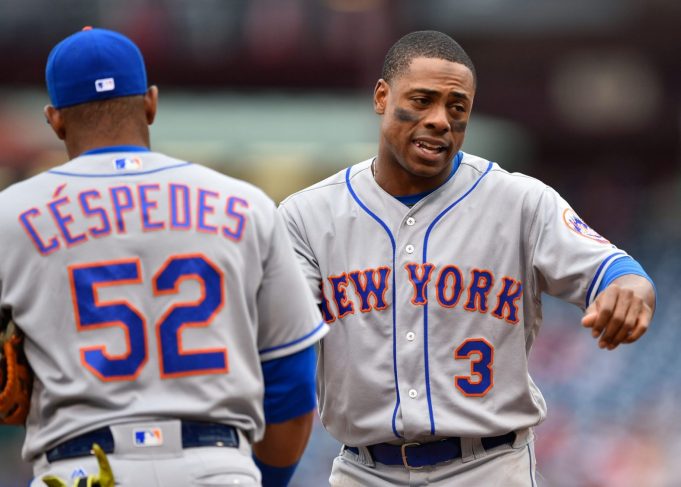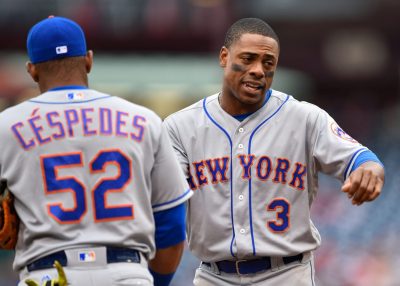 As has been reported extensively since rumors of their possible trades came up, Bruce is owed $13 million next season after Alderson picked his team option up for 2017 as insurance in the event that Cespedes didn't return. Granderson has $15 million owed to him in 2017 as well. Both players are on the final years of their current deals.
Bruce's deal could be considered a bargain based on the 30 home run/100 RBI potential he possesses. He had a rough go of it the first month after he arrived in New York via trade, but started to come up big for the Mets during their postseason push. But because Alderson desires a center fielder, the strictly right field ability of Bruce means he'll likely reside elsewhere next year.
Granderson has had a huge impact on the top of the lineup over the course of his time in Queens, posting no less than 74 walks in each season. But he did tie St. Louis Cardinals second baseman Jedd Gyorko for the lowest RBI total in a 30-homer season in MLB history with just 59. The Grandy-man has been an accomplished center fielder throughout his 13 career seasons, though, and the Mets desperately need that right now.
Multiple reports have shown that, contrary to previous common belief, potential trade partners for the Mets have been more interested in Granderson than Bruce, even though he's due more money and saw less offensive production in 2016. But until the free agent outfielder market clears out a bit more, fans can expect to see no movement in the Mets' cap numbers based on a possible trade of one member of this duo.
After very successful campaigns last season, relievers Addison Reed and Jeurys Familia are due for big paydays going into 2017. Projections are showing Reed will likely receive about $10.6 million in his third arbitration season, and Familia around $8.7 million in his second arbitration season.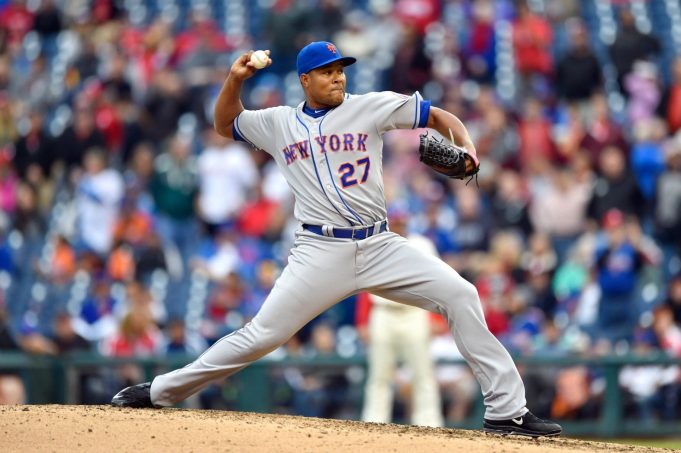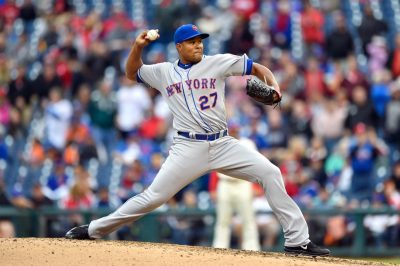 While those numbers may seem high – especially for Reed – they will both be no doubt needed in a Mets bullpen that is still up in the air after the likely losses of LHP Jerry Blevins and RHP Fernando Salas, two major relievers for the team down the stretch last season.
Starters Jacob deGrom and Matt Harvey are also due for raises in their first and second arbitration years respectively. deGrom is projected at $4.5 million, while Harvey should be about $5.2 million. Both are returning from injuries suffered last season, but they remain a vital part of the Mets' top-of-the-league rotation, making their expected salaries extremely team-friendly.
Middle infield partners in shortstop Asdrubal Cabrera and second baseman Neil Walker are in similar situations, as both are not guaranteed to come back after the 2017 season.
Cabrera is making $8.25 million next year and has a team option for 2018. But with the likely call-up of top prospect Amed Rosario to be the everyday shortstop starting on Opening Day 2018, that option will probably be foregone.
With no clear 'second baseman of the future', the Mets indicated early on that they were interested in bringing Walker back on a long-term deal, but they extended him the $17.2 million qualifying offer so the team would receive a draft pick in case he decided to leave via free agency. Walker then promptly took that offer and it's probable that a long-term contract won't be reached until next offseason, if at all.
With a lot of their younger stars due to get paid in the near future, Alderson will need to preemptively put aside some cap space to make sure those re-signings are possible.
But overall, with a lot of young, team-controlled talent still on the roster, the Mets are in good shape to make sure that the core group that has recently turned the franchise around stays together for a long time.