New York Knicks' Brandon Jennings had his best game with his new team in Sunday's victory over the Sacramento Kings. 
Brandon Jennings signed with the New York Knicks (11-9) with a well-earned reputation as a volume shooter. In his seven seasons before 2016-17, Jennings started 416 of his 460 appearances and averaged 31.3 minutes, 14.5 FGA, 5.1 3PA, and 15.5 points.
That's why the seamless transition to pass-first sixth man has been so shocking. Jennings has come off the bench in every game with polar opposite averages of 21.7 minutes, 6.4 FGA, 3.1 3PA, and 7.7 points.
It's not just reducing shots. Jennings is upping the number of plays when he dishes out an assist. He leads the team in assist percentage (percentage of FGM that a player assisted on) by a wide margin at 32.4%. Before this season Jennings' career average assist percentage was 30.2%.
Jennings told Marc Berman of The New York Post back in November that he knew he needed to change his game for the good of the team.
"My role has changed here,'' said Jennings, in his first full season since his 2015 Achilles tendon tear. "I don't have to score a lot. I can set the table. Not that it means I still can't score. I have to sacrifice my game for the team. I'm playing with some of the best scorers in the world. I definitely have to change my game and found other things I can bring to the table.
The biggest knocks on Jennings were his immature decisions and inconsistency. But coming to New York has changed him. He admitted that accepting his role was a challenge at first, but now he's accepted it. The results have shown it.
"At first it was a challenge,'' Jennings said. "I've accepted it. I know my role is to play defense, come with a lot of energy and set guys up and play hard."
Jennings' shot hasn't been falling, but the offense has been running smoother with him on the floor. He picks up the pace with the second unit and sees the floor better than anyone else on the team.
That's why head coach Jeff Hornacek felt so confident with his backup point guard on the floor to close out the game Sunday.
Per Marc Berman of the New York Post, Jennings realized what he needed to do to help his team. He needed to pull some of the old Brandon Jennings out.
"Just trying to create and make something happen," Jennings said. "Everybody tells me to take my shots and be more aggressive and I felt like I was today."
After a strong first half with 14 points on 7 of 8 shooting, it looked like Derrick Rose's night. Then he faltered in the second half, and it was up to Jennings to pick up his slack.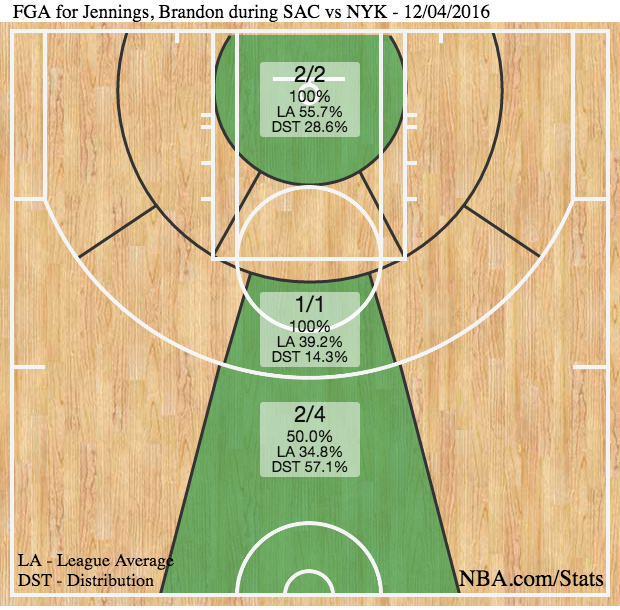 The backup was incredible knocking down 7 of 7 free throws en route to 13 second half points. His biggest free throws came late in the third quarter with the Kings within a point.
The crafty veteran faked Kings big man Willie Cauley-Stein and drew the foul on a three-pointer. He nailed all three attempts from the line, and the Knicks didn't look back.
Jennings' impact was felt with his passing too. He finished with three dimes, but according to NBA.com the 27-year-old also finished with four hockey assists and one free throw assist.
Jennings' big game came as no surprise to his coach. Hornacek predicted it.
"He gave us a big lift. I saw it this morning," Hornacek said after the 106-98 victory against the Kings. "I told my wife that I think Brandon is going to have a big game tonight. He said some things … at shootaround, so I knew he was going to be good."
Jennings and the Knicks travel to Miami and face the Heat Tuesday, Dec. 6, at 7:30 p.m. ET.
Chip Murphy covers the NBA for Elite Sports NY. You can find him on Twitter @ChipperMurphy.