The New York Mets' offseason has already featured some interesting headlines involving Jay Bruce, Curtis Granderson and Zack Wheeler.
T
he
New York Mets
chances for a successful 2017 season are looking up after recent moves by GM Sandy Alderson, including the franchise's largest ever free agent signing for star outfielder
Yoenis Cespedes
. But it may be the 'credible rumors' that are floating around the Mets-verse that could help further develop who'll be on the 25-man roster on Opening Day.
A surprisingly logical idea, MLB.com Mets beat writer Anthony DiComo is reporting that the Mets front office is apparently considering using starter Zack Wheeler out of the bullpen during the beginning of next season. Wheeler hasn't pitched in the majors since 2014, due to having Tommy John surgery in March 2015.
One bit I heard yesterday: Zack Wheeler isn't a rotation lock. Mets have had internal talks about maybe using him out of the pen to start.

— Anthony DiComo (@AnthonyDiComo) November 30, 2016
The once top prospect was coming off a very promising sophomore campaign before his injury – a season in which he posted a 3.54 ERA with 187 strikeouts over 185.1 innings of work. Wheeler's weakness though was his struggle with pitch control – a fact evidenced by his ranking third in the National League in walks with 79 that very same season.
Although this possibility may come off as strange to many Mets fans at first glance, it could actually make a ton of sense, considering it would allow him time to re-acclimate to starting in the MLB again.
Being that three more members of their 'young gun' rotation in Jacob deGrom, Matt Harvey, and Steven Matz were significantly injured at separate points last season, the team could stand to give those guys a little extra rest now and again. Put on top of that that Wheeler only threw, in total, just an inning last season during his Port St. Lucie rehab assignment before he was shut down, and suddenly this plan looks brilliant.
Starting once every fifth day right away for Wheeler would be a lot to ask of him with all these extenuating circumstances, so a six-man rotation is likely to be put in to place by Mets management sporadically throughout the season. 2016 standouts Robert Gsellman and Seth Lugo have shown more than enough ability to step in and pitch should their assistance be required in Queens at any point.
Another way to look at this could be through the eyes of the bullpen itself. Top-end closer Jeurys Familia was arrested for the simple assault of his wife in October and, although his wife has asked for that charge to be dropped, it is very likely he will receive a suspension to open 2017.
If that were the case, then setup man Addison Reed, who had a phenomenal 1.97 ERA last year, would likely step in as closer until Familia's return. That, coupled with the possible loss of Jerry Blevins to free agency, could leave the back end of the Mets bullpen in disarray.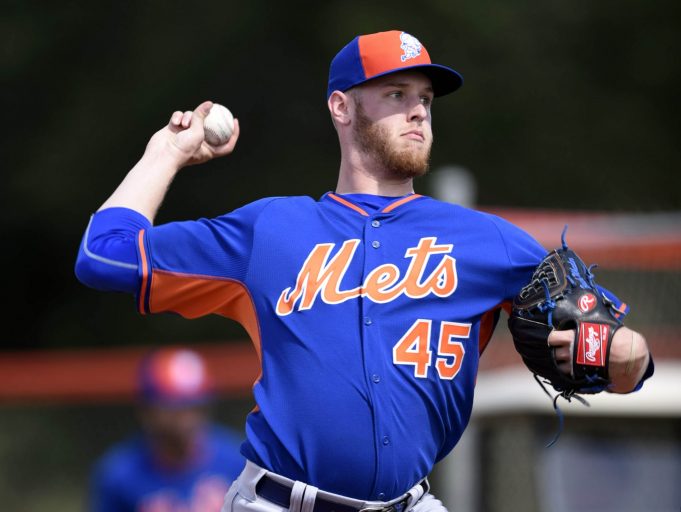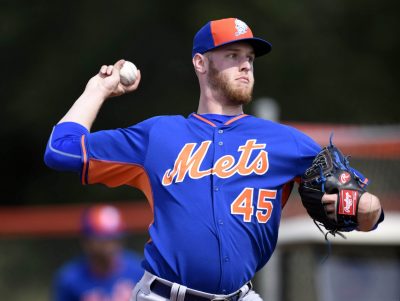 Wheeler, although he's been a starting pitcher his entire professional career, would be a welcome sight in the seventh inning or later of the tight games the Mets often find themselves in. His ability to throw a mid-90s fastball mixed with solid secondary pitches would give him a really good shot at building his stamina back very gradually – ultimately aiming to make him a mainstay in the rotation for years to come.
With Cespedes officially back and Mets brass looking to get the promising 23-year-old lefty Michael Conforto into the starting outfield more often in 2017, the team has a bit of a logjam at that position – specifically with left-handed hitters.
Curtis Granderson and Jay Bruce are both on the final years of their current deals. So now with Yo back in the mix, the front office has made it clear that one of the above players has to go.
In a somewhat surprising twist though, Newsday's Marc Carig is reporting that teams have been asking about what it would take to acquire Granderson much more often than they have for Bruce.
Although he struggled after his trade to the Mets in 2016, hitting .219 with just eight homers in 50 games, Bruce is still a bona fide power guy. Many have forgotten that his total combined stats from last season still featured 33 home runs, coupled with 99 RBIs and a .250 average.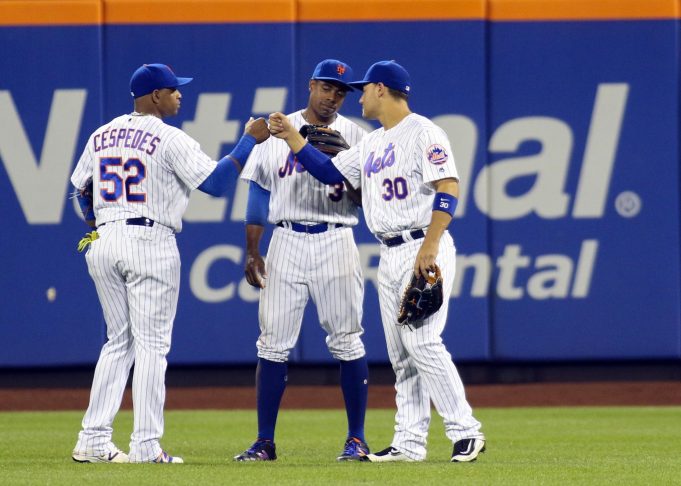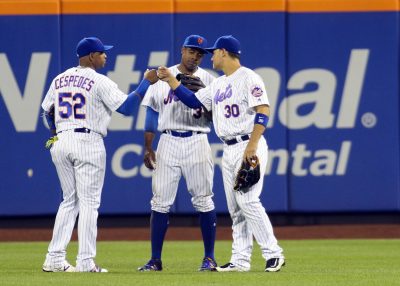 To take things even further, he also has two top-10 NL MVP finishes on his resume, while hitting at least 21 home runs in eight of the nine major league seasons he's played. So the guy is absolutely not a slouch.
Granderson has been a solid bat in Queens during his three seasons there, having hit at least 20 homers in each of those years. But his inability to turn his plethora of RBI chances into runs has plagued that time as well, culminating in only three of his 59 extra base hits coming with runners in scoring position in 2016.
So even though Granderson has produced more trade interest thus far, the Mets seem keen on keeping him and trading away Bruce instead. This is because of what the Grandy-man can do that Bruce can't: play center field.
And in an outfield where if Granderson left it would be Conforto, Bruce and Cespedes, there is no true center fielder there – a problem Alderson reportedly intends to not let occur.
Reports are also now showing that the Toronto Blue Jays appear to be the most interested suitors for both players. The Jays are looking for a lefty power bat to platoon in their outfield with Melvin Upton Jr. This interest is especially true of Bruce, as they nearly traded for him last offseason with the Cincinnati Reds.