All successful teams' players have clearly defined roles. By following suit, the New York Mets could get even better in 2017.
T
he
New York Mets
made the playoffs in 2016 for the second season in a row – something the franchise has done just one other time during their 55 seasons in the
MLB
. But while good, they have the ability to be a great team in the very near future.
Now that star outfielder Yoenis Cespedes has officially signed back with the Mets, the roster is nearly set for the upcoming 2017 season. That roster, while filled with good and great players, is missing a vital characteristic – a clear definition of each player's role in contributing to the team's success.
Manager Terry Collins should be focused on figuring out how his lineup is meshing early in the season, so as to create a clearly defined set of roles for each player's batting approach for the rest of the season.
The first thing the Mets must focus on is how to formulate their leadoff spot.
Now utility-man Jose Reyes played very well in the one-hole for the Mets lineup during the post-All Star break part of 2016. Reyes managed good power with eight homers, 13 doubles and four triples in just 60 games with the Mets, along with nine stolen bases and a nearly .330 on-base percentage.
But with the signing back of second baseman Neil Walker, the return of shortstop Asdrubal Cabrera and the injury return of third baseman David Wright, Reyes appears to have no starting role in the Mets lineup. But because Wright has been so injury stricken the last few seasons, a platoon would do wonders for him, making Reyes' switch hitting ability a major asset for him in starting against righties. Wright would then be slated against lefties – a group he's hit unbelievably well during his 13-year career.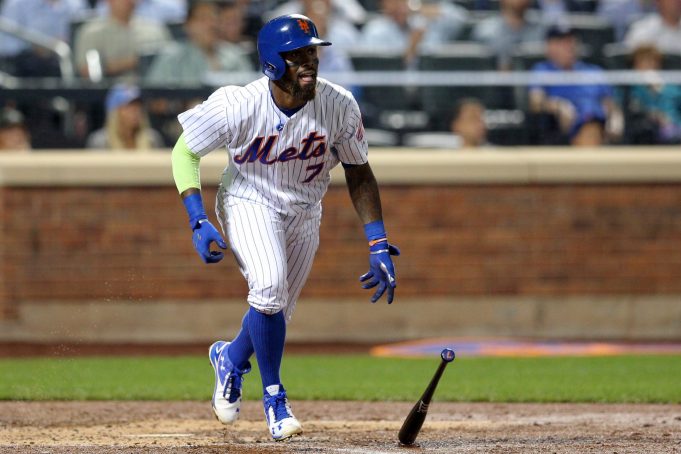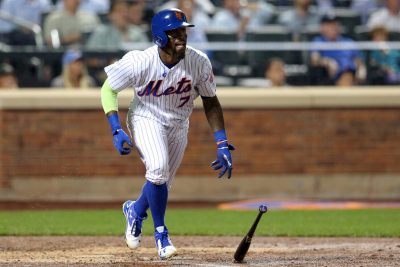 So if Collins can clearly let that duo know that they'll be starting against certain pitchers on specific days, then they can clearly prepare for that type of pitching. Theoretically and through the research of other teams' similar approaches, this will help those two veterans to focus on very specific areas of their game and will, in turn, maximize the Mets' return on very important spots in their lineup.
With the seemingly impending trade of either Jay Bruce or Curtis Granderson, one of those two outfielders is slated for a big role with the Mets in 2017. But Collins needs to make sure both are placed in the order well, otherwise their talents could go to waste.
Granderson still has great bat speed and power, producing 30 homers, 24 doubles and five triples in 2016. He did, however, only knock in 59 RBIs with all those extra base hits, good for just a .152 average with runners in scoring position. His nearly .340 OBP though makes him valuable near the top of the lineup and a viable leadoff option.
So what Collins has to do is allow Grandy to work specifically on being a one or two hitter, in turn weakening his power numbers but getting him on base in front of the main RBI guys. The other option is that Granderson instead focuses on being a run producer – similar to his time with the New York Yankees. Again, his decided role in the lineup will help determine if Granderson will be a successful part of the Mets in 2017.
Bruce, on the other hand, is a very traditional power hitter. But for all the bravado he possesses in his bat, he can't survive as a main option. He had the protection of Joey Votto and Brandon Phillips during his tenure in Cincinnati. Even with Cespedes there last season to do the same for him after his trade to New York, Bruce struggled mightily until the end of the regular season when his power finally awoke.
So if Bruce ends up staying for this upcoming season, he'll need the dangerous bats of first baseman Lucas Duda and Cespedes around him to make his time in Queens more profitable for the Mets.
Another conundrum that needs solving is who should hit in the two-hole. The most obvious candidates are the switch-hitting, middle-infield duo of Walker and Cabrera.
Cabrera hit there the majority of the time he was healthy in 2016, garnering a .289 average, .345 on-base percentage and 15 home runs in that spot of the order. Walker, by comparison, hit .359 with a .405 on-base percentage and three homers in the two spot.
So while it's obvious that either player can fill that role, Collins should make it clear that Cabrera be focused on getting on base, while Walker can contribute lower in the lineup as a RBI producer.
Walker had a switch-hitting power renaissance in 2016, hitting eight homers from the right side compared to 15 from the left. In fact, in the three season prior to last year, he hit just two home runs from the right side. This explosion allowed Walker to match his 2014 career high for homers in a season at 23, doing it in 100 less at-bats though.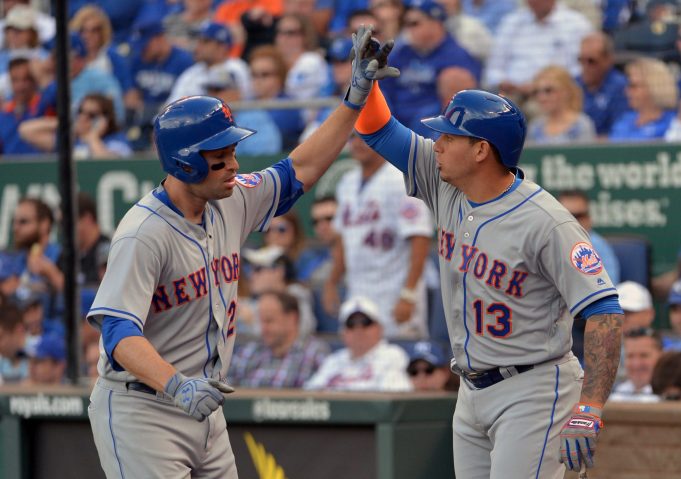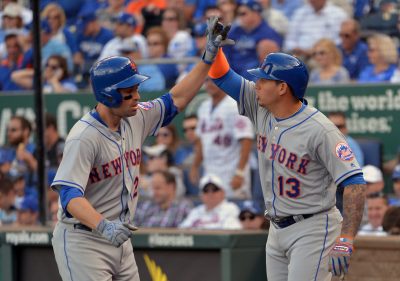 The troubling side of Walker last season, however, was his alarming lack of non-home run extra base hits. His nine doubles and one triple in 113 games after hitting no less than 24 doubles in each of his last six seasons in Pittsburgh is quite a sharp decline. While it's possible that many of those normally extra base hits went over the wall in 2016, Walker needs to focus on hitting to the gaps more to make himself a mainstay in the lower-middle part of the Mets lineup next season.
Collins needs to make sure that Cabrera sticks to the two-hole more often next year, as he hit 30 doubles with a .336 on-base percentage in 2016. He showed a good aptitude for working the count and forcing pitchers to throw a lot of pitches to him, a necessary attribute for a top-of-the-lineup guy to have.
If Cabrera can also find a way to increase his walk numbers a bit more from the 38 he had last season, then he'll drive his on-base up, giving more RBI opportunities to the likes of Cespedes, Walker and Duda.
Duda is expected to be back for Spring Training '17, and will likely retain his role as starting first baseman. Collins, a manager fond of platoons, has made it a point to sit Duda against lefties the majority of his time as a starter, getting guys like infielder Wilmer Flores involved at first as well.
Although this is a largely supported decision, many Mets fans may not know that Duda actually hit .285 with 11 doubles and seven homers against lefties in 2015 – his last full season of play. His improved patience against the typical low breaking ball approach of LHPs on LHBs is something that has apparently gone unseen by Mets management.
If Duda can stay healthy, and Collins allows him to get back to his successful ways against southpaws, then he could be another cheap power bat under the protection of Cespedes for the Mets to have at their disposal in 2017.