The New York Knicks faced a tough Atlanta Hawks team on Sunday. However, after an important meeting the day before the team was prepared.
A
team meeting on Saturday was a good idea for the New York Knicks after their most recent performance.
The Washington Wizards were out to a miserable 2-8 start under new head coach Scott Brooks, and they embarrassed the Knicks in D.C. The Wizards ranked last in the league three-point makes and attempts, made 15 in the game.
Backup point guard Brandon Jennings called his team out for their 1-5 record in road games.
Jennings asserted the high expectations for the team and said better road play is a necessity to reach the goal.
"We haven't been locking in well on the road. That's our big problem. If we want to be the team we think we are, we're going to have to lock in better on the road. We got to play 10 times harder. Teams play better when they're at home because they're feeling good."
The point guard also noted the fame of the franchise as a reason for other teams to give the Knicks their best every night. They can't take quarters off.
"We're the Knicks. You have to know what's across your chest. There's a bigger bull's-eye on it. Everybody wants to beat us. It's a known national team. These are games we have to win. We should be disappointed. We can't just put together two quarters or try to come back in the fourth."
Maybe the quote that resonated most was the one about paying attention to the coaches. You rarely, if at all, see a player say something like this.
"When coaches are doing the game plan, we got to listen,'' Jennings added. "When the coach is writing the play, everybody's got to pay attention. There's a lot at stake for us.''
Jenning's public plea for help apparently paid off. Just a couple days later the team held a meeting where, according to Ian Begley of ESPN.com, the players did most of the talking. It lasted about an hour and Carmelo Anthony said it was a big factor in Sunday's big win over the Atlanta Hawks.
"You can just see the difference. I think any time you have a meeting or conversation amongst each other, guys say what they have to say and you get a better understanding of where guys' mindset is and what they're thinking, rather than not communicating. So I thought yesterday was good for us to kind of just get it out there; guys said what they had to say. It was a great response from everybody that you could see today."
Sunday looked to be a lopsided affair. The Knicks were a struggling team trying to establish themselves as a playoff contender, and the Hawks were the exact opposite.
The Hawks were first in defensive efficiency (points allowed per 100 possessions) and the Knicks were 29th. The Knicks probably had more firepower on offense, but it didn't seem likely that it would matter.
No one was counting on the Knicks playing their best defense of the season without Joakim Noah. But they did.
Backup centers Kyle O'Quinn and Willy Hernangomez stepped up in Noah's absence. O'Quinn played an excellent first quarter before getting into foul trouble guarding Dwight Howard, but it was Hernangomez's night.
The rookie logged a career high 29 minutes and helped set the tone in the paint on defense. According to NBA.com, Hernangomez contested eight shots at the rim and Atlanta was only able to convert on one. He also picked up six defensive rebounds. It wasn't just Willy who got in on the action, though.
Kristaps Porzingis was around the rim all night too. He continued his dominant defense in the restricted area (where he'd held opponents to just 44% shooting) contesting nine shots and only allowing four to be converted. KP was a beast on the boards as well, grabbing ten defensive rebounds.
The Knicks were at their best on defense when the two young big men were led on defense by their two young big men. Porzingis played 30 minutes, and the team allowed 95.9 points per 100 possessions when he was on the floor, while his close friend had a nearly identical defensive rating 95.4.
Porzingis is 10th in the league in contested shots (when a defender closes out and raises a hand to contest a shot) so it's not surprising that he was playing aggressive defense on Sunday.
Hernangomez was supposed to help the Knicks on defense, but KP's consistently improving play on that end is a good sign.
And then there was Melo. He's still good. Anthony scored 31 points (12-22 FG, 4-8 3P) and filled the stat sheet with seven rebounds and three assists.
Check out his shot chart from last night and to see something impressive. Melo did almost all of his damage from outside the restricted area. He was on fire from mid-range.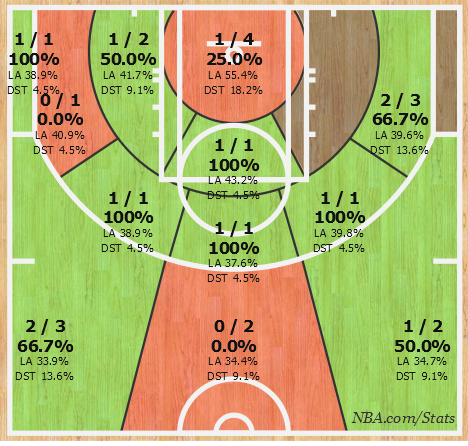 So will Melo get a pass for a little while now?
Porzingis had this to say about his superstar teammate taking a backseat in the offense.
"Without Melo, it would be much more difficult for me to get those 30 points, or 28. People don't realize that. But that's how it is. He draws a lot of attention, and he's the main focus for the other team. That opens up stuff for me. So without him, it would be much more difficult."

"I'm happy to have him and D-Rose and guys who are really aggressive driving to the basket, who draw so much attention for me to be able to get those wide-open looks and then attack. It's good sometimes that we have that. Without them, it would be much more difficult."
Porzingis isn't wrong. According to Synergy, 10 of KP's 15 shots against the Hawks were uncontested. That's an extremely high number for a player of his caliber. It shows how much players and coaches respect Anthony's scoring when he has it going.
The absence of Joakim Noah in this win and the team's strong small ball play with Melo at the power forward will undoubtedly call into question whether or not Noah should be benched. The Knicks just beat a really good team without him. They played their best game of the season without him.
It's way too early to give up on him, but it will be hard to forget that such a huge win came without him. What would he have done against Dwight Howard?
For now, the Knicks should enjoy the win. They can't let up their defensive intensity on Tuesday when they welcome the Portland Trail Blazers to Madison Square Garden.
Chip Murphy covers the NBA for Elite Sports NY. You can find him on Twitter @ChipperMurphy.
Save