New York Mets manager Terry Collins has become a prominent part of the franchise's recent history. But why is that attention deserved?
C
oming off a second straight postseason appearance in 2016 for just the second time in franchise history, 
New York Mets
' players and fans alike are excited about where the team is headed. They even uncharacteristically hit 218 home runs last season, good for second in the National League and fifth in the majors.
Time to start calling them the "Queens Bombers" — much to the chagrin of Yankees' fans surely.
But the attitude surrounding this clubhouse hasn't always been so optimistic, and that change may be due to one man — manager Terry Collins. In fact, when Collins was promoted from minor league coordinator by incoming general manager Sandy Alderson after the 2010 season, the Mets were reeling after a fourth place NL East finish with a 79-83 record.
That season the offense had only scored four more runs than pitching allowed. Journeyman catcher Rod Barajas, aging second baseman Luis Castillo and utter trade bust in left fielder Jason Bay all somehow still had spots in the starting lineup. The pitching staff ranked just 12th out of 15 NL teams in strikeouts on the year, showing a lack of dynamic pitching on the roster.
Needless to say, the Mets needed change and to get younger, as over half of the players that took the field for them over the course of the 2010 season were 28 and older.
Being that Collins was head of the Mets' minor league system prior to his role as manager, he had a strong working knowledge of who the team would soon have coming from the farm. This gave him valuable rapport with those minor leaguers, something he's taken full advantage of since those players have arrived in the majors.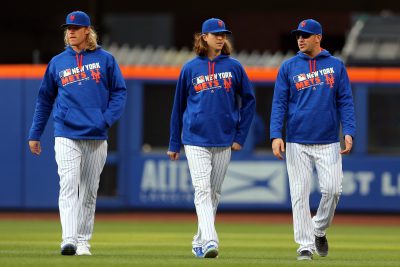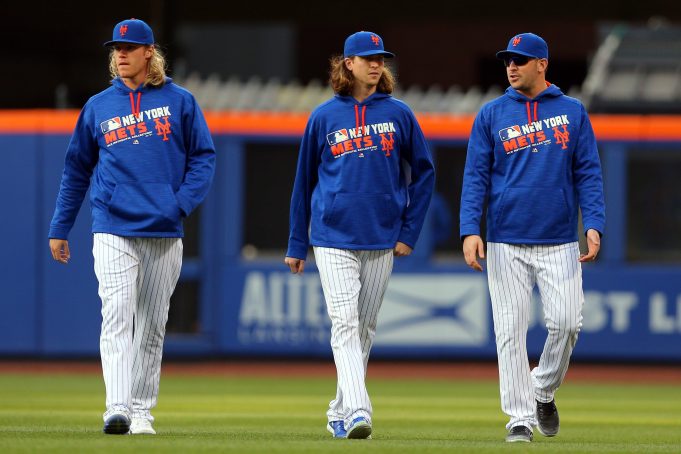 It also allowed Collins to learn how to develop young talent well, ultimately contributing to his success with stars like starters Noah Syndergaard, Matt Harvey and closer Jeurys Familia. This has led to youth being the core of the Mets' success under Collins – a mixture of the roster work done both by Alderson and former GM Omar Minaya.
In baseball though, numbers and statistics are king. As many fans will remember, the Mets compiled losing records in each of Collins' first four seasons. But still, after a rough 74-88 season in 2013, Alderson showed confidence in his manager, signing him then to a two-year extension with a club option for 2016.
Now a round of applause for Sandy – he deserves it.
Alderson saw through the bad records and knew that Collins was instilling a winning mindset throughout the Mets roster. By 2015, the Metropolitans won the East over the heavily-favored Washington Nationals and took home the NL Pennant, all while their gray-haired manager finished third in the NL Manager of the Year voting.
This was the turning point for Collins in his run as Mets manager. Their outstanding, youthful pitchers finally inhabited the rotation together.
With his farm system nearing major league readiness, Alderson came through and pulled the trigger on impactful trades for reliever Addison Reed and outfielder Yoenis Cespedes – two guys that helped carry the Mets to the 2016 postseason as well.
No manager comes without their doubts though.
In Game 5 of the 2015 World Series, Harvey had thrown eight scoreless innings and pleaded with Collins in the bottom half to let him try to finish the ninth out – and he did. Harvey proceeded to let the game-tying runs on base, culminating in the beginning of the end for the Mets and their championship chances.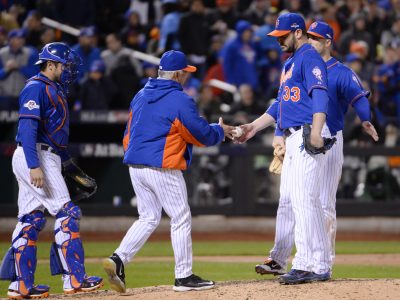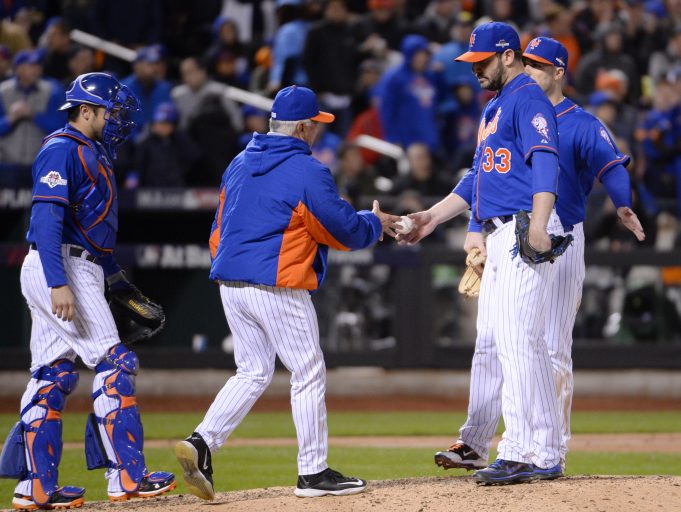 Accusations immediately poured in from all over Mets nation questioning the now beloved manager's decision-making ability. The prominence of those doubts only escalated this season, as Harvey started just 17 games with a 4.86 ERA in 2016. This all came only a year removed from him having thrown 216 innings between the regular season and postseason – nearly 40 innings more than his previous major league high.
Don't be fooled by TC being 67-years-old though, as another complaint against him has been his adoption of the new-age baseball ideology that calls for seemingly incessant pitching changes based on the handedness of the hitter up. This has led to the continuance of the Mets' long-time issue of the overuse and eventual killing of bullpen arms, stretching back all the way to lefty Pedro Feliciano's days at Shea Stadium.
Although this trend is sweeping the MLB and could even be considered a norm of millennial baseball, that doesn't mean it shouldn't be challenged. Evidence against Collins and this style of managing pitchers may run parallel with why the Mets have been knocked out of the postseason in each of the last two years.
Familia's use the last two regular and postseasons has been extraordinarily high. Remarkably, he's pitched in nearly half of the Mets's games during that time span. Coincidentally, or not, Familia not only blew the save in Game 5 of the World Series in 2015, but he also allowed the eventual game-winning three-run homer to San Francisco Giants journeyman third baseman Conor Gillaspie in the 2016 NL Wild Card game as well.
The Mets dropped a wild-card game to the Giants when Jeurys Familia failed in the ninth inning https://t.co/ImaS6iC1Wx pic.twitter.com/WwrTwsBSNR

— Newsday (@Newsday) October 6, 2016
These are clear signs of exhaustion from overuse during the marathon that is the 162-game MLB regular season. Some argue that the best pitchers in the game can overcome this sort of abuse no matter what. Perhaps evidence of this is even seen as recently as on the Chicago Cubs' championship roster in starter Jon Lester and closer Aroldis Chapman's heavily-taxing performances.
But neither of them are Familia.
First and foremost, a manager must know his players completely — their tendencies, their abilities and, most importantly, their limits. If Familia maybe shouldn't be out there one night in June 2017, Collins will need to learn to use his other great relievers in Reed, Hansel Robles and others. If he can do that, he'll have a much better pitching situation come October 2017 when things will really matter.
Overall, Collins has been a very solid manager for the Mets, even with his current team record standing at just 481-491. The 177-147 record they've compiled under his leadership the last two seasons is all anyone cares about though. And all indications are that they're primed for another playoff run in 2017 as well.
But being the oldest manager in baseball is a tough gig, traveling around the nation for a six-month regular season. TC has made it clear that after the 2017 season, he doesn't know if he'll be back in Queens or not for another go-around.
"I just need to re-evaluate at the end of this coming year what's going on, where I am, how I'm feeling," Collins told Adam Rubin of ESPN.com after last season.
There doesn't appear to be a clear replacement for Collins in the Mets' system right now should he retire after 2017. Once a favorite to manage the Mets, ex-Triple A manager Wally Backman left the organization last season after reportedly being upset with a perceived lack of respect from upper management.
So although it still remains to be seen what the Mets coaching staff will look like post-Terry Collins, he's still in the Citi Field dugout right now. And as long as he is, the Metropolitans have a real chance to be contenders.