Even after disappointing play from New York Mets catchers in recent years, team brass plans to keep faith in the existing backstops for 2017.
A
ccording to a report from
Newsday
,
New York Mets
GM Sandy Alderson told reporters on Tuesday that the team doesn't plan on bringing in a significant free agent catcher this offseason. Instead, Alderson iterated that he and manager Terry Collins want to continue to develop the talent they already have in ex-first round picks
Travis d'Arnaud
and
Kevin Plawecki
, along with
Rene Rivera
, the grizzled veteran of the group.
"Right now, we have to figure out how to get what we have better," Alderson said Marc Carig of Newsday. "I think that's our mindset at the moment."
Sandy Alderson: The #Mets are focused on improving their current catchers rather than looking for an outside upgrade https://t.co/O9fDXFymwN pic.twitter.com/qURZQBHGCz

— Newsday Sports (@NewsdaySports) November 9, 2016
Two big name free agent catchers have hit the market this offseason in ex-Nationals catcher Wilson Ramos and ex-Orioles catcher Matt Wieters. Both have been highly connected to the Mets in free agency due to the perceived positional weakness the team has there.
"You can't go into a National League season with your eight hitter hitting what essentially your nine hitter is hitting," said Alderson to Newsday on his catchers' collective 2016 performance. "But do we think we have the potential for improvement there? I think we do feel that way."
The Mets masked-trio posted just 17 doubles, 11 HR, 52 RBI, and a .227 AVG during 2016. Although d'Arnaud, the most prominent name in the group, only got 251 ABs due to injuries, he struggled mightily during that time, striking out 50 times with a weak .323 slugging percentage.
Back in 2012, d'Arnaud was traded with SP Noah Syndergaard to the Mets as a package for knuckleballer R.A. Dickey. He was regarded as the best catching prospect in baseball at the time, but since then, his trade partner Syndergaard has far outshined him.
d'Arnaud's first two seasons as the Mets starting catcher in 2014 and '15, although injury plagued, were very solid, and included a seventh place finish in the NL ROY voting in 2014. In a combined 624 ABs (a bit more than a full season's worth) during those two years, d'Arnaud amassed 25 HR, 82 RBI, and a .252/.317/.442 batting line. So although last season was a major drop off for him health and performance-wise, it's clear to see why the Mets still hold his value high.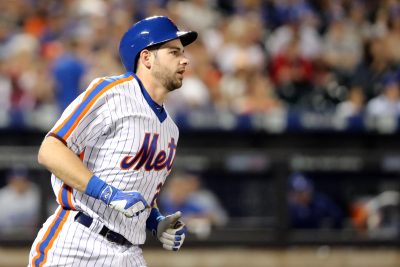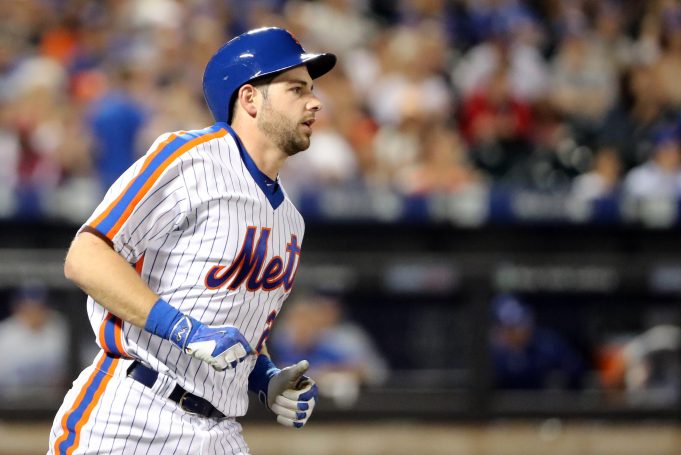 Plawecki was drafted 35th overall by the Mets in the 2012 MLB Draft and has been a top prospect ever since, batting .291 with 35 HR over parts of five seasons in the Mets minor league system. After posting a .219 AVG in 73 games as a backup catcher in 2015, Alderson felt confident that should d'Arnaud get hurt again in 2016, Plawecki should have enough big league experience to take over the starting role. Unfortunately for the Mets organization and fans, he just wasn't ready for Queens yet.
The .197 AVG and one homer that Plawecki accumulated in 48 games last summer resulted in his sending down to AAA Las Vegas. In the hitter-friendly confines of the Pacific Coast League, he raked, hitting .300 with eight homers and 40 RBI in just 55 games.
Although Plawecki did earn some time back at the major league level because of September call-ups, he only played in four games before the 2016 season was over. In Spring Training, he'll need to beat out Rivera for the backup catcher role to have a spot on the major league team in 2017.
Rivera became the starter the last few weeks of the season, but was unable to make much of a contribution at the plate, hitting just two home runs over the last two months of the season. His glove is where he makes his money though, as the MLB-best curveball spin-rate of SP Seth Lugo, along with others, needed to be blocked more than a few times during the Mets playoff race.
Rivera, as long as he stays with the organization, will need a solid 2017 Spring Training as he and Plawecki will be in a head to head battle for the backup catcher role. Most would say Rivera has the edge as of now, since Plawecki barely touched the field in Queens after being sent down. Although with the Mets, anything can happen.