For the first time in 108 years, the Chicago Cubs are champions of baseball.
Chicago Cubs: 8 (4-3)
Cleveland Indians: 7 (3-4)
World Series, Game 7, FINAL (10), Box Score
Progressive Field, Cleveland, OH 
I
n a Game 7 for the ages, the Chicago Cubs rode a two-run 10th inning to victory, winning their first championship since 1908 in the process. The pain, the misery, the anguish that Cubs' faithful has had to endure for the better part of a century has now been alleviated — and so has the "curse."
1907. 1908. 2016.

108 years later, the @Cubs are #WorldSeries #CHAMPS! https://t.co/6rzYrj93OC pic.twitter.com/Zb0T8bkJJB

— MLB (@MLB) November 3, 2016
With that said, it did not always appear that way.
In stunning fashion, Rajai Davis homered off Aroldis Chapman in the eighth to knot the game at six. The blast, which hooked into the left field corner, turned the game into an instant classic.
Rajai. Davis.

Cleveland. Legend. #Game7 pic.twitter.com/PptzTVwcu5

— MLB (@MLB) November 3, 2016
Once the game hit extras, though, putting a do-or-die scenario up for grabs, the Cubs used the heart of the order to their advantage. After two runners reached, Ben Zobrist knocked a go-ahead double down the left field line to give Chicago a slim one-run advantage.
When the #WorldSeries became the Zo Show.https://t.co/ZkR9usyayf‌ pres. by @TMobile pic.twitter.com/PUcnnfZqPd

— MLB (@MLB) November 3, 2016
Following an intentional walk, Miguel Montero singled to left to tack on a much-needed insurance run and solidify the Cubs as soon-to-be champions.
.@miggymont26 follows with a bases-loaded single! #Cubs lead 8-6 in the 10th! #LetsGo pic.twitter.com/2GWilzD8B1

— Chicago Cubs (@Cubs) November 3, 2016
Of all possible candidates, 25-year-old right-hander Carl Edwards Jr. — a 48th-round draft pick back in 2011 — attempted to slam the door in the bottom of the 10th on the biggest of stages, but was lifted after Davis cut the lead in half with a two-out RBI single.
However, it was too little, too late for the Tribe, as Mike Montgomery retired Michael Martinez to make every 21st century baseball fan's fantasy become a reality.
FINALLY! The @Cubs are WORLD SERIES CHAMPS!

The final out & celebration. #WorldSeries #Game7 https://t.co/33Wu67LSPX

— FOX Sports: MLB (@MLBONFOX) November 3, 2016
It happened. For the first time since 1908, the Chicago @Cubs are WORLD SERIES CHAMPIONS. #WorldSeries #Game7 pic.twitter.com/FYtiQpjozr

— FOX Sports: MLB (@MLBONFOX) November 3, 2016
That moment when you break a 108-year title drought. pic.twitter.com/bEzRhNKlBV

— SportsCenter (@SportsCenter) November 3, 2016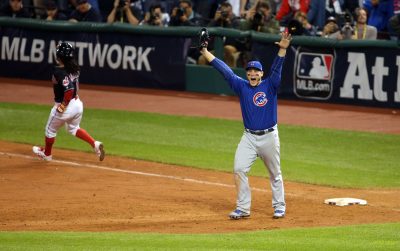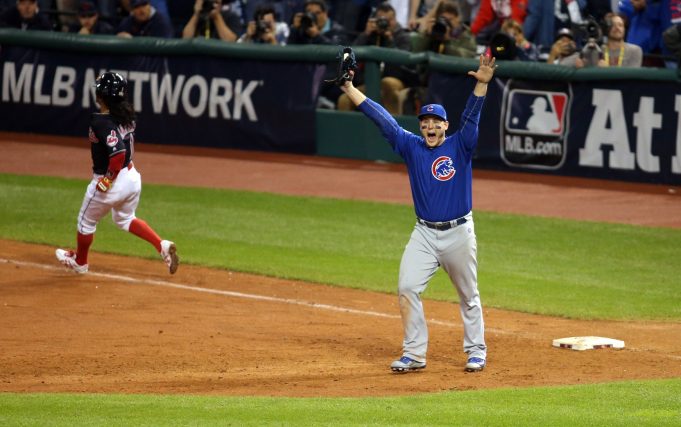 With the victory, Joe Maddon's squad became only the sixth team in MLB history to overcome a 3-1 World Series deficit. What started as a tight, hard-fought win in Game 5 at Wrigley Field spurred into two tremendous wins in Games 6 and 7 on the road.
In front of a hostile, intoxicating atmosphere at Progressive Field, the Cubs said goodbye to their previous horrors and earned themselves their long-awaited commissioner's trophy.
RAISE IT! The trophy is yours Chicago! Congrats @Cubs! #WorldSeries https://t.co/911AgyHzoL

— FOX Sports: MLB (@MLBONFOX) November 3, 2016