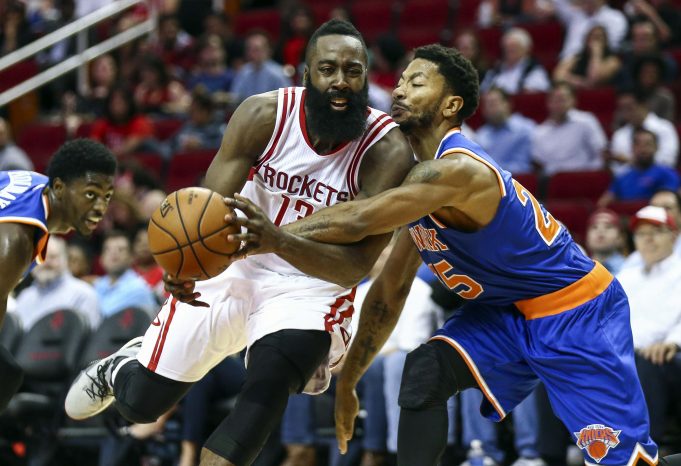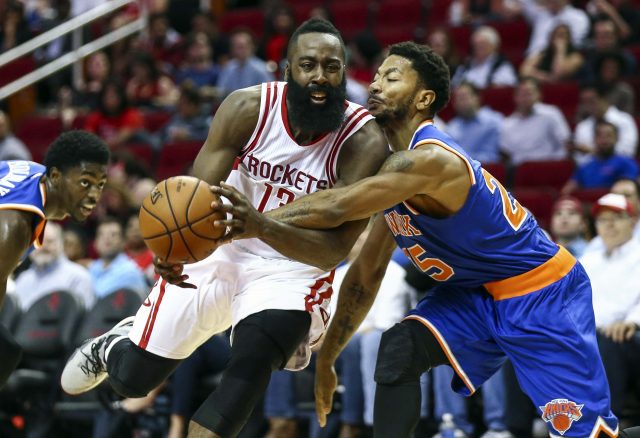 The New York Knicks are getting spanked by the Rockets in their preseason opener, but point guard Derrick Rose has provided entertainment.
The New York Knicks had a rough first half in Houston. They shot 30% from the field and were outscored 68-42. One of the highlights was new point guard Derrick Rose.
Rose's first basket with the Knicks was a mid-range jump shot. It's not something that the former Chicago Bull is known for, or the entire league is known for anymore.
Ohhh the classic mid-range game. It's so pretty. The first Knick points for D-Rose. #Knicks pic.twitter.com/kJU3LpRxuJ

— Elite Sports NY (@EliteSportsNY) October 5, 2016
Rose spent his prime in Chicago as a fixture on ESPN for his explosive offense. He showed off some "Vintage Rose" as described by Clyde Frazier in this clip, with one of his signature reverse layups.
How about that explosion off the catch? First step and finish from #DRose.#Knicks@Krisplashed @ChipperMurphy pic.twitter.com/Aq76CAP87E

— Elite Sports NY (@EliteSportsNY) October 5, 2016
It's just one half of one preseason game, but it's a good start for Rose. Even during his dismal 2015-16 in Chicago, he proved that he can still make explosive moves that call to mind his MVP days.
The Knicks are hopeful they can get more of this from their new point guard.