The New York Knicks are counting on ex-journeyman Lance Thomas to be a contributor offensively in a reserve role. Who saw that coming?
Lance Thomas turned three 10-day contracts into a full season's pay with the New York Knicks during their dreadful 2014-15 campaign. Nearly two years later and the 28-year-old forward is one of the team's most valuable players. Because of all things, his jump shot.
When Thomas came to the Knicks from Oklahoma City in the three-team trade that sent J.R. Smith and Iman Shumpert to Cleveland he was known for everything but offense.
After winning a National Championship at Duke University, he bounced around with multiple stints in the D-league, a couple of NBA teams, and even one year in China. Now he's found a home now in New York.
Knicks' fans fell in love with Thomas right away, but he didn't make his mark in the league until last season when out of nowhere, he decided he was going to become a three-point shooter. Thomas had been known for his defense dating all the way back to his time at Duke when he was ACC All-Defensive Team his senior season.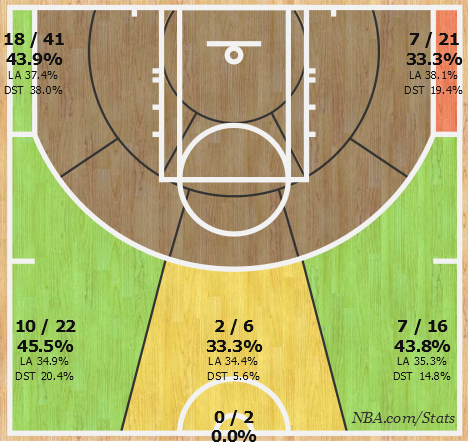 So when he shot 40.4% from downtown and 38.6% on corner threes, the league naturally took notice. Detroit Pistons head coach Stan Van Gundy, in particular, had high praise for Thomas, and he's notorious for a critical attitude.
Stan Van Gundy: "I think Lance Thomas is one of the most improved player in the league." #Knicks

— Kristian Winfield (@Krisplashed) December 29, 2015
Thomas didn't just knock down the long-distance opportunities though he was good from mid-range too. According to Basketball-Reference.com, the forward converted on 42.5% of his two-point FGAs that were 16+ away from the basket.
According to NBA.com, he was a good defensive player. When Thomas defended a field goal attempt, he lowered the opponent's field goal percentage by -3.1%. That was the best mark on the Knicks.
This Dec. game against the Orlando Magic, is a good indicator of his season. Thomas hit a couple of shots from the corner and used his pump fake wisely. Carmelo Anthony assisted on some of the threes. Thomas also put the ball on the floor, hit a couple pull up jump shots, and even drove right to the rim.
Thomas played on national TV every week in college, but once he hit the pros, he became anonymous. That new jump shot has put him back on the map.
He was gifted with the first long-term commitment of his NBA career during free agency this summer. He found a home in New York after signing a four-year contract.
Thomas told ESPN.com that his decision to come back to the Knicks was "pretty easy" and he didn't want his "legacy as a Knick to be a loser." That kind of passion is what makes him so likeable.
The Knicks need Thomas' jump shot to succeed this season because they only have one other reliable threat off the bench, Brandon Jennings. And using the word reliable to describe Jennings is a stretch.
When the Knicks accelerated their strategy into a sort of "win-now without compromising the future" type deal they needed veterans to count on. Thomas was easily one of those guys.