Tyler Austin and Greg Bird are locked in a battle for first base, but one of them should be trade bait for the New York Yankees.
The first base position has been locked down ever since defensive specialist Mark Teixeira took over in the Bronx. With his announced retirement planned for the end of this season, the New York Yankees will finally have to think about what their next steps will be for 2017.
Last season, Greg Bird was the clear choice to take over for Teixeira and he excelled. Unfortunately for Bird, his shoulder had other plans.
With Bird missing the entire 2016 with a second torn labrum and rookie Tyler Austin making a splash in his big league debut, the question has been raised as to who will be the primary starter next season.
Despite his forced hiatus from this season, he still was able to audition during the 2015 season for the future at first. Called up to the Bombers at the ripe age of 22-years old, Bird batted .261 with 11 home runs and 31 RBIs. What's more impressive is that he was a competitor when it mattered most; eight of his 11 home runs came with runners on.
While he performed at the dish, Bird impressed even more in the field. In 380 innings played at first base, he made just one error and finished with a miraculous .998 fielding percentage. He also became a fan favorite, as he was honored this season by the Scranton/Wilkes-Barre RailRiders with his own bobblehead day.
But his unfortunate injury also gave way for another kid in Tyler Austin to make his mark in the Bronx. Austin broke out with a monster home run right away but has since struggled at the plate.
Currently batting .217 on the season, he is beginning to turn it around, getting more playing time with Teixeira spending more time in the DH slot. Now that he is 4-for-10 (.400) with an absolute bomb so far in the month of September, Austin is making a case for a future starting position.
Although his sample size is far smaller than that of Bird, Austin's defensive ability at first is nothing to scoff at. In 105 innings played, he boasts a perfect fielding percentage and is extremely athletic: All good qualities for the potential future at first base.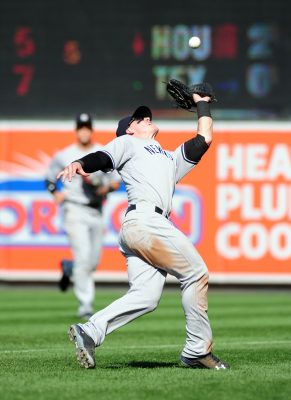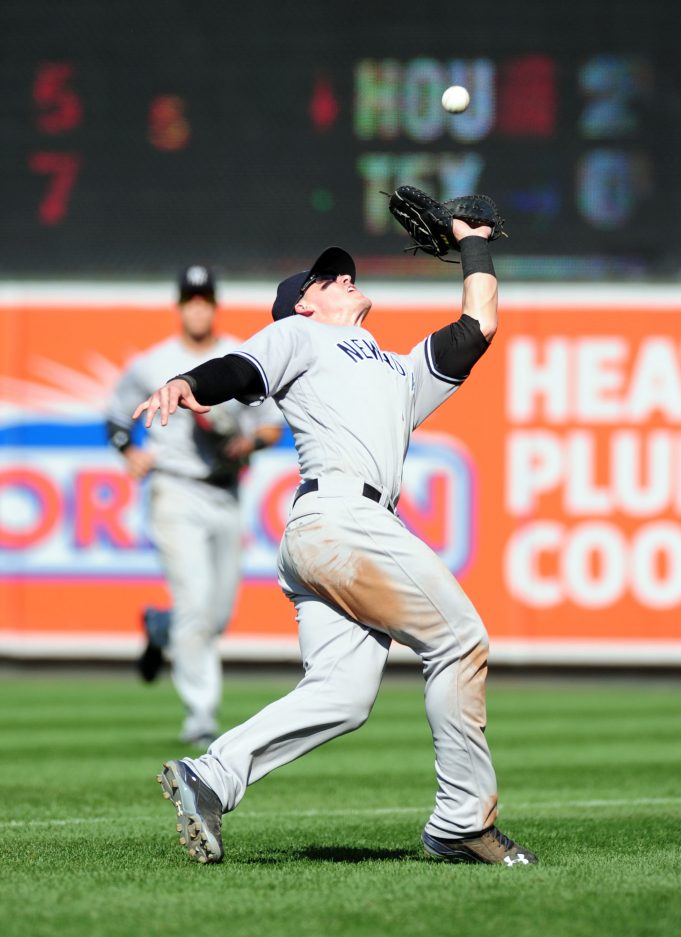 Even though the 2016 season isn't over just yet, the competition for 2017 is just heating up.
So, which first baseman will win over the starting position? And whichever one doesn't, will they be used as trade bait?
With two strong first basemen competing for the starting slot, there is a possibility that both will not be necessary for 2017.
While Austin is getting more reps at first because of Bird's surgery, it seems that the Yankees will get a better look at him. However, Bird's charisma and performance are not easily forgotten by players and fans alike.
Both powerful players, it will certainly be a battle to win over the slot opening up at first. However, having two extremely talented first basemen on the squad doesn't make much sense, making either Bird or Austin a prime target to trade for more pitching prospects.
So will it be Bird that flies the coop or Austin that is sent away?
With Bird's fan following and larger sample size, it is easy to imagine Bird in the starting line-up, but Austin still has time to produce and win over the hearts of the New York faithful. The bottom line is that both players are promising, but the likelihood of both staying in the Bronx is very slim.
There are numerous questions about 2017 but one thing is for certain next season in the Bronx: it will be an entertaining battle of two high-quality players for who will stay and who will go.