Lance Stephenson was once considered a rising star in the NBA. Now he's struggling to find a team to take a flyer on him. What happened?
Two summers ago the NBA was all in on Lance Stephenson.
The former New York City high school hoops star nicknamed "Born Ready" burst onto the scene with the Indiana Pacers during the 2013-14 season as one of the league's best all-around players and a bona fide stat sheet stuffer.
He led all NBA players in triple doubles and the Pacers in assists and rebounds.
Stephenson helped the Pacers win 56 games and reach the Eastern Conference Finals where he made headlines for his memorable torment of LeBron James and the Miami Heat.
Born Ready's career was on an upswing.
So what happened?
From the outside looking in it seems like the NBA has flipped a switch and completely given up on him and he's given plenty of reason to.
No matter what happens to him from hear on in, his story is fodder for analytics geeks everywhere.
After that 2013-14 playoff run, Stephenson was heading into free agency for the first time and his eagerness to test the market wound up costing him dearly.
He decided to gamble on himself and opted to turn down the five-year, $44 million contract offer from Indiana. He had to settle for a three-year commitment from the Charlotte Hornets at just $27 million.
Since then Stephenson has gone from one of the league's rising stars to persona non grata.
Stephenson had a dramatically positive effect for the Pacers on a per-100-possession basis during his breakout season, but since then he has done nothing but damage his teams when on the court.
| Season | Net Rating With | Net Rating Without | Difference |
| --- | --- | --- | --- |
| 2013-14 | plus-6.1 | plus-1.8 | minus-4.3 |
| 2014-15 | minus-7.5 | minus-0.6 | plus-8.1 |
| 2015-16 with Clippers | minus-0.9 | plus-6.9 | plus-7.8 |
| 2015-16 with Grizzlies | minus-4.0 | minus-9.2 | minus-5.2 |
The Hornets thought they were getting a super-athletic wing who'd make a great addition to their elite defense. They weren't counting on that guy having one of the worst offensive seasons of any player in the league.
After averaging a career-high 13.8 points and shooting a career-high 49.1% in 2013-14, Stephenson's production dipped all the to 8.2 points and 37.6% respectively.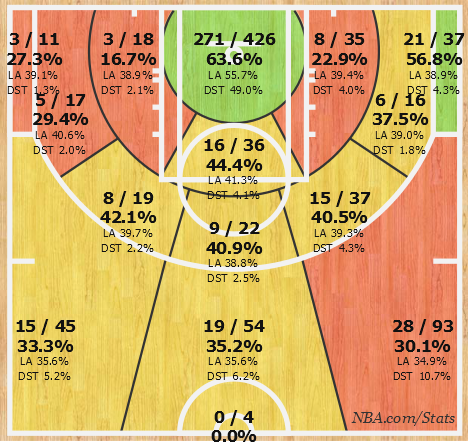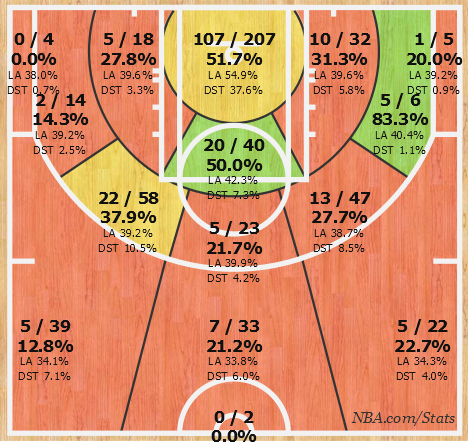 Of all his problems during his short time in Charlotte, the worst was his 3-point shooting.
Lance wasn't just bad from downtown he was all-time bad. Literally. Stephenson had the worst 3-point shooting season in NBA history taking 105 shots from downtown and converting on just 18.
Stephenson was dead last in the entire NBA with a staggering -2.7 offensive win shares.
His dreadful offensive box plus-minus of -4.0 was also near the bottom of the league, as was his offensive real plus-minus of -4.60.
The Hornets gave up on Stephenson after one season, shipping him off to the Los Angeles Clippers.
Stephenson spoke to Jared Zwerling of Bleacher Report last summer about the move to Los Angeles and why Charlotte didn't work.
There were reports of issues with teammates and head coach Steve Clifford that almost led to him being moved at the trade deadline. Stephenson noted it was difficult to see him mentioned in a negative light.
That's tough, man, especially coming from being one of the higher free agents, and then you're already in trade rumors. I'm like, "Man, what am I doing wrong?" It's just a learning experience; it humbled me.
Lance mentioned injury problems and a poor fit with Kemba Walker as two of the many reasons for things not working out.
It just didn't work. I felt like me and Kemba [Walker] do the same type of stuff, and it just didn't click. Kemba is like a smaller me. He dominates the ball and he's a playmaker. And then my jump shot wasn't falling, so it was a tough season. I had toe and groin injuries. I'm telling you, this was worse than my rookie year when I didn't even play. I was really mentally down. I was trying everything to try to figure out what I can do to help this squad.
Stephenson missed 21 games in his lone season with the Hornets, including a 14-game absence due to a pelvic strain.
According to NBA Stats, the Hornets were outscored by 9.9 pPts in the 748 minutes Stephenson and Walker shared the floor. They scored a pathetic 96.2 pPts, lower than every team in the league except the 18-win Sixers.
He was looking forward to playing with the Clippers and Doc Rivers though. So much for that.
Stephenson appeared in 43 games for the Clippers but never found a fit with Rivers' squad and was traded at the deadline to the Memphis Grizzlies.
Despite shooting the ball well, albeit in a very small sample size, he wasn't productive enough to earn solid minutes on a championship caliber team. By the end of his time in LA, the turnover prone Stephenson was out of the rotation completely.
No one had any interest in Stephenson until he played his best ball in years at the end of last season with the Grizzlies.
Many speculated that he could reboot his career in Memphis. Instead, Memphis opted to decline the $9.4 million team option on his deal for the 2016-17 season.
Stephenson was made and is still a free agent.
Two years after buying into his own hype and turning down a five-year guarantee from the Pacers, Stephenson is without a team. There's been almost no buzz around Born Ready this summer.
Beyond the obvious of course.
Maxwell Ogden of Daily Knicks discussed the pros and cons of the New York Knicks giving the hometown boy a shot. It's a topic that will be speculated on until Stephenson makes his playing decision for 2016-17.
It's hard to believe — as wing players the likes of Sasha Vujacic, Mike Miller, and Joe Harris have all received contracts — that there isn't any room for Stephenson on an NBA roster.