With the Diamondbacks' sweep of the Mets, New York has fallen to .500 and a symbolic low point of the 2016 season.
J
ust when you thought it couldn't get any worse.
The Mets haven't won consecutive baseball games since July 6 and 7, a staggering time frame of over a month.
As Neil Walker put it so precisely, "It's kind of like it's been one step forward and two steps back for us."
That's what he said after Tuesday's loss to Arizona, when the Mets dropped the first of a three game set to the fourth place D-backs.
Before the 5-3 defeat to greet the Mets' faithful on the first day of a six game homestand, the Mets salvaged its series with Detroit on the very heroics of Walker.
At that point, it became clear the team would have to right the ship as it opened a series with a Diamondbacks club sporting one of the worst records in Major League Baseball.
Following the Snakes, the Mets were set to host a last-place San Diego club, and then travel to Arizona for three more with the D-backs.
Perhaps things were looking up.
Then came Tuesday's loss. But hope still remained.
Next, the Mets found themselves staring down a 2-0 defeat in the ninth inning of Wednesday's nightcap, only to the relief of a game-tying Kelly Johnson home run.
Again, hope was buoyed.
In the top of the twelfth, though, the bat of Oscar Hernandez, a man with zero Major League home runs to his name, cranked the go-ahead and ultimate winning run off of Jerry Blevins, a man who had allowed just two homers all season.
After a hopeless bottom frame which saw the Mets go down in order, the curtain closed on winning a series versus a team who entered it 21 games under .500.
To put the nail in the coffin, Arizona defeated the Mets by a pathetic 9-0 score.
This, folks, is what rock bottom looks like.
Buried deep – too deep – to claw your way out; sulked beneath a cape of even, .500 baseball.
It brings about the familiar overtaking, depressing feeling of recent Mets history.
It hearkens to clubs from half a decade ago, when Daniel Murphy slugged a team-leading 11 home runs, when Josh Thole was the regular catcher, when the middle infield sported the likes of Jordany Valdespin, Ruben Tejada, and Omar Quintanilla, and when the Lucas Duda outfield experiment wasn't the most mortifying thing the team tried.
With a National League pennant in hand, the prospect of even striking the same chord riffed by those cellar dwelling teams in the late 2000s and early 2010s – is just frightening.
It's frightening to think that such sloppy, fundamental ignoring, overall bungling baseball has made its unwelcome return to Flushing.
Any whisper of World Series hopes has been hushed, and any ambiance likened to last year's pennant race has evaporated.
The cause? The why? The how?
Well, it can start with a manager who chooses a career .194 hitter – a career champion of failing to reach the Majors if we're being honest – over his catcher, with a track record and pop, in pinch hitting Ty Kelly for Travis d'Arnaud in Tuesday night's most pivotal spot.
Terry Collins has pulled every string and made every attempt in his most earnest, pointed efforts to win, but it seems all his emboldened moves have backfired during the team's spiraling slide.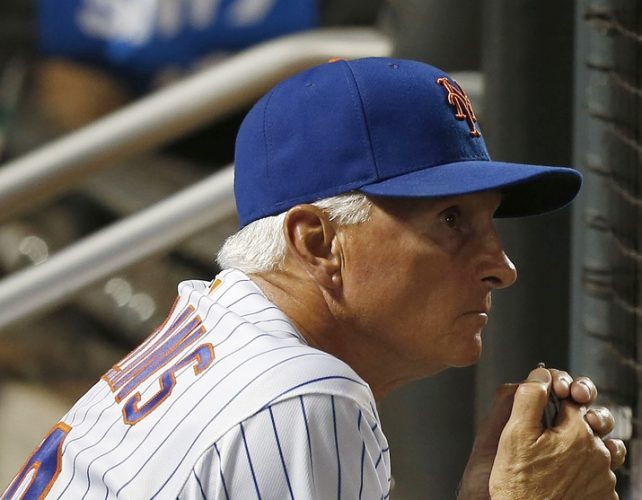 In the middle game of the Mets' recent series in Detroit, Collins simply forgot he had a challenge in his pocket and a game-ending play went unchecked by replay review.
Offensive performance has been akin to run totals of Philadelphia and Atlanta, between whom the Mets are sandwiched with the 29th most runs this season (reminder: baseball has 30 teams).
Entering Thursday's play, the Mets sat last in team batting average at a lowly .237 clip. As a team, the Mets get on base fourth least in Major League Baseball (team OBP is .306) – which is the stat GM Sandy Alderson is said to value most considerably.
The team continues to boast impressive pitching marks in earned run average, innings pitched, strikeouts, and walks, but – when combined with pitiful offensive production – has failed to make up ground in a wild card race which they once seemed well positioned to finish on top.
Now, the not-so-miraculous Mets sit 10.5 games out of the division, a number which you'll soon stop hearing as it falls into irrelevancy with each day, and the club trails the Marlins and Cardinals by three games for the second wild card spot (Miami and St. Louis are currently tied).
With Pittsburgh's win today, the Mets fall a full game behind the Bucs, meaning New York is behind four teams in the wild card standings.
The Mets are in the midst of a seemingly perpetual loss-win-loss pattern, although the team may have broken out of that with its three consecutive losses, and five defeats in its last six games.
Whatever pattern they've established, it seems to be one of losing, topped with some more losing, and maybe an additional side of losing.
In the end, the Mets have pushed the limit toward a culmination of failures – a culmination of untimely, embarrassing defeats – with its series against Arizona at home, in which the Diamondbacks swept away the Mets in three games, and may have metaphorically done the same to New York's playoff hopes.
One indisputable verity attests to a rampant uptick in pessimism which rightfully surrounds a stalling, falling Mets team.
The aura hovers invisibly in nature but palpably among the reality of a season swishing around the decline toward conclusion, leading its way down the drain and into the trenches.
If Tug McGraw were around, he'd bellow those famous words: "Ya gotta believe!" Positive bystanders would believe in miracles.
Those ideas of hope are slowly becoming the very grain of a virtual, impossible reality as opposed to an alternative, possible, believable one.
I offer no refresher in saying this to anyone with stake in the Mets: it's real hard to believe these days.